Growing up I LOVED my moms strawberry freezer jam. I remember getting excited when I saw my Dad bring home cases of strawberries because it meant that we were making jam soon. We would spend hours in the kitchen together washing the jars, mashing the strawberries, stirring in the sugar, and pouring the jam into jars ready to be frozen. All while listening to Sunday morning classics on CFCW because it isn't canning unless you're listening to the oldest honky tonk music right?
I loved when our cousins, friends or Grandparents stopped by and were able to help too. Cooking is always better when you're working in a group!
That is why we were so excited to host a canning party with Bernardin. We wanted to recreate that feeling of friends and family coming together to cook while getting the kids involved.
We were gifted a Bernardin Starter Kit that make it SO easy to get started. Everything we needed was right there. Jars, tongs, bubble remover, a large pot with a rack, and a funnel all in one kit. So easy! A quick look on the Bernardin Website gave us simple recipes to follow too. I loved that you could sort the huge data base of recipes easily by season, ingredients, and skill level. So user friendly!
We chose pickled carrots and of course freezer jam. A quick trip to the grocery store for ingredients and we were ready to go!
The kids got involved by helping mash the berries, stirring, and placing all the carrots in the jars. It was perfect for all the kids ranging from 2-10 years old. Everyone had a job they could do!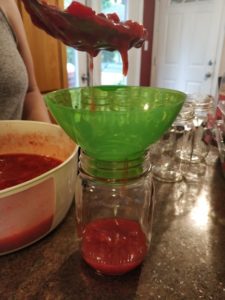 Some workers were more helpful than others. This cutie was more interested in snacking than helping most of the time!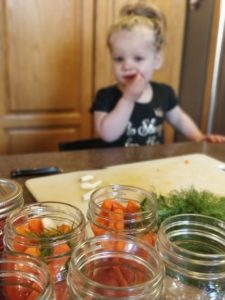 In one afternoon each family left with multiple jars of delicious goodies, the kids were happy they were able to help, and we got lots of ideas for what we want to can next!
We will be doing more canning in the Fall once more ingredients are seasonally available so we would love to hear what you love to can! Leave a comment below!
*We were gifted products from Bernardin for this review but all of the opinions are honest and our own.