By Mara Needham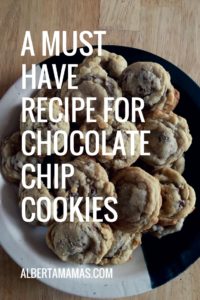 I love cooking and baking. I love being in my kitchen. One of the best gifts I've ever gotten is the stand mixer my husband got me when we first started dating. My favorite channel is the Food Network. But I am not an overly adventurous chef, I'm a mom-chef. I feel like the one recipe every mom should have is a super yummy chocolate cookie recipe. My go to recipes are my family recipes. Nothing super fancy, or extravagant, just home cookin'.
I've made these cookies so many times, I can make them from memory. They are the only cookies my 6-year-old son will eat and one of my best friends who is a guy who says he "just doesn't like sweets" will often say that as he's grabbing 3 or 4 of these cookies.
Try them. You'll love them. Guaranteed.
Chocolate Chip Cookies
2 1/4 cups flour
1 tsp baking soda
1/2 tsp salt
1 cup softened butter
3/4 cup brown sugar
3/4 cup white sugar
1 tsp vanilla
2 eggs
2 cups milk (key word being milk) chocolate chips
Preheat oven to 375.
Mix flour, baking soda, and salt. Set aside. In mixer bowl, cream sugars, butter and vanilla until light and fluffy. Beat in eggs. Gradually add in flour mixture and beat until combined. Stir in chocolate chips.
Drop by teaspoonfuls on ungreased cookie sheet. Bake 7-9 min (depending on your size of cookie) at 375.
From our family to yours. Enjoy!
Mara Needham- Peace River, AB, Stay at home mom to 6 year old boy and 3.5 year old girl. Wife of 8 years. Unhealthy love of food and country music. Find her on Facebook & Instagram