Chances are that if you haven't heard about the sous vide cooking method yet, you will start noticing it everywhere and watch it become a staple way of cooking at home within a couple of years.
Easy Sous Vide Cooking With The Couch Cook
What is it exactly?
Sous vide, translated from French means "under vacuum," is a method of cooking where you vacuum seal or use a "water displacement" method to remove and seal the air out of a heat rated plastic bag, which is then submerged in a pot or bucket of water that is being circulated and controlled to an exact and precise temperature that you set based on your desired doneness by a device called an "immersion circulator" (ie. medium-rare steak is cooked to 130 degrees Fahrenheit, so the water temperature is set to 130 degrees Fahrenheit).
What makes this so significant? This allows you to cook the steak or whatever other food product you are cooking to the EXACT desired doneness throughout with no chance of it overcooking – even if you left it in a pot of water for 6 months, all that is happening during this time is the collagen and tissue of the meat breaks down until those fibres are basically non-existent, resulting in a melt in your mouth tenderness, even for the toughest cuts of meat. This principle applies the same to all fruits, vegetables, eggs and even grains and its incredible consistency is the reason nearly all chefs around the world cook the majority of their foods sous vide.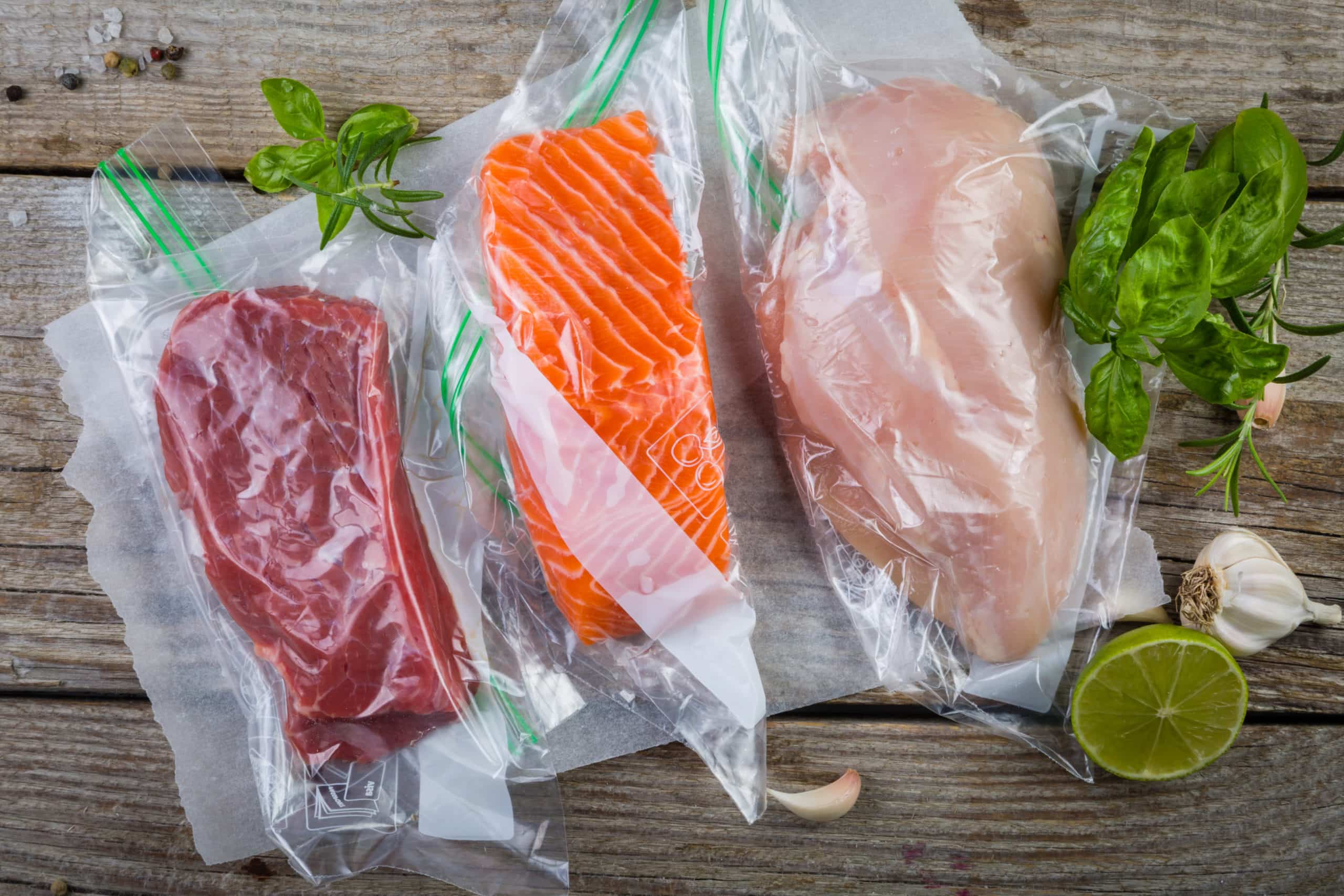 Other benefits of sous vide cooking are: 
– Nutrition retention: There is nowhere for the proteins, vitamins, minerals and other key nutrients to escape to since they are all generally trapped inside of an airlocked bag, cooked delicately at a precise temperature. Some studies suggest over 98% of the nutritional value is retained, these results simply cannot be duplicated with traditional cooking methods.
– Yield: You yield nearly 100% of the food products you put into the bag, 100 grams of chicken in the bag = 100 grams out of the bag.
– Shelf life: Since there is no oxygen in the bag it does not provide an environment for bad bacteria to survive. If you vacuum seal and sous vide fresh meat product correctly it could easily retain its freshness for 2 weeks before expiring.
These are the very basic but wonderful things that sous vide cooking offers, it may sound complicated and confusing but once you start experimenting you will notice how much more efficient and easy it really is!
4 Delicious Sous Vide Recipes
Sous Vide Chicken Breast 
4 chicken breast
20 grams of butter or olive oil
2 sprigs fresh thyme
3 thin lemon slices Salt & Pepper 
Preheat water to 150oF

 Combine all ingredients into a bowl and vacuum seal or use the water displacement

method with a Ziploc bag once the temperature has reached 150oF
 Cook for a minimum of 1 hour and up to 4 hours.
Remove from bag lightly season with salt and pepper again and finish with a very high heat sear both sides in a pan or grill, just long enough to get a nice crust! Its key to not overcook it at this point.
Sous Vide Orange & Tarragon Carrots
6 carrots
1 orange peeled
2 sprigs tarragon
Salt
10 grams of butter
Preheat water to 190oF

 Combine all ingredients into a vacuum seal bag or Ziploc and use water displacement

method.
Cook for 1 hour
Strain liquid into a saucepan and reduce by 1⁄2 and add carrots back into the sauce for 2 minutes
 Serve
Sous Vide Whiskey Poached Peaches
2 peaches, pitted and quartered
1⁄2 cup whiskey or rum
1⁄2 cup granulated sugar
1 tsp vanilla
Tiny pinch of salt 
Preheat water to 180o

Combine all ingredients into a vacuum seal bag or Ziploc bad using the water displacement

method.
Cook for 30 minutes
Strain liquid, if you have a creme brulee torch you can caramelize the peaches with it but this step is not necessary.
Service with ice cream 🙂
Sous Vide Vanilla Creme Anglaise
1 cup whole milk
1 cup whipping cream
3⁄4 cup granulated sugar
5 egg yolks
1 tsp vanilla extract
Pinch of salt 
Preheat water to 180oF

Blend together all ingredients until smooth and frothy

Transfer mixture to a zip lock bag, using the water displacement method cook for 1

hour.
Every 10 – 15 minutes massage the bag carefully with your hands to prevent curdling or clumping.
Once the timer goes off plunge the bag into an ice bath to cool down immediately
Serve with fruit or pour over cakes and pastries! (This is similar to a hollandaise, dessert-style!)

Shane Ball, The Couch Cook was a professional Chef for 10 years until he decided to switch career paths a few years ago. During his time as a Chef, he had the privilege to travel and work in some of the best restaurants in the world, including one of celebrity chef Gordon Ramsay's restaurants in London, UK!
Leaving the culinary industry left a void, which has resulted in him creating an outlet for his passion for food through The Couch Cook on Instagram, as well as his podcast The Couch Cook. As a resource and community for discussion on all things related we're all couch cooks! You can also find Shane at www.thecouchcook.com, check it out because a YouTube channel is also on the horizon!