Whether you're throwing a Halloween party at home for the kids or making something to send to the class, this list of fun Halloween treats is a great place to get some inspiration.
Halloween snacks & treats
Halloween Spider Cookies  – Made with 3 ingredients, this is a fun and easy treat to make for kids this Halloween. (This also includes ideas for a peanut butter alternative)
Halloween Lollipop Tree –  A fun way to get the kids included in creating decorations, this Lollipop Tree is a fun, easy, and inexpensive treat too!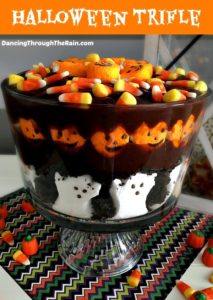 Halloween Trifle – Candy corn, pumpkins, and ghosts oh my! Grab the candy, chocolate cake and pudding, and make this fun dessert!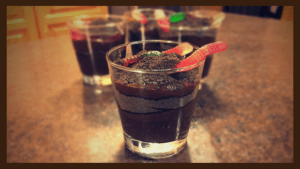 Worms in Dirt – Grab some chocolate pudding, crushed up cookies, and some candy worms and you've got yourself a fun and easy dessert!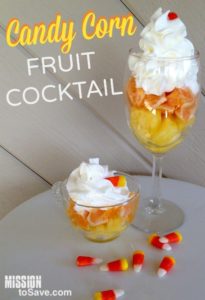 Candy Corn Fruit Cocktail – It's all about the presentation and making this fruit to look like candy corn is a great way to add in some fruit to a day that is filled with many sugary treats.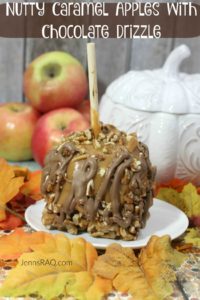 Nutty Caramel Apples – Nothing says Halloween more to me than caramel apples! This recipe has you making the caramel from scratch (yum!) but it's easy and oh so worth it!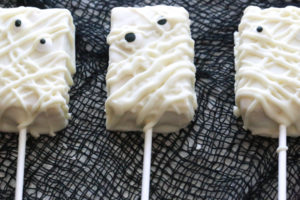 Easy Rice Krispies Mummy – Grab some of the already made Rice Krispie treats or make your own, dip in white chocolate, and add some eyes! It's that easy, and the kids will love it!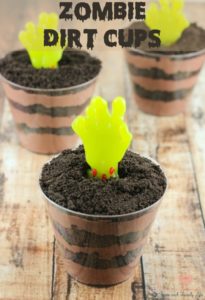 Zombie Dirt Cake Cups –  If you're having a zombie theme, this dessert is the perfect touch – complete with a hand coming out of the ground. Just like the Worms in Dirt above, this is a super easy dessert to make!
Halloween Drinks
Swamp Potion – A Halloween celebration isn't complete without something to drink and this swamp potion is the perfect addition. Easy to make and a fun colour kids AND adults will love this!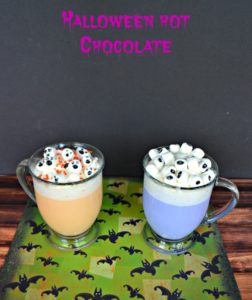 Halloween Hot Chocolate – Whether you're making this as a treat for a Halloween party or just at home kids will love the hot chocolate dyed in fun and spooky colours!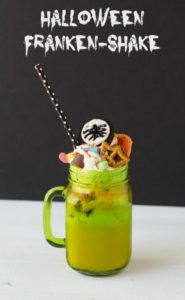 Halloween Candy Shake – Add you Ice Cream and Orange pop together and then let you guests add whatever candy they want! Chocolate, marshmallows and whipped cream is just a few ideas for ingredients! Save this for after Halloween too. so that you can make a special treat and use up the Halloween candy too!
Spiked Pumpkin Spice Latte – If you're throwing a Halloween Party for some adults instead this is one great spiked drink to make. Of course, this can be made as non-alcoholic too! Simply eliminate the vanilla vodka.
Happy Halloween!