Do you have a Garfield in your life? Someone who can't resist a heaping plate of lasagna? I do! I'm married to a man who behaves just like the famous cartoon feline when it comes to this classic Italian dish.
But as much as my husband loves traditional lasagna, there's one variation that has managed to make it to day three in our house: rolled lasagna.
The beauty of rolled lasagna is that it's made up of individual portions, meaning you can control exactly how much you make and serve. This not only helps to prevent overeating, but also ensures that there will be leftovers for the next day (or two!). And lasagna is always better on day two.
Quick Tips for Lasagna Roll Ups
Before jumping into the recipe, here are a few quick tips to get you started:
Noodles: Try to avoid the no-boil noodles (I won't judge if they're already in your pantry and you pull them out – I just can't promise this will turn out!). Boil them in water with a bit of salt (for flavour), according to package directions to al-dente.
Sauce: Pick your favourite tomato sauce. If it already has some meat or added veg, bonus!
Cheese: I hate ricotta, so I don't cook with it. Sometimes I'll sub in goat cheese if I find a sale, but usually stick to basic mozzarella and Parmesan. The more cheese you use the more expensive the dish becomes, so I try to balance flavour and cost.
Veggies: Chop them small, or through them through a food processor to really shred them. The smaller they are, the fewer protests from little beings I hear.
Serving: The beauty of rolls is portions are already set for you! My 6 and 9 year olds eat a roll each, and most adults will be satisfied with two. Garfield goes for 3 – this still left us with over half the dish for leftovers! The rolls can be cut with a fork, but if you like to preserve the layers a knife is a good idea.
Storage: You can prep this ahead of time and store it uncooked in the fridge with tinfoil on top for up to two days, or freeze it and cook it within three months (I love disposable pans or glass pans with a lid). Thaw frozen lasagna in the fridge overnight before cooking and bake according to recipe instructions. It's also possible to cook it now, package into meal sized portions and freeze those for future lunches.
Reheating: A minute in the microwave is perfect for 1-2 lasagna roll ups from the fridge. If you slice up food for your kids it's much easier to do while cold, so take care of that first!

If you prefer to use the oven, cover it with tinfoil, and bake at 350F for 20-25 minutes.

Make more and make ahead: I'll triple up on this recipe and make three pans at once. One for dinner tonight, and two to go in the freezer. It's a slightly longer day in the kitchen, but covers me for at least six meals. I can spend a bit of extra time cooking in one shot for that kind of freedom! It's a rich meal, so we usually only have lasagna once a month.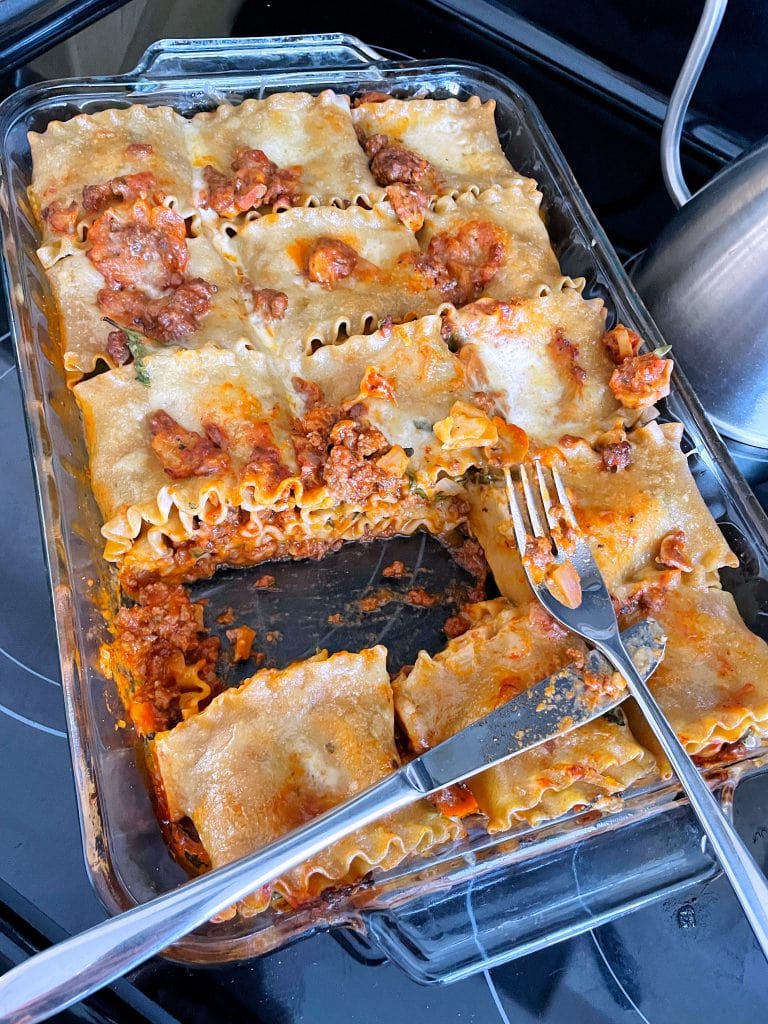 How to Make Rolled Lasagna (the wordy version)
Boil the lasagna noodles. Lasagna noodles are large and prone to sticking together, so use your big soup pot for this.

Bring water to a boil.
Add about a tablespoon of salt before adding a dozen noodles.
Cook to al dente where they are flexible and roll-able but still firm. They will soften up more in the oven and absorb liquid from your sauce, so you don't want them overcooked.
Drain and rinse with cold water. This stops the cooking process, removes excess starch, and makes them ready to handle right away. We don't need burned fingers! Don't skimp on the cold water, more is better. If your noodles are sticking, chances are you didn't cool them down enough, or quickly enough.

Meanwhile, make your sauce. Every fall I fill my freezer with a basic tomato with meat sauce made from my garden tomatoes, and often have some jars of meatless sauce in the cupboard (they're great for travel!). Using that as a starting point, I prep the following extras:

Prep: Shred 2-3 carrots, 2-3 stalks celery, and an onion (a food processor is perfect for this!). Chop 4 cups spinach into 1/4inch ribbons.
In a large frying pan, cook carrot, celery and onion over medium heat for 3-5 minutes until softened.
If you want more garlic (aka you're kids aren't vampires who hate it), mince two or more cloves into the pan and cook until fragrant (about 30 seconds to a minute).
Add 1-2 pounds of ground beef, depending how meaty you want your lasagna and if the sauce you're using already has meat in it. Cook until all the pink is gone.
If your sauce doesn't have mushrooms in it, and they won't cause a riot in your home, add a drained can of sliced mushrooms now. (Going fancy with fresh mushrooms? Add those before the garlic and cook down a bit before adding the meat.)
If you're working from a jarred sauce or canned tomatoes (I love the ones with Italian spices already added – yay lazy cooking!) add them now and let everything simmer together for at least ten minutes. Add spices to taste (oregano, parsley, basil, rosemary, thyme, marjoram, etc).
Take off the heat.
Add chopped spinach and stir.
Add pre-made tomato sauce. This will reduce the temperature to make it easier to handle.

All about cheese: You can do this before starting everything else, or mix it up while the meat is cooking. Or put an ambitious child to work. I like that last option best.

Chop 3 cups spinach into small 1/4 inch square-ish pieces (just make it small but not a paste, okay?).
In a medium bowl beat one egg.
Add chopped spinach, 1 cup shredded mozzarella, 1/4 cup Parmesan cheese, and either

another cup shredded mozzarella and 1 cup shredded cheddar,
a package ricotta (about 2 cups), or
a package goat cheese plus enough shredded mozzarella to make 2 cups.

Stir until well combined.

Assemble your rolls of lasgana. This is a pretty easy process, but can be a bit messy.

Before starting on the rolls, spread a thin layer of sauce in the bottom of your baking dish. This is kind of like greasing the pan, but so much tastier! Get the sides, too if you can. Go for the runnier parts of your sauce for this. That makes the rest of your sauce thicker, and won't leave the meat outside your rolls.
Lay three noodles out flat on a cutting board, a baking sheet, or right on the counter if you're into that kind of clean up. Don't put them in the pan yet, or you're just going to make a mess of the sauce you just spread. And your fingers.

Divide your cheese mixture into quarters. Spread one quarter evenly over the three noodles.
Top generously with sauce.
Roll up tightly and place in the pan, seam down.
Repeat for the remaining nine noodles.

Finishing the lasagna off with a topping of sauce (be extra generous around the edges and in the corners to help keep those spots soft – unless you you like crusty bits!), and a cup and a half of mozzarella.
To bake any lasagna I like to edge the dish with tinfoil and then rest a sheet on top of that. This prevents the edges from overcooking.

In a pre-heated over, bake the lasagna for 45 minutes at 375F.
Remove the top sheet of foil and bake for another 5-10 minutes until the cheese is just starting to brown up.

Serving the lasagna roll ups is easiest if you've let it rest for at least 15 minutes. You're also less likely to burn your tongue! I like to use a knife to help separate the rolls, but they can come the pan with just a fork or spatula, and then you get the Instagram-worthy stretchy cheese.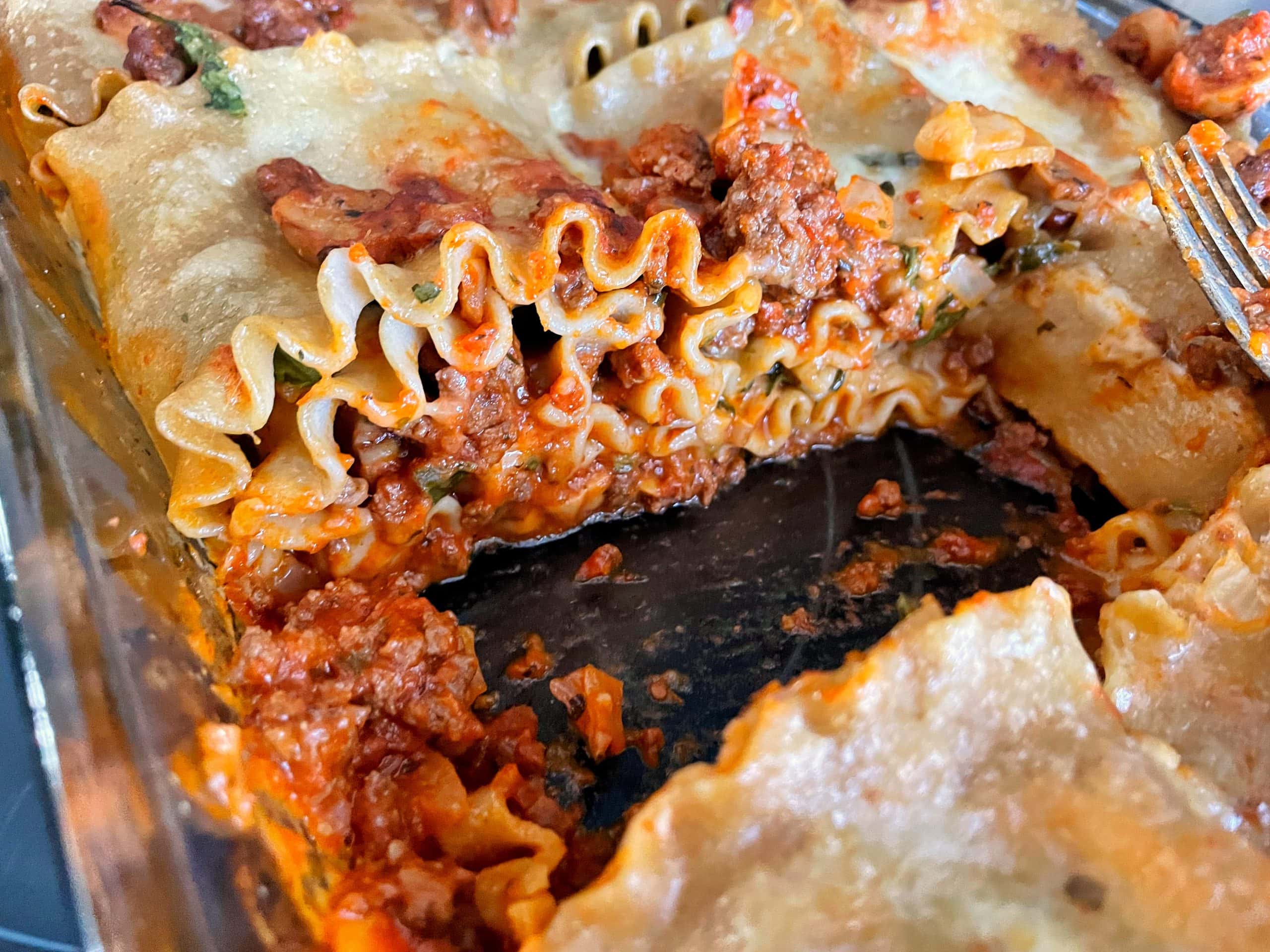 Affordable, Garfield-Approved Rolled Lasagna
This pre-portioned lasagna will keep your Garfield under control!
Ingredients
Lasagna Noodles
12

dry

Lasagna noodles

1

tbsp

Salt
Meat sauce
1

tbsp

Olive oil

2-3

Carrots

shredded

2-3

stalks

Celery

shredded

1

medium

Onion

diced or shredded

2-5

cloves

Garlic

minced

1

can

Mushrooms

(or 2 cups fresh)

1-2

pounds

Ground beef

3

cups

Spinach

chopped

4

cups

Tomato sauce
Cheese mixture
1

egg

beaten

1

cup

Mozzarella

shredded

¼

cup

Parmesan

3

cups

Spinach

chopped

1

package

Ricotta cheese (about 2 cups)

(OR 1 cup shredded mozzarella and 1 cup shredded cheddar OR 1 package goat cheese plus enough shredded cheese to make 2 cups)
Finishing
1½

cups

Mozzarella

shredded
Instructions
Lasagna noodles
Bring a large pot of water to a boil. Add noodles and salt, and cook to al dente, according to package instructions. Rinse noodles well under cold water.
Sauce
Shred veggies in food processor while heating up a large frying pan.

Cook carrot, celery, and onion until softened (approx. 3-5 minutes).

Add garlic and cook until fragrant (about 30 seconds).

Add ground beef and cook until no longer pink.

Add mushrooms and remove from heat.
Cheese mixture
Combine beaten egg, cheese, and diced spinach in a medium bowl. Divide into quarters.
Assemble rolled lasagna
Cover the bottom of casserole pan with a thin layer of sauce.

Lay 3 noodles out flat on a cutting board. Evenly spread 1/4 of the cheese mixture between the three noodles (about 1/4 cup each). Top with sauce (~3-4 tablespoons). Roll up tightly and place in pan, seam down.

Repeat for remaining 9 noodles.

Spread remaining sauce over rolls. Sprinkle with 1½ cups shredded mozzarella.
Bake
Cover the pan with tinfoil and bake for 45 minutes.

Uncover and bake another 5-10 minutes until the cheese begins to brown.

Let cool for 15-20 minutes before serving.
Did you make this recipe? Snap a photo and tag us on Instagram @albertamamas or share it on Pinterest.