By Christina
I found myself laughing earlier today … giving a close friend, and new mom, encouragement that 'feeding gets quicker and more efficient' … then I spent an hour and twenty minutes with my nine-month-old twins at the kitchen table working on 4 noodles of pasta, a strawberry, and a few tablespoons of butternut squash. HA!
The solids stage is fun, satisfying, and definitely feels like progress is being made – but it is also time consuming. Time before planning out what these kids are going to eat, time during to let them explore, investigate, and finish their meal, and time after cleaning up the mess (that's on them, on you, on the high chairs, and on the floor … or, if you have dogs, let them help with the floor).
I spent a few weekends ago cooking up a storm while my parents were over so I would have plenty in the freezer. It was going to be our first time for a few new foods and all were big successes with the boys. I remarked to my husband that there is definitely a feeling of accomplishment and pride when your little one loves the food you've prepared – one that I personally found similar to the feeling I get knowing I'm nourishing these dudes through my milk too. Exclusive pumping is hard work but I definitely am proud of myself for sticking with it – and now as we move to the next phase I am feeling similar pride about trying to pre-prepare as much healthy food as I can (which is a nice feeling for a mom during this weaning phase).
So … what's for dinner tonight (and, maybe every night for the next week)? Turkey and pumpkin nuggets. In my opinion, this is a great way to introduce turkey to your hungry little person. It is a hit over at Chez Pilarski.
My recipe isn't measured, because, if you're a new mom you aren't measuring, you are slapping things together and praying for the best.
Heat oven to 400 degrees
Line a baking sheet with parchment paper
1 can of pure pumpkin

2 packages of lean ground turkey

1 egg

A chug or two of olive oil

Sprinkling of cinnamon

1 cup-ish of oats
Mix it all up well in a large bowl and then form nugget sized meatballs.
Let cook for 15 mins. And let cool.
This batch made me 68 … and for my twins, that means about 10 meals (and remember if you have a singleton that's double the meals for you!). Yay!!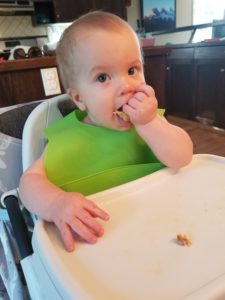 I freeze them in individual servings over here, serve at room temperature, and help the boys by breaking them apart into bite sized portions.
So, to my friend – yes, feeding BM does get easier and quicker but before you know it you're on to solids and that's a whole new adventure. An adventure that is wrapped up in all the fun, frustration, and accomplishment (for mom and baby) that breastfeeding was. 😉
Happy cooking ladies (and gents)! And share your recipes with me in the comments – I find the internet doesn't have a ton of fast and practical recipes for this age and stage and I'm always looking for new ideas.
Talk soon AB Mamas!
About me:
Christina Pilarski is a mom of twins. Her boys were born in September 2016 and she knows they will only keep getting louder, quicker, smarter, and more fun! She runs her own public relations firm, CIPR Communications, and she is the true definition of #momboss. Born and raised in Calgary and now raising her family there too; she loves the outdoors, politics, her two dogs, and her partner (in life and business – Peter!). Find Christina on;