You've got questions about oil and gas in Fort Mac? The Oil Sands Discovery Centre has answers! Before bombarding the locals as you try to understand the "tar sands", stop in at the Oil Sands Discovery Centre for a deep dive into what there is to know about the work happening around Fort McMurray.
Don't miss: Go behind the building to see the old machinery and see the 10-minute hot water extraction demonstration in the theatre.
Plan Your Visit
Please Note: We do our best to keep the information Alberta Mamas current and accurate, but all information shared is subject to change. Please check the website and/or social media for the organizations directly (we always try to link to them!) to confirm before traveling.
Location
Address: 515 MacKenzie Blvd.
You can see the museum from the highway. Exit Highway 63 at MacKenzie Boulevard and head east. Take your first right, and park towards the north side of the entrance (it's easier to access the Industrial Equipment Garden from that side).
Hours and Admission
Admission: Free/6 and under, $7/7-17yrs, $11/adult, $8/65+, $29/family

Discounts available for: Military/CFOne card holders (Free), Alberta History Pass (Free), Cultural Access Pass (Free)

Hours: 10am-5pm, Wednesday to Sunday
Exhibits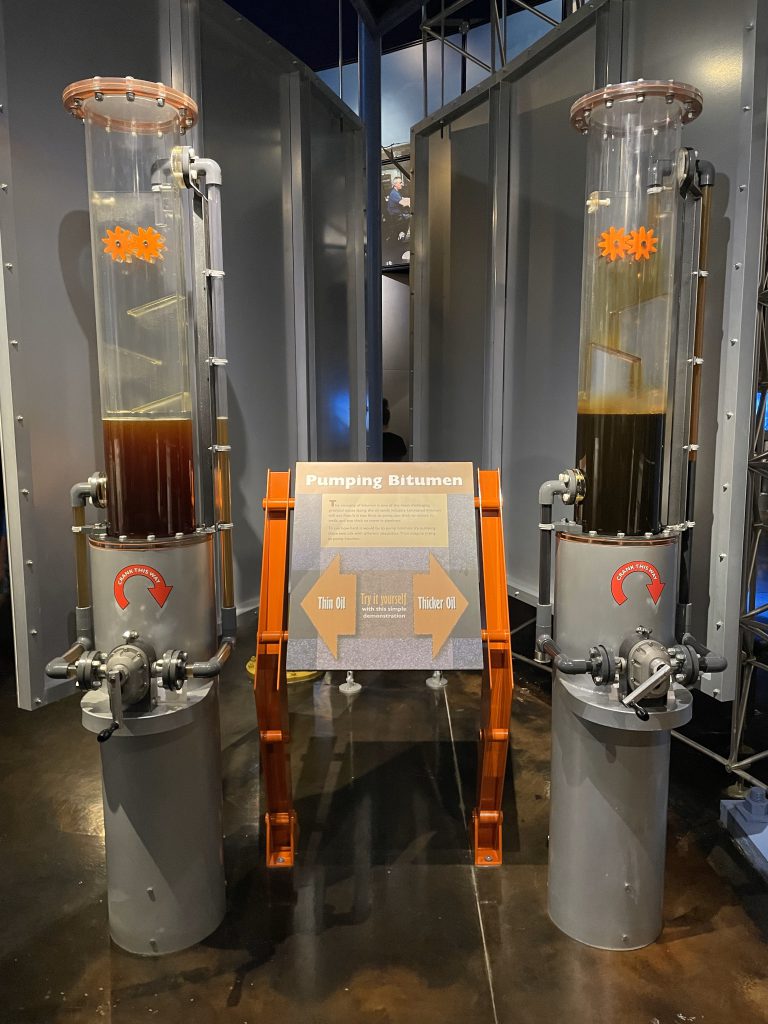 Be sure to check the schedule when you arrive. Plan to see the hot water extraction demonstration for some hands-on learning.
Head into the Dr. Karl A. Clark Exhibit Hall. It's a circular loop that will take you through displays on Extraction, Mining, Upgrading, In Situ, Environment and the Play Lab is in the middle.
There is so much to read and do both inside and out! It's fairly child-friendly, but non-readers will need a bit more help. If your kids are prone to being impatient I recommend grabbing some photos of the signs to read later (my favourite museum hack!).
Many of the displays have something interactive to engage kids, but I found there was SO much to do they wanted to quickly try before rushing on to the next thing. There are plenty of prompts on the signs to help guide conversations if you need to encourage kids to be involved at each display.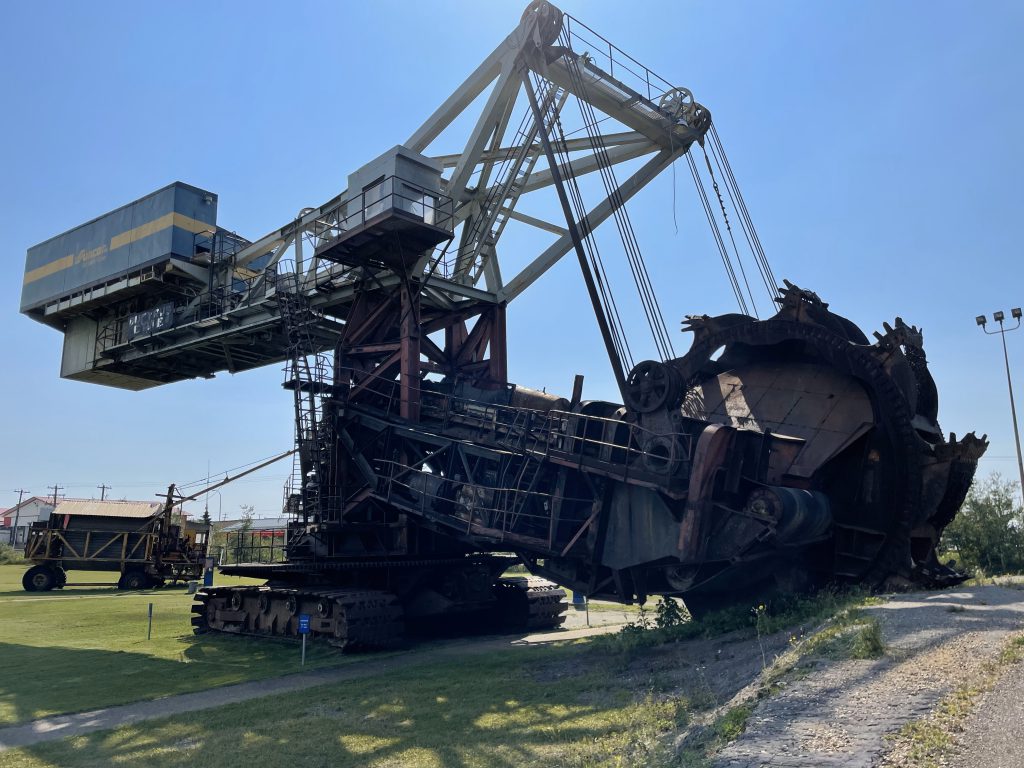 Head outside where there are plenty of picnic tables to have lunch at, and then walk around to behind the museum to explore the Industrial Equipment Garden & Bucketwheel Exhibit. You can access them from either side of the museum, but it's best to start from the north end (when you are facing the museum doors head left).
The garden is open air with a gravel path taking you close to the equipment. The grass was a bit soggy when we visited, so if you want to get up close with everything I'd suggest runners over flip flops. How many people does it take to form a line from side to side inside the buckets?
Nearby Attractions
The Oil Sands Discovery Centre is just south of downtown Fort McMurray and close to several other attractions.
Heritage Shipyard: Did you know that water was the primary way to get around in Alberta for much of the early 1900s? Check out 8 heritage vessels, a couple caboose, and an amazing (almost private) playground
Heritage Village: Learn about Fort McMurray before the Oil Sands. From forestry, to missionaries, to early settlers and bush pilots.
MacDonald Island: Get active, watch a game, or take in a show at Mac Island. We particularly love the water park and climbing wall.
The Alley YMM: Bowling, laser tag, and the biggest pizza I've ever seen. Lots of indoor fun!
If you didn't get enough of the big machines and oil sands mining history and future, head north on Highway 63 about 30 minutes north of town to see:
Syncrude Site – you'll drive by the main upgrading site for Syncrude on your way to the other attractions on this list.
Bison paddock and land reclamation – learn more about how Syncrude and other mining companies are returning their old mining sites to nature, and see real, live bison!
Giant Bison display – This sign used to be the gateway to Syncrude's mining operations, but they've since split the highway and it's now the exit.
Get a complete list of family activities in Fort McMurray here!
Where to Stay
While many visitors to Fort McMurray stay with friends or family, here are some other options if you want some of your own space (or are going to see the sites without seeing people – go you!):
Hotel: Radisson Hotel & Suites Fort McMurray

I LOVE the super-reasonably priced suites here! Big bonus: a bright orange water slide feeds into the 4'3″ deep pool with a small hot tub beside it – life jackets are available on the pool deck for shorter kids.

Campground: Gregoire Lake Provincial Park

Driving in to Gregoire Lake you wonder if there will be any trees – the forest up to the park was razed by The Beast, but the campground and beach were spared! Make your reservations up to 90 days in advance, but sites are usually available.
Get Social
Sharing your visit on social media, or just want to check out Oil Sands Discovery Centre's content? Here are the deets:
Hashtags: #oilsandsdiscoverycentre
Related hashtags: #oilsands #MyFMWB #fortmcmurray #rmwb #ymm #discoverfortmcmurray @explorefmwb #albertahistory #museumlife #albertamuseums #albertamuseum #albertamamas
Can you make this article better?
We're always looking to improve! Have you noticed a spelling or information error, know of something we left out, or would like to share anything else, reach out to us!