My husband was born and raised in Fort McMurray, and, while his parents have retired south, several friends still live in the community, including our kids' godfather. We don't head up north often, but love the area when we do (the drive is long). There are so many things to do!
A hotel room in Fort Mac is a pretty reasonable price – especially on weekends when not as many people are working – so we treat the kids and stay in one instead of cramming them into a friend's basement. One of our favourites is the Radisson Hotel and Suites Fort McMurray with their awesome orange waterslide!
Disclosure: Our visit was a hosted stay. All opinions in this post are our own.
Disclosure: This post may contain affiliate links, meaning I get a commission if you decide to make a purchase through my links, at no cost to you. As an Amazon Associate I earn from qualifying purchases. Please read my disclosure for more info.
At a Glance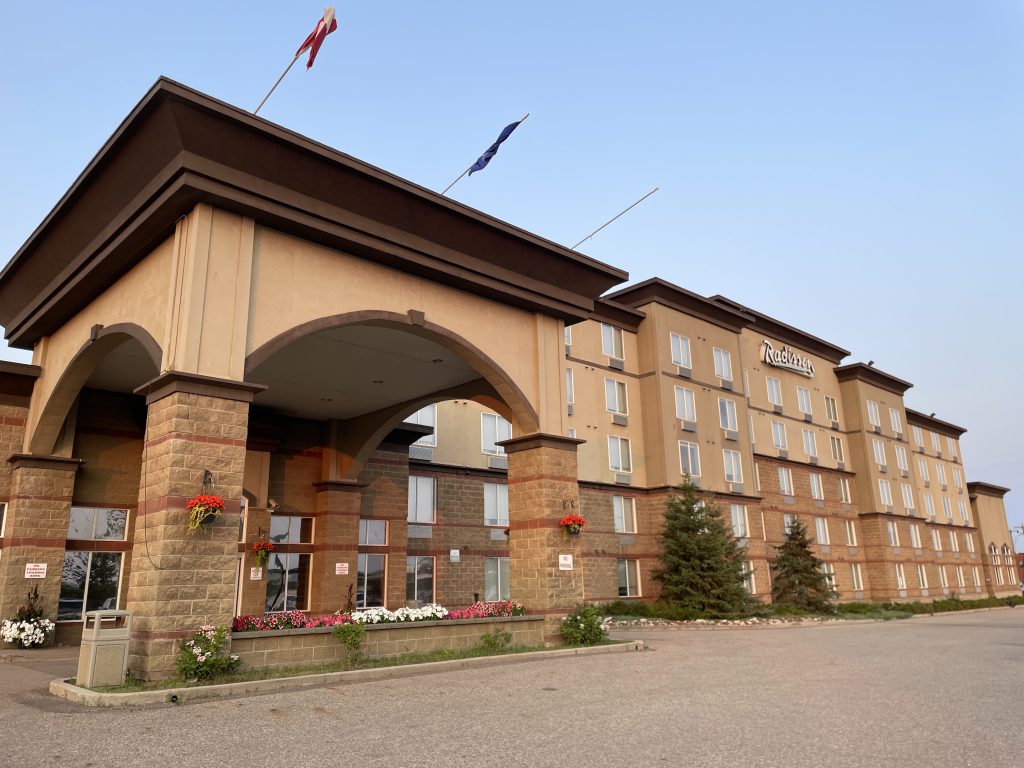 The Radisson Hotel and Suites Fort McMurray is located on the south side of town, just north of the community of Gregoire, and a five minute drive from the Oil Sands Discovery Centre.
Check-in time: 3pm
Check-out time: 11am; Express check-out available
Reservations: Directly with the hotel
Pool: Yes – with water slide, hot tub
Gym: Yes
Kids Zone: Yes/No
Family-Friendly Room Options
The hotel has 134 rooms, which all have at least a mini fridge, microwave, and complimentary bottled water, coffee, and tea. The 42" flat screen TVs swing out so you can watch from the adjacent desk, and the air conditioning is STRONG (yes, even this far north you need A/C in the summer).
The building is non-smoking and pet-free (sorry, Rover), and the WiFi in our room was solid. There are five floors, with the pool on the main floor and the weight room on the second floor, overlooking it.
The hotel has some pretty sweet room options for families. These are a few of my top picks.
Premium Room – King and Queen Bed
With one bed in the main space and a second in a bedroom, this room offers a separate space for the adults to stay with lights on while the kids go to sleep.
Premium Room – Three Queen Beds
Have a larger family or kids that really don't like sharing a bed? This room has one bed in a separate room, and two beds in the main space. This is my family's dream hotel room!
The one down side to this room is it's behind the elevator. Whoever is sleeping in the bedroom can't be a light sleeper.
Extended Stay Suite – King Bed
Planning to do your cooking at the hotel? This room will require the kids sleep on the pull-out sofa (though parents get a king sized bed – maybe you'll share?), but you'll get a well equipped kitchenette with a full-size refrigerator, a microwave, a dishwasher, and a stovetop so you can save on those meals out.
Pool and Waterslide at Radisson Hotel and Suites Fort McMurray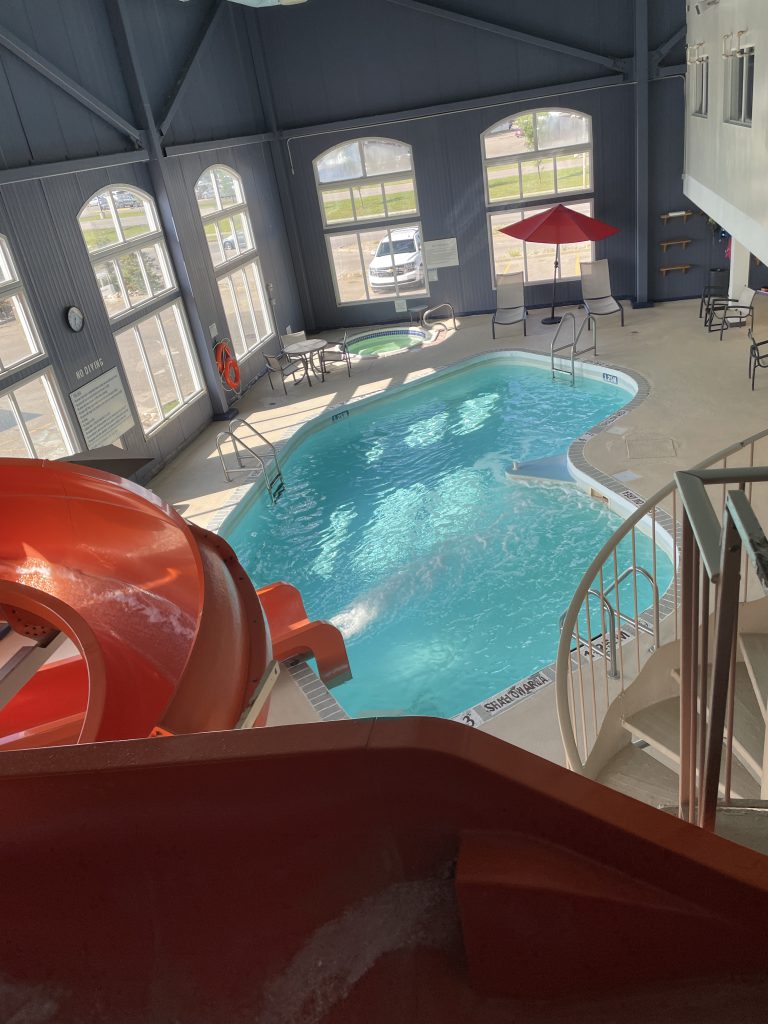 We love this pool! It's a bit deep for my youngest still, so an adult needs to help him (fair enough, he's only 6), but if your kids are tall enough to play without help, there are plenty of seating options on the pool deck for parents to use while supervising.
The water is a uniform 1.25m (4'3") deep in the bean shaped pool. It's not long enough for an adult to swim laps, but it's plenty big for kids to splash and have fun in.
Dining with Kids at the Radisson Hotel and Suites Fort McMurray
There are several options for food in and around the Radisson Fort McMurray. You have a mini-fridge and microwave in your room if you want to go the self-catered route (remember to bring paper plates!).
Complimentary Coffee and Tea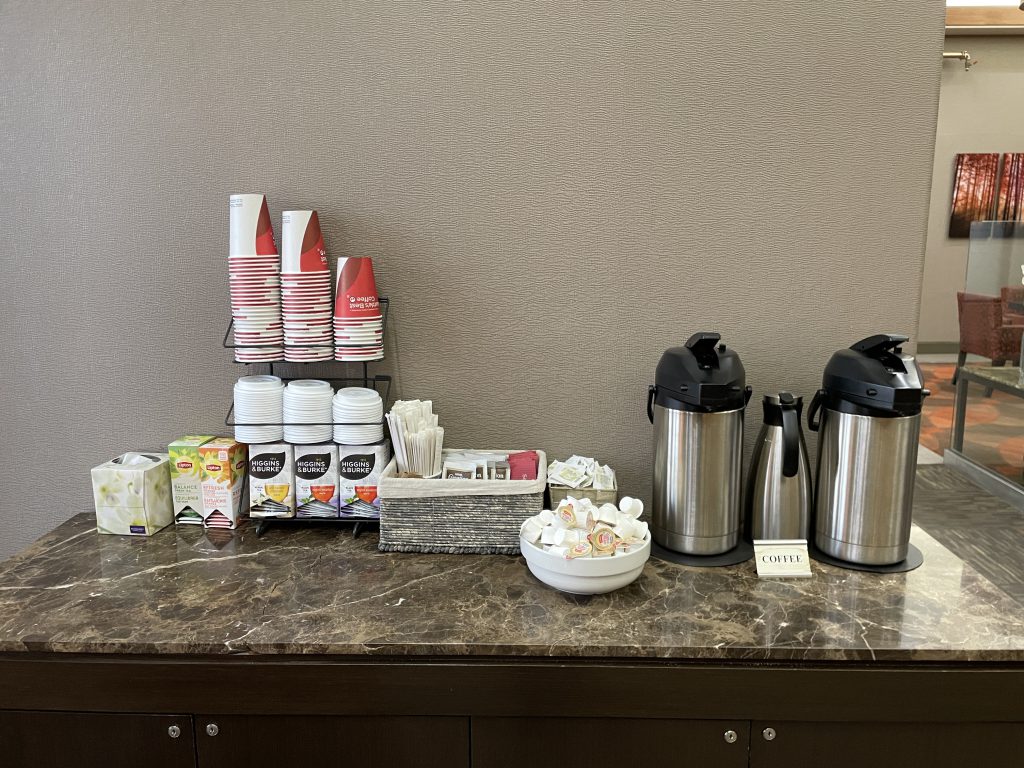 You get both in-room and lobby options for coffee and tea. There's even hot chocolate available in the lobby. I was disappointed by the lack of milk/cream (only Coffee Mate), but enjoyed the RAW sugar (Splenda is also available).
Lobby Snack Bar
Looking for a quick snack or a microwave dinner? There is a small selection of chips, candy, chocolate, and ice cream in the lobby, as well as some emergency toiletries that aren't part of the room amenities. Prices are comparable (maybe a bit higher) to a convenience store.
Urban Kitchen Table
The hotel restaurant is accessible from the lobby and is open for breakfast daily 6 to 11:30am. Monday to Saturday, the restaurant is open for lunch 11am to 4pm, and dinner 4 to 10pm. Take a look at the rotating menu.
It isn't the most kid-friendly menu, so if you have picky eaters, be sure to check the menu before making plans to visit. Breakfast options are mostly egg-based, which my kids will turn up their noses at, and a bowl of cereal and milk was $7.99. (These are totally practical if you're on a business trip, but a bit steep for a family of four!)
There are hotel packages that include breakfast if that's your thing. Be sure to check them out!
McDonalds
It may be a child's dream come true – right across the road from the hotel lobby is a McDonalds with a Play Place!
Other Amenities
The hotel also offers free wifi with a good signal, free parking with plug-ins (very important if you're visiting in the winter!), and a business center.
Gym at Radisson Fort McMurray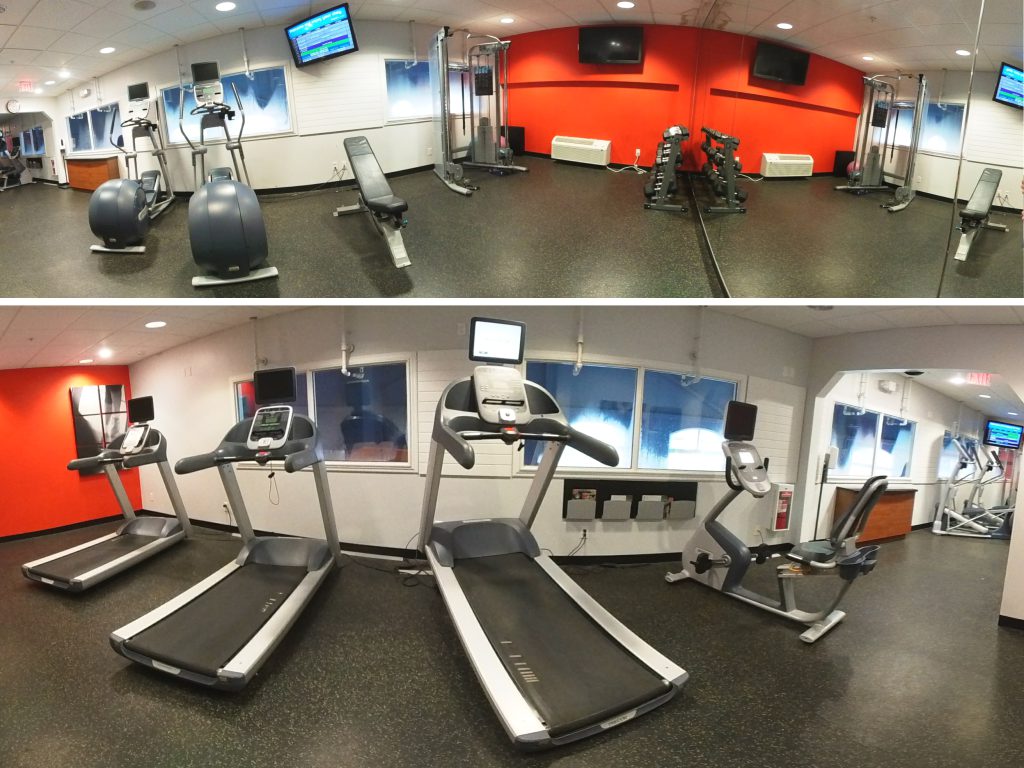 There's a nice space to work out overlooking the pool on the second floor. The gym features three treadmills, a recumbent bike, and two ellipticals (each with its own TV), free weights and incline bench, a cable and pulley machine, and a few exercise balls round out the offerings. Windows line the wall overlooking the pool with a mirror on the opposite wall by the weight equipment.
Nearby Attractions
Fort McMurray is becoming a sports center, so be sure to check out what's happening in town when you're visiting. There was a baseball tournament going on the weekend we visited with at least one team staying in the hotel.
If this is your first time to Fort McMurray, or you don't know much about the area's primary industry, your first stop should be the Oil Sands Discovery Centre. This 2-3 hour interpretive centre will help you understand where the local industry has come from, and a look into where they're going.
A few other great attractions include:
The Alley for bowling, laser tag, arcade games, and the biggest pizza I've ever seen!
Gregoire Lake for some sand and sun
Heritage Village and Shipyard for a dive into Fort McMurray before the oil sands
See our complete list of Things to Do in Fort McMurray for more ideas.
Get Social
Sharing your visit on social media, or just want to check out what others have to say? Here are the deets:
Hashtags: no hotel-specific hashtags

Related hashtags: #MyFMWB #fortmcmurray #rmwb #ymm #discoverfortmcmurray #albertamamas

Instagram: @fmhotelgroup
Facebook: "Radisson Hotel and Suites Fort McMurray" and "Fort McMurray Hotel Group"
Can you make this article better?
We're always looking to improve! Have you noticed a spelling or information error, know of something we left out, or would like to share anything else, reach out to us!