Looking for something to do with the kids after 5pm in Fort McMurray? Head to The Alley YMM! This family friendly spot has a bowling alley, arcade, laser tag, and the biggest pizza I've ever seen!
Going with your adult friends? Don't worry, it's great for you, too! We saw a couple Bachelor/Bachelorette parties starting their night on the town as we were wrapping up ours.
Disclosure: Our visit was a hosted stay. All opinions in this post are our own.
Plan Your Visit
Be sure to check The Alley YMM's website to confirm hours, prices, and make reservations for your visit!
Location
Address: #15, 8528 Manning Avenue, Fort McMurray
Find The Alley next to Cora's in downtown Fort McMurray (between Staples and Rona), and just around the block from The Historic Shipyard.
Hours and Admission
From early to late, The Alley YMM has a wide range of hours and lighting to suit your group.
Rates
Check the website for rates based on your activity:
The Alley YMM is a great spot to host a party or corporate event. They have some pre-defined packages or you can reach out to build your own.
Hours
Monday-Thursday: 11am-11pm
Friday-Saturday: 10:30am-12:30am
Sunday: 10am-10pm
Activities
5- and 10-Pin Bowling
The Alley YMM offers both 5- and 10-pin bowling. With a couple kids (and me being a weakling) we decided to do 5-pin to use the smaller balls.
It's self-serve shoes and digital score keeping, with some fun animations on the screen as you play.
You can turn bumpers on and off by the player. We chose to either have them off for our first round and on for everyone for the second game.
The screens allow you to message between lanes, which the kids found entertaining. It could become distracting from playing, so the adults quickly said "enough." If we were on opposite sides of the alley it would have been great, but we shared a seating area.
Laser Tag
Our group of 5 were the only ones playing in our time slot, so we set up a 4-on-1 game with everyone ganging up against Dad. It was a blast!
The game starts with a safety brief, then vest selection. All vests have a name on them like "Beast," "Supernova," "Infinity," and "Spyder."
Once everyone is activated in the computer and a final equipment check is run (make sure the kids have their lasers un-clipped from the vests!) and the first team enters the arena. The second team follows a few seconds later.
If you need a break at any point you can slip back into the "armory" or go find the "jeep" at the far end and establish cover.
The session runs for 12 minutes and we were all exhausted by the end of it with huge smiles on our faces.
Arcade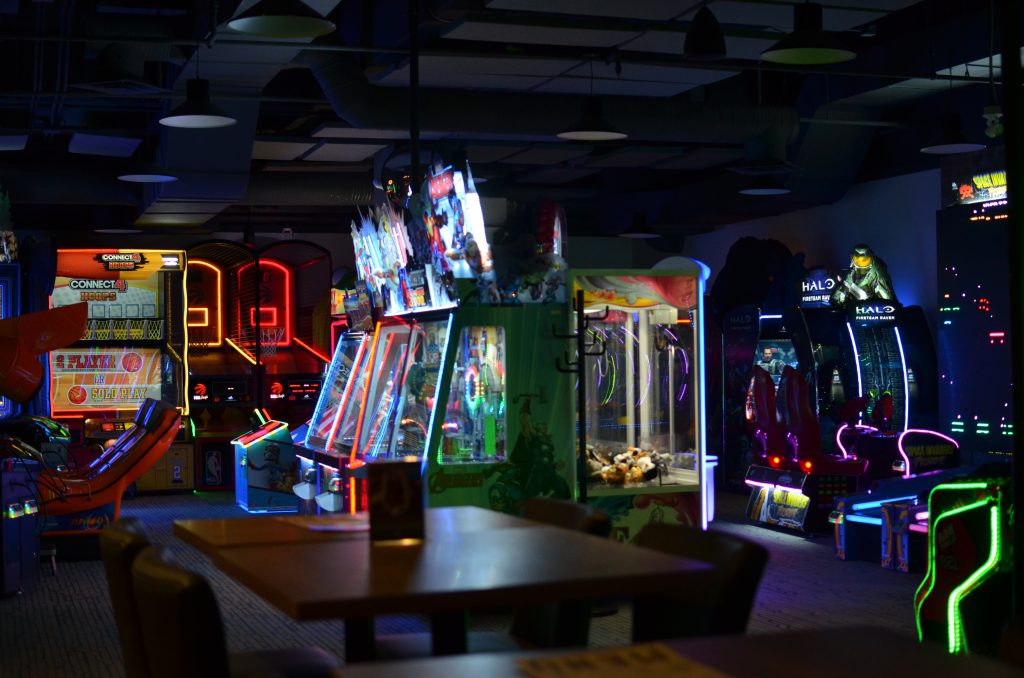 We didn't play any of the arcade games, but there is a wide variety of games available hitting all the classics – from racing, to classic ball games, to prize claws and gopher bashing, there are plenty of ways to spend your tokens!
Food and Drinks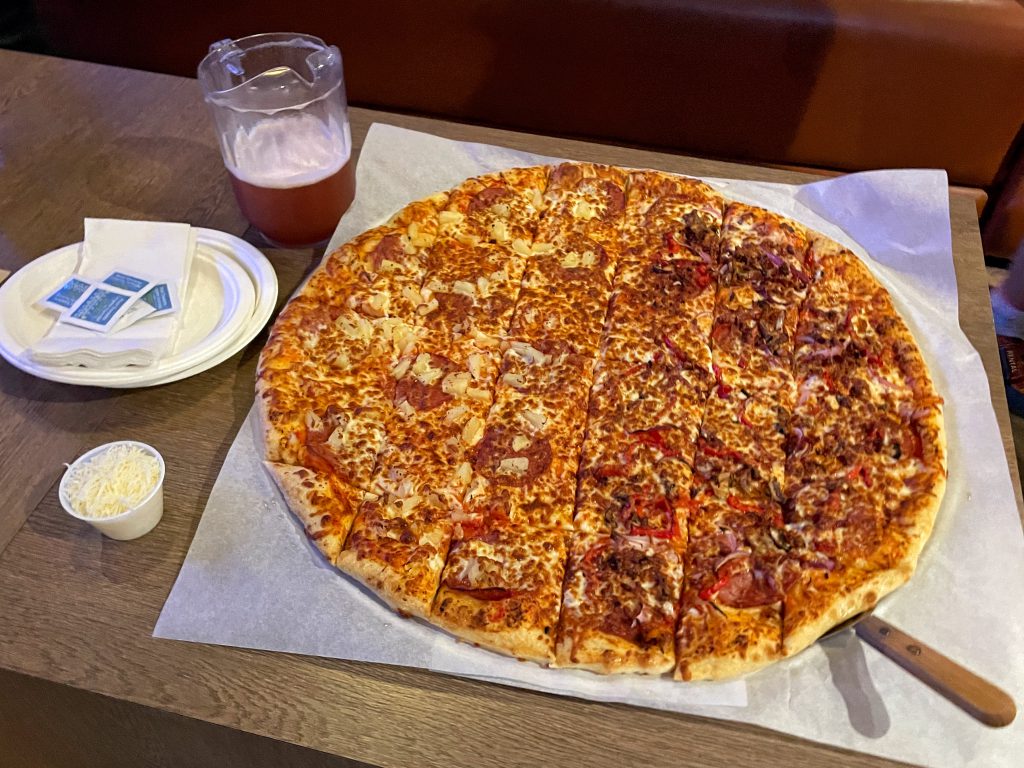 The Alley YMM has lots on the menu, but I don't know if you can beat the GIANT 24-inch pizza for around $40. That's your standard pitcher of beer in the back to help give this scale. We took home enough leftovers for lunch the next day with five of us splitting the pizza (and the 6 year old was eating like a 16 year old boy).
Check their menu for all the options – next time we go I need to get the deep fried pickles.
Where to Stay
While many visitors to Fort McMurray stay with friends or family, here are some other options if you want some of your own space (or are going to see the sites without seeing people – go you!):
Hotel: Radisson Hotel & Suites Fort McMurray

I LOVE the super-reasonably priced suites here! Big bonus: a bright orange water slide feeds into the 4'3″ deep pool with a small hot tub beside it – life jackets are available on the pool deck for shorter kids.

Campground: Gregoire Lake Provincial Park

Driving in to Gregoire Lake you wonder if there will be any trees – the forest up to the park was razed by The Beast, but the campground and beach were spared! Make your reservations up to 90 days in advance, but sites are usually available.
Get Social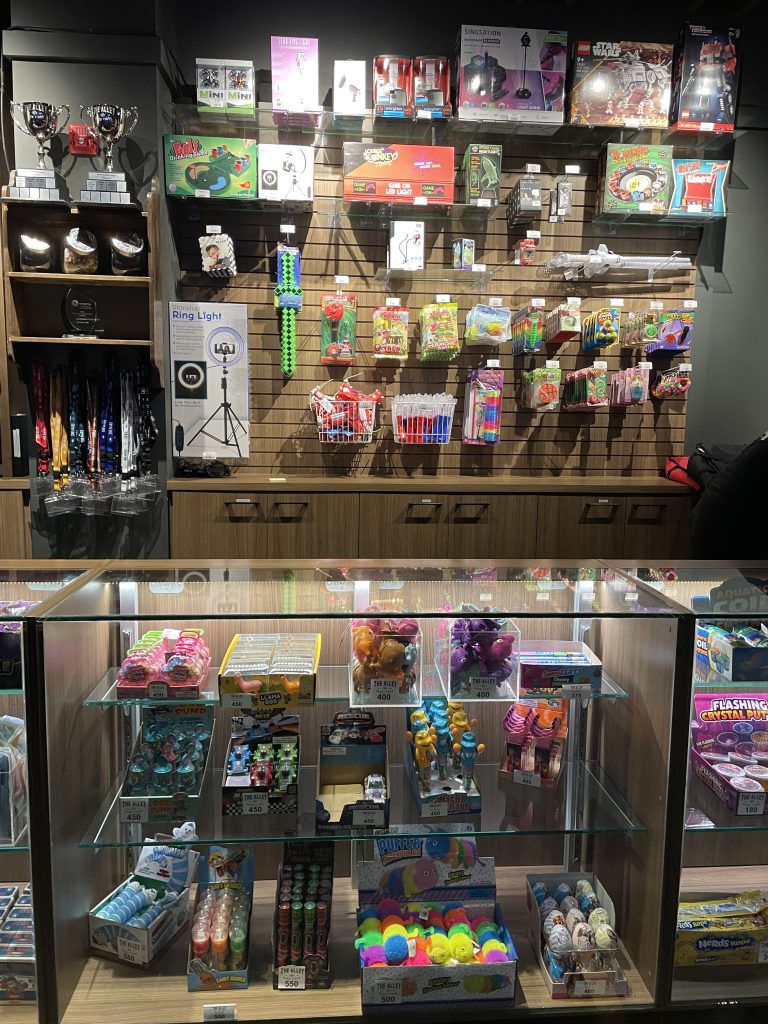 Sharing your visit on social media, or just want to check out The Alley YMM's content? Here are the deets:
Hashtags: #thealleyymm

Related hashtags: #bowling #lasertag #arcade #fortmcmurray #albertamamas

Instagram: @thealleyymm
Facebook: The Alley YMM
More in Fort McMurray
Looking for more in Fort McMurray? Be sure to visit our complete list of things to do!
There are a few attractions in the immediate are of The Alley to visit:
The Historic Shipyard
PlayOn Space
Heritage Village
Can you make this article better?
We're always looking to improve! Have you noticed a spelling or information error, know of something we left out, or would like to share anything else, reach out to us!