Photos can't explain how MASSIVE the operations north of Fort McMurray are. In 1999 Syncrude decommissioned several machines and placed two at the side of the highway in an open-air museum to exhibit these giants and share information about what happens at their open-pit oilsands mining operation.
We're fans of big things at Alberta Mamas. I've seen a lot of them. But walking up to these machines that are as big as my first four-story apartment building? You've got to see this!
Plan Your Visit
Location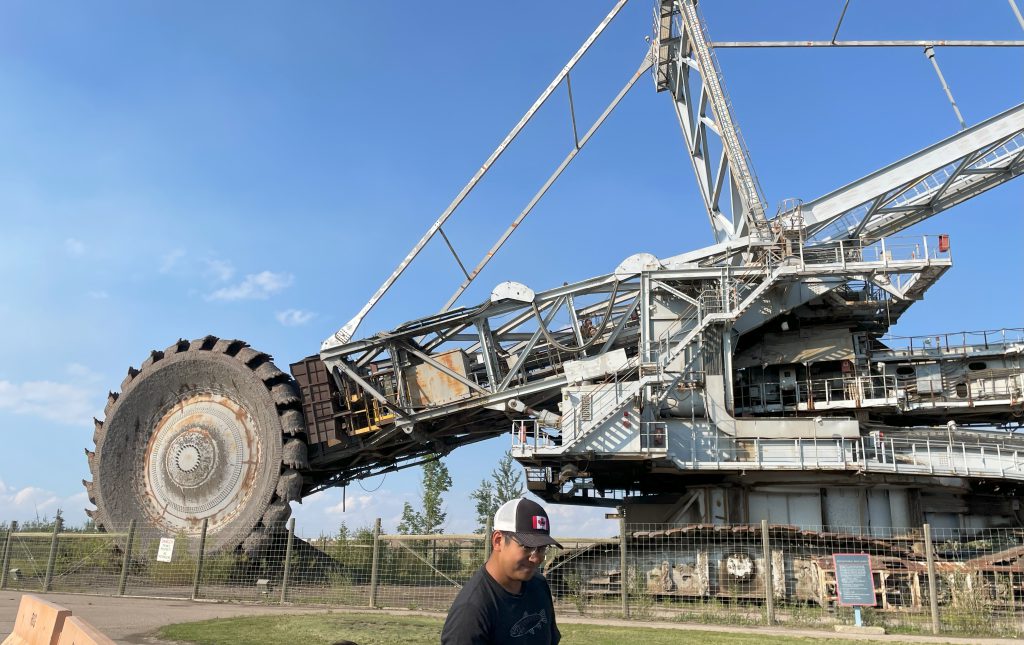 There isn't really an address for "Giants of Mining" but you can put it into your favourite Map app, or follow the signs. As we all learned during "The Beast" there is one road in, and one road out of Fort McMurray. Take the north road out – Highway 63 – for about 30 minutes. You'll drive past Syncrude's main site and come across the giants on the left side of the road.
Hours and Admission
Admission is free, and the site is open all day, every day. It's best to visit in the afternoon or early evening if you plan to take well-lit photos. I recommend going after other attractions have closed while the sun is still up, like I did for the photos in this post.
Facts, Figures and What You'll See
Did you know that the Athabasca Oil Sand deposit contains more recoverable oil than the proven reserves of Saudi Arabia?
The gray Bucketweel Reclaimer No. 4 retired in July 1999. It has 24 buckets that hold 1.38 cubic meters and discharged 54 buckets a minute when it was in production. It used more than nine tons of oil and grease, and had over ten tons of paint on it.
The red Discovery Dragline was one of 4 machines built in 1977/78. Three people worked a 12 hour shift operating the machine – a driver, an "oiler", and a ground-person – as the machine took one 2.5 meter step every 40 seconds. The bucket would hold 61 cubic meters!
If you have a dino-lover, be sure to guide them to some of the signs. Oil sands mining has resulted in numerous fossil discoveries, including the ichthyosaur at the Oil Sands Discovery Centre in Fort McMurray, the displays in the Borealoplta markmitchelli room at the Royal Tyrrell Museum of Palaeontology in Drumheller, and in the Royal Alberta Museum in Edmonton. There is a sample showing evidence of marine life from the area on display at Giants of Mining.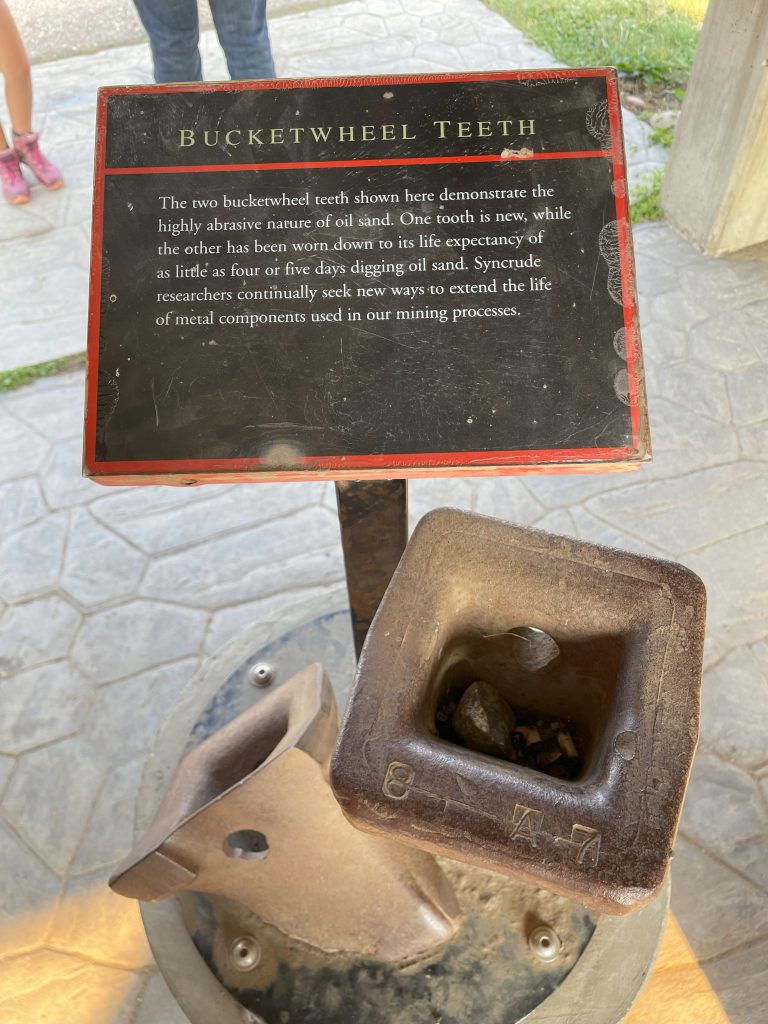 The signs are older. On one about Syncrude's commitment to environmental improvements, it states that Syncrude permanently replaimed over 2,260 hectares of land at the end of 2000 (and what plans exist for 2010). In cooperation with Fort McKay First Nation over 300 Wood Bison were grazing on that land.
Nearby Attractions
There are so many things to do in Fort McMurray with kids (and without)
If you didn't get enough of the big machines and oil sands mining history and future, head north on Highway 63 about 30 minutes north of town to see:
Syncrude Site – You can't go in, but take note of the scale of the main upgrading site for Syncrude when you drive past on your way to Giants of Mining!
Bison paddock and land reclamation – Just down the road on the right, stop in to check out the bison and reclaimed mining sites. The lake is the first of its kind – be sure to read the signs about what Syncrude is doing!
Giant Bison display – Check off a roadside attraction and see the first section of officially reclaimed land in the Fort McMurray region.
Where to Stay
If you don't have friends or family to stay with, here are a few options:
Hotel: Radisson Hotel & Suites Fort McMurray

With a fun pool (4'3″ deep), water slide, and hot tub and some well priced suites it's easy to keep the kids entertained, and give parents a separate space.

Campground: Gregoire Lake Provincial Park

Get away from the highway noise and "hustle" of the town in this well treed provincial campground. Reservations are available 90 days in advance, but it's possible to show up on Friday night and get a site most weekends. If you're staying more than a couple nights, ask about the large-volume firewood options at the registration desk/store.
Get Social
Sharing your visit on social media, or just want to check out Giants of Mining photos and videos? Here are the deets:
Hashtags: #giantsofmining #syncrude #dragline #bucketwheel @syncrude_canada

Related hashtags: #oilsands #MyFMWB #fortmcmurray #rmwb #ymm #discoverfortmcmurray #albertahistory #museumlife #albertamuseums #albertamuseum #albertamamas

Instagram: Location tag (Syncrude Giants of Mining)
Can you make this article better?
We're always looking to improve! Have you noticed a spelling or information error, know of something we left out, or would like to share anything else, reach out to us!