Embark on an unforgettable Central Alberta day trip with larger-than-life statues and quirky landmarks as the key feature (plus plenty of playgrounds!).
Why, you ask? This time (yes, this isn't our first – and won't be our last – landmarks day trip), we had a book-on-tape due back at the library. What better way enjoy "reading" than also checking out some of the "World's Largest" objects in Alberta?
I used our Ultimate List of Roadside Attractions to create a route in central Alberta (since Nicola already covered a route NE of Edmonton – and we've seen them when camping in Vilna). Below is a modified version of the route we took, information restrooms, playgrounds, and other fun stuff along the way.
Fasten your seat belts and get ready to explore an enchanting journey through Central Alberta's unique and colossal wonders!
Table of Contents
Road Trip Itinerary
I managed to cram a lot of stops into this ~5 hour drive starting from Edmonton. If you're starting from Red Deer or somewhere along the route it would be significantly shorter!
Before You Go: Tips and Tricks
I don't recommend this trip for small kids. There is a lot of driving!
Pack lunches and snacks, and bring your own water bottles. Gas costs enough, and you don't want to get stuck in a restaurant for an hour.
Many of these stops have playgrounds or somewhere for the kids to blow off steam from being in the car all day. Give them a chance to stretch their legs at each stop!
Most also have washrooms, but a few don't. I've tried to indicate the bathroom situation below.
Bring hand sanitizer and/or wet wipes. Not all spots have running water.
Try and go on a sunny day, this isn't a great rainy/smoky day trip. The best part of this long road trip was the playgrounds and if we hadn't been able to get out and stretch it would've made the day miserable.
I printed out the map old school style and gave the kids a copy so they knew what the day looked like with the times between the stops. They didn't care for it, but Nicola's did.
While I try to scout places on Google Street View in advance, I made sure the kids knew we had no clue what it was going to be like once we got there. It could be AMAZING or pretty dull – but there was always another stop to make up for it.
Consider downloading an audiobook or preparing some of these technology-free road trip ideas before heading out.
Have something easy for dinner ready to go when you get home.
A Few Personal Notes
We did this trip in the summer of 2023. I had planned to do it earlier in the year, but we were smoked out, then rained out, then smoked out again! The school year was about to start, and the kids were going a little stir-crazy, so when the weather finally looked "okay", we hit the road.
Our photos won't be amazing, and some of our stops were cut short or not as enjoyable as they'd be on a nicer day, but it's been a couple months now and they're still talking about it – so I achieved my goals.
Don't be afraid to do something like this if conditions aren't perfect. You're still going to
get out of the house
spend time together
create life-long memories.
And that's really the whole point of this, right? Not everything has to be Instagram-worthy.
Central Alberta Day Trip Stops
"The Legacy" World's Largest Bucking Saddle Bronc Horse & Rider – Ponoka, Alberta
Since Highway 2 is just about the most boring highway in Alberta, we started our drive by getting it over with. You also pass close to Costco at the airport, so we were able to fill up before going too far.
Ponoka is about an hour and fifteen minutes from Edmonton if you don't stop for gas.
The Legacy is 32 feet tall, located in Lions Centennial Park (Highway 2A, just north of Highway 53). It was built in 2004 to celebrate Ponoka's 100th anniversary.
Also located in Lions park is a splash park, impressive playground, bathroom facilities, and a derelict mini-golf course. Timber Coffee Co is on the other side of the parking lot if you need some "fuel" for your drive.
Walking into the park you pass a flower garden that has a painted rock snake growing in it. If you're the sort to plan ahead, this could be a fun craft a day or two ahead of the drive.
Across the street is the Ponoka Elementary School with an even more impressive playground. My kids wanted to go check it out, but we were just getting started, so I promised it for another day.
World's Largest Fishing Lure – Lacombe, Alberta
Just twenty minutes down the road from Ponoka, the World's Largest Fishing Lure at the Len Thompson Pond measures over 40 feet long!
This stop is more about fishing than playing. There is a massive dock that the kids took a sprint around (fortunately no one was fishing the stocked pond at the time).
There are plenty of picnic tables to have lunch at. The wind had picked up when we stopped, so we ended up eating in the car before heading on.
Alix the Gator – Alix, Alberta
30 minutes into our driving along Highway 12, I happened to notice this new-to-me roadside stop. Of course we had to add it in!
It's hard to find information about the Alligator online, but my favourite "fact" is the legend of a dark shadow discovered in the town lake. Who needs a monster like 'Nessie when it can be explained away with a tropical alligator running wild in central Alberta?!
As this was a surprise stop, I hadn't researched Alix ahead of time. The town has three playgrounds, but none near the 'gator.
Main Street looks like it would be fun for me to explore. The Alix Wagon Wheel Museum is a block and a half down Main Street, but was closed the day we visited (it's open Tuesday to Friday during the summer).
Alberta's Largest Norther Pike – Rochon Sands
It was another 25 minutes to arrive at Rochon Sands. I'd never even heard of the summer village before planning this trip. Despite not-so-great skies I think I'm in love. I'm already staking out the provincial park as a camping destination for next summer.
Heads up that Telus/Bell cell phone service cuts out about 500 meters from the town, so you're relying on what was downloaded before you arrived and road signs to find the Pike.
Take a right on the access road for Rochon Sand Disc Golf. If you pass the adorable Snack Shack on the left along Sands Street you've gone too far (and may have kids begging for ice cream).
There isn't much to do at this spot besides take a photo and use the outhouse – unless you like disc golf and brought your Frisbee! Fortunately we were at an exciting point in our travel audiobook, so the kids were happy to hop back in the vehicle.
World's Largest Oil Lamp – Donalda, Alberta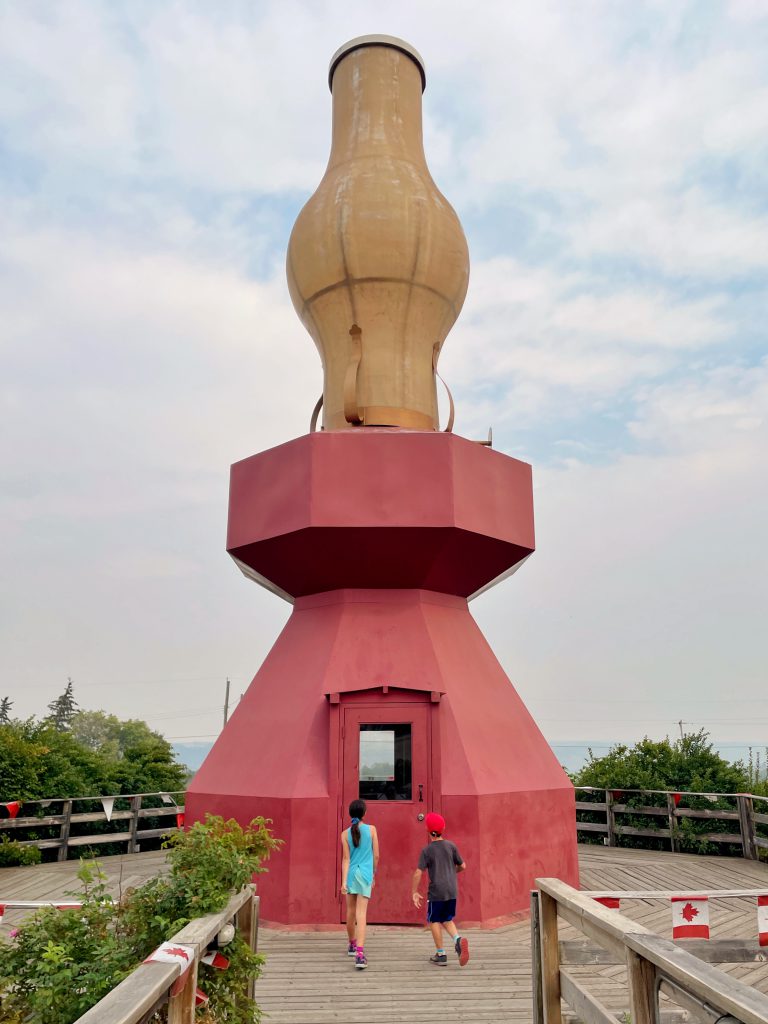 I wasn't sure what to expect from Donalda. This lamp is a favourite example of Alberta's wild roadside attractions, and has been on my personal "check it out" list for a while now.
Just 30 minutes from Rochon Sands, the Village of Donalda isn't a town you pass through on the way to somewhere else. Centered between the more major highways of 13 and 12 to the north and south, and 36 and 21 to the east and west, Donalda is a town you visit with intent.
Despite the crumby day we weren't the only ones visiting, either! The kids and I had to wait our turn for photos by the lamp. Don't forget to go inside, too.
There isn't a playground nearby, but there are lots of paths to run around on. Once the sillies are worn out, head across the street to the Donalda & District Museum to do the scavenger hunt surrounded by the world's largest lamp collection.
Before you leave, ask the receptionist for access to the art gallery across the street (we didn't realize this until we'd already left and missed out).
This is also a great opportunity to use flush toilets and have proper hand-washing facilities.
Diplomat Mine Interpretive Site – Forestburg, Alberta
25 minutes from Donalda, this small detour to an open air, open-pit mining museum adds about fifteen minutes of driving onto your trip.
This was recommended as a stop to us by someone we ran into in Heisler – after we'd already driven past. Combined with a late start on our outing, we wouldn't be able to fit it into our drive on this trip. Obviously I've noted it and hope you get to visit!
Canada's Largest Baseball Glove – Heisler, Alberta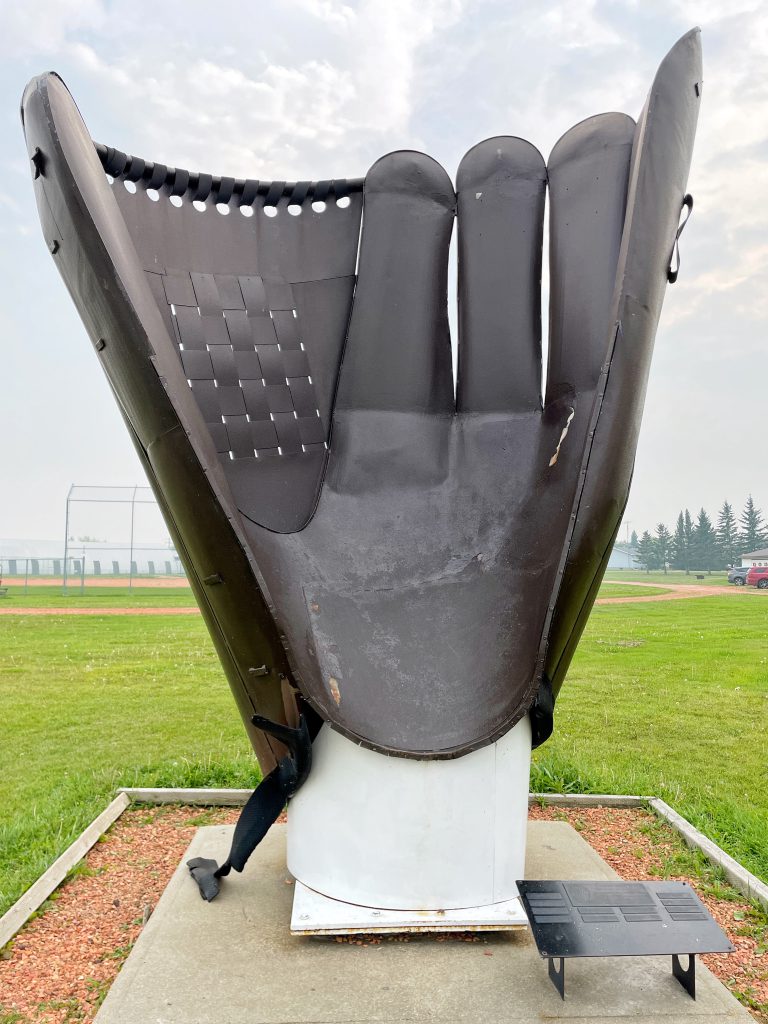 The kids deemed this the best playground all day. Located 25 minutes from Donalda or 15 minutes from Diplomat Mine Interpretive Site, Heisler was more about the playground than the giant baseball glove for the kids.
Measuring 13.5 feet tall by 7.5 feet wide the metal glove is visible from the highway, but parking requires you to drive through the village.
I got to chat with a local mama whose preschooler chatted the ear off of my two. They all had a blast, and I got to learn a little bit more about the area (and discovered the Diplomat Mine).
Knowing this was our last stop I let the kids blow off steam before we we embarked on the hour and 45 minute drive home. Thank goodness for good audiobooks!
If we'd hit the road a bit earlier and on a different day of the week (Wednesday to Saturday), we'd have stopped at the Beaverhill Lake Nature Centre and Museum around the halfway mark to break up the drive.
Final Thoughts
If we were to do this drive again, I'd swap directions, and do the trip between Wednesday and Friday in the summer, so all the museums would be open. I love getting good pictures and would have preferred a day with blue skies, but this summer wasn't good for that.
It was an incredible way to spend a day out with the kids, and I'm so happy we got to create some memories. Exploring corners of Alberta we probably wouldn't go to otherwise is always a treat.
Related Posts
We love our roadside attractions and fun drives! If you're looking for more, check out these posts:
Can you make this article better?
We're always looking to improve! Have you noticed a spelling or information error, know of something we left out, or would like to share anything else, reach out to us!