The giant drive across eastern Alberta started as a curiosity about the many small towns dotted across Alberta that are the home to many of the "worlds largest" structures. Many of these are great stops for when you're on a road trip but I started to think about creating a day trip with the kids to see as many in a day as we could.
Why would you spend 12 hours on the road to see the world's biggest perogy, mallard duck or mushrooms? Mostly, because we needed to get out of the house during the last few weeks of the summer! The kids were heading back to school and I thought "one more hurrah" before we got back into a routine, after school activities, and my work schedule got busy.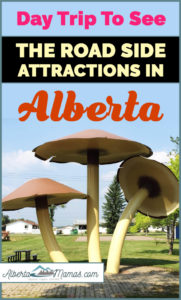 I started planning our day trip by mapping out the drive and how many of the giant structures we could fit in a day. Alberta is BIG, and it might not be possible to see a lot of the structures. Once I was able to find a day that worked, I convinced the kids it was going to be an awesome day checking out some of eastern Alberta's quirkiest treasures.
Road Trip Itinerary
Creating a single-day loop was a lot of fun. I finally decided on these five stops:
A Few Considerations
This is not the type of road trip to take with little kids. It's a LONG day. My kids were 8, 10, and 12. It was almost too long for my 8 year old but there are lots of stops which made it manageable.
Pack lunches and snacks, and bring your own water bottles. Although I'm sure there are restaurants in the towns, our mission was to see the sites and get back on the road. We did buy some perogies in Glendon, because how can you not eat a perogy while at the worlds biggest perogy?
Almost all these stops have playgrounds (hurray) which was an amazing find. Everyone can blow off steam from being in the car all day.
Try and go on a sunny day, this isn't a great rainy day trip. The best part of this extra long road trip was the playgrounds and if we hadn't been able to get out and stretch it would've made the day miserable.
I printed out the map old school style and gave the kids a copy so they knew what the day looked like with the times between the stops. Reinforced that I had no clue what it was going to be like once we got there and then let them check the map on my phone between stops because "I needed their help" (I didn't).
Consider downloading an audiobook or preparing some of these technology-free road trip ideas before heading out.
World's Largest Perogy – Glendon, Alberta
Since this was the furthest from the house it was good to bite the bullet and get cracking on the largest drive of the day. Glendon is approximately 3 hours from Edmonton.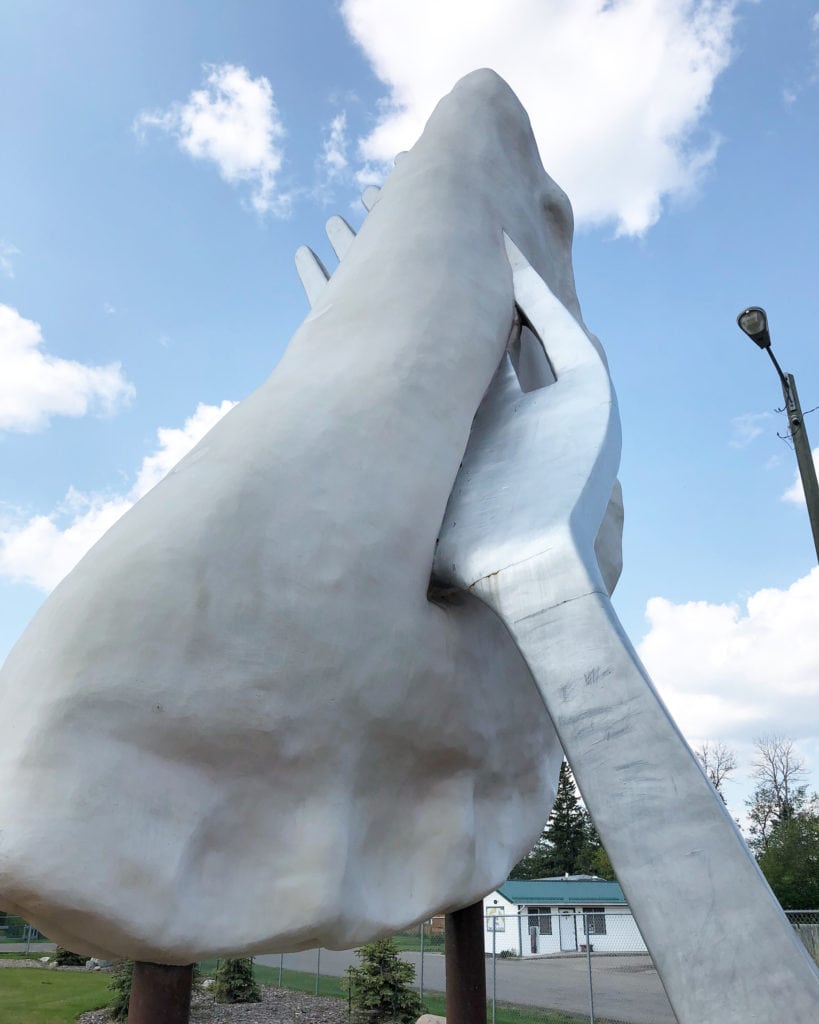 Giant Pyroghy was built in 1991 and is 27 feet high and 12 feet wide. You can find it on the corner of 882 & 1 Ave. North.
Glendon's playground was impressive and such a welcome site after three hours in the car. It has a zip line and a massive field. Since this was our first stop after driving for 3 hours, naturally every one needed to go to the bathroom. There's a public washroom right beside the playground. If it isn't open, check out the gas station or the town hall located on Railway Avenue.
Walking back to the perogy after our bathroom break we stopped at the food truck and had perogies next to the giant perogy. It was super meta.
World's Largest Mushrooms in Vilna, Alberta
Our second stop of the trip we double backed to Vilna, home of the worlds largest mushrooms. Vilna is a short trip from Glendon.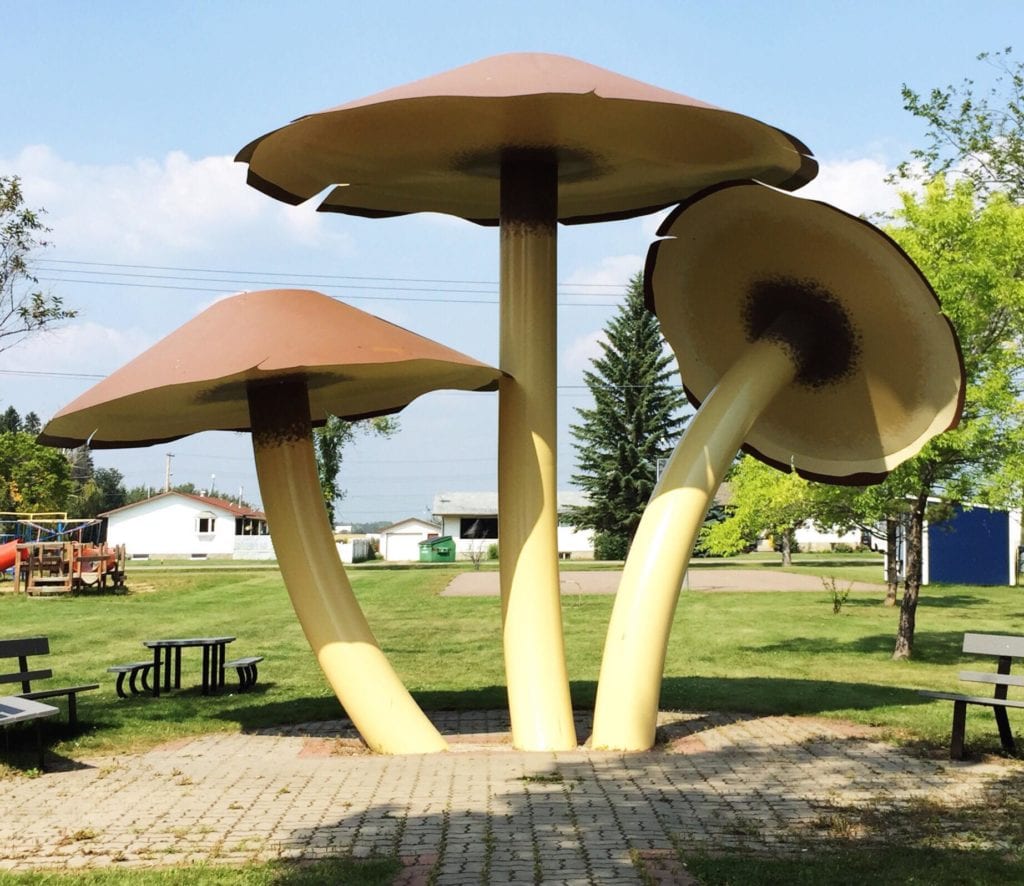 Vilna is one of the cutest towns I've ever seen. It's got this real small town charm and I couldn't take enough photos. The guy that was sitting outside of the barbers probably thought I had lost my marbles (my kids already know I'm batty).
Once I was finished losing my mind about how cute the main street was, we headed to the world's largest mushrooms. The mushrooms were cool, there's three of them and the kids were interested in them for a total of 2 minutes. We ate our lunch and then let them loose on the playground.
The playground itself is amazing – if playgrounds from your youth are your thing. Was it 2019 safe? No. Was it awesome? Yes. My kids probably had the most fun at this playground out of all the ones we visited because it was like they had "gone back to the 1990s" (because they think 1990's is the oldest thing ever – urgh!).
World's Largest Mallard Duck in Andrew, Alberta
This was another quick jaunt to get to Andrew. Andrew is another small town but what it lacks in size it makes up for with the world's largest mallard duck.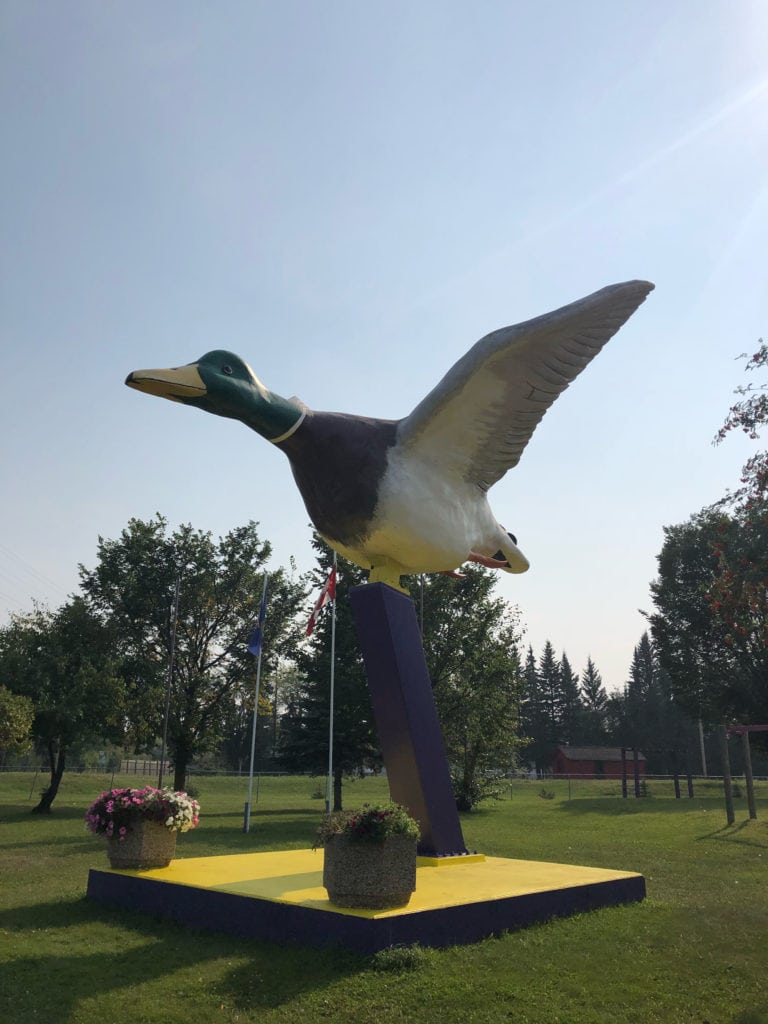 The park in Andrew was great and the kids spent some more time running around like wild animals. One of the unexpected things about this trip was how well they actually got along. I'm not sure if it was because we knew we were in for a long day, whether they saw this as an adventure or they were delirious from being in the car – whatever it was, it was delightful.
World's Largest Kubasa Sausage in Mundare, Alberta
Continuing with the short legs of our trip, we headed to Mundare. When you're in Mundare, what do you eat? Sausages of course!
Our first stop in Mundare was at the Stawnichy's store where we picked up some pepperoni sticks and the iconic kubasa sauasages. We then headed back down the main street to the worlds largest Kubasa sausage. We took some pictures at the sausage and headed back to the car. There's no playground here and so once we had taken a look, climbed to the lookout spot we headed back to the car.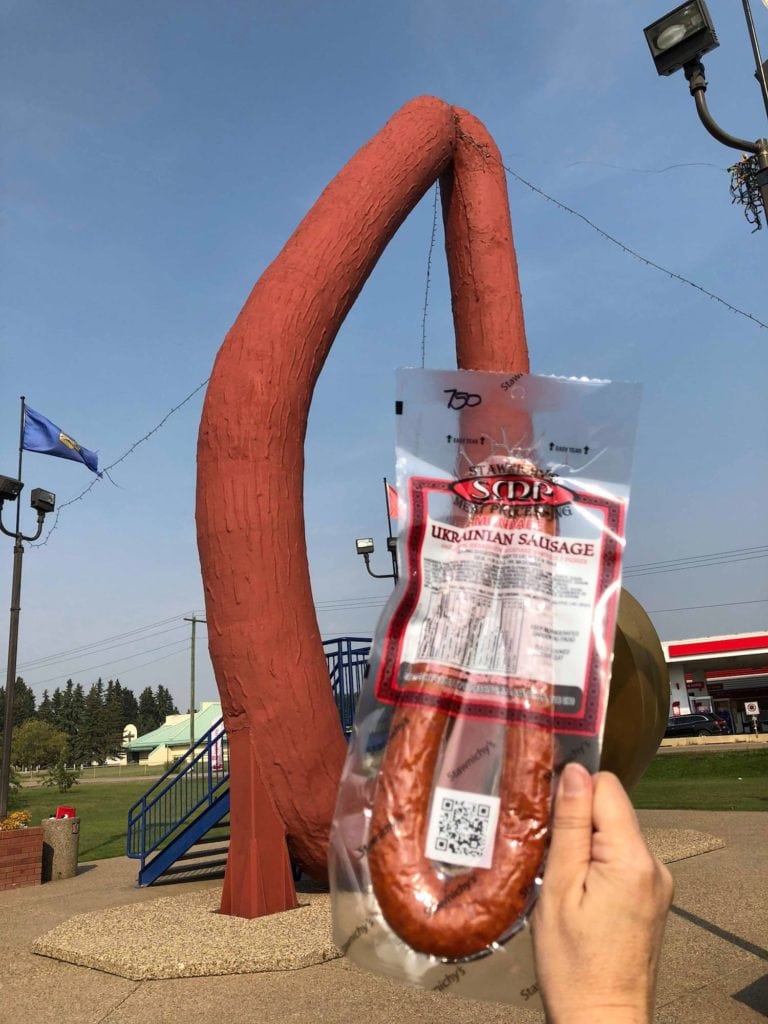 When I was googling about Mundare one recommendation was to stop for the soft serve ice cream at the gas station across from the sausage, and so we did that and frankly it was fine. There was a bathroom at the gas station though so we used the loo, bought some ice cream and headed to our last stop
World's Largest Pysanka Egg in Vegreville, Alberta
The Pysanka egg in Vegreville was the one "worlds largest" structure that I did know about before planning the trip, and we had been there before. Constructed from 525 star pieces, 2,208 triangular pieces, 3,512 visible facets, 6,978 nuts and bolts, 177 internal struts. After over 12,000 man hours the final dimensions are 25.7 feet in length; 18.3 feet width; and 31.0 feet as the highest point from the ground.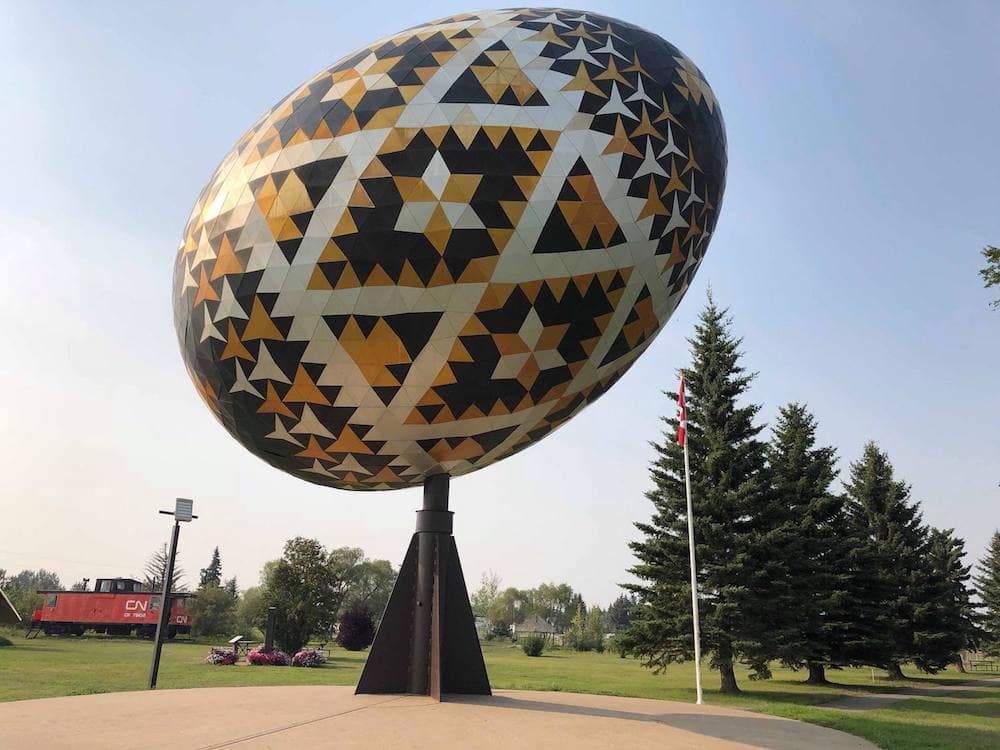 The stop included visiting the egg, checking out the train and heading over to the park for our last play. The park itself is great and is suited for all ages.
By the time we were finished in Vegreville we were tired, it was getting close to suppertime and we were starting to check out. Elk Island National Park is just a short drive away from Vegreville and despite the protesting from the back of the car, we did a quick trip in the park to drive around the Bison Loop hoping to catch a glimpse of a bison to round off the day.
After not seeing one bison (more complaining from the back of the van that we should've just gone home) we drove the final hour of our day in quiet as we made our way home.
More road trip ideas
Why not check out these other road trips: