Often shortened to just Reynolds Museum, the Reynolds-Alberta Museum is the perfect destination for fans of vintage cars and aviation. Centrally located in Wetaskiwin, Alberta this museum is dedicated to preserving the transportation history of the province. (And remember, "Cars cost less in Wetaskiwin!".)
We visited on a Sunday in June and spent about three hours to explore the three main galleries, take in a show in the theatre, and visit the playground, mining exhibit, and airplane hangar. I didn't get to read all the signs, but machines and their history aren't really my thing (and I read a lot of similar info at Remington Carriage Museum last summer). If Hubs had been with us there would have been a lot more reading happening, and the visit taken longer!
Getting to the Reynolds-Alberta Museum
Well signed, on a secondary highway, and in the middle of a field, the Reynolds Museum is easy to find. You will need your own transportation to get there.
From Edmonton and Leduc: The Reynolds Museum is a 40 minute drive from the intersection of Anthony Henday and Calgary Trail on the south end of the city. Take the Highway 2a exit off Highway 2 and head south until you reach Highway 13. Turn right (west) and the museum will be on your right.
From Calgary and Red Deer: About an hour from Red Deer, the Reynolds-Alberta Museum makes a great day trip when you just need to get out of the house and give the kids a change of scene. Head north on Highway 2 until you reach Highway 13. Head 15km down the highway until you see the museum on your left. If you reach the Canadian Tire in Wetaskiwin you've gone too far.
Best Time to Visit
The museum is open year round. You'll want a warm, dry day for a few things, but most of the museum is indoors and would make a great winter or rainy day outing.
Outdoor exhibits to consider the weather for:
Playground
Mining exhibit
Outdoor planes (these are visible from your vehicle if you just want to look at them, but if you want photos or to get closer you'll need to consider the weather)
Classic car ride (additional fee)
Exhibitions & Displays
The Reynolds is such an interactive and information-packed museum! The moment you drive onto the grounds you're greeted by an outdoor display of aircraft, and, on days tours are running, a classic car is probably sitting by the front doors.
Main Building
Before you even walk in the door there's a giant motor on display earning a "what is it?" from my kids. While paying for admission be sure to check for any tours, events, or shows happening at the museum during your visit. They will be listed on signs on the counter.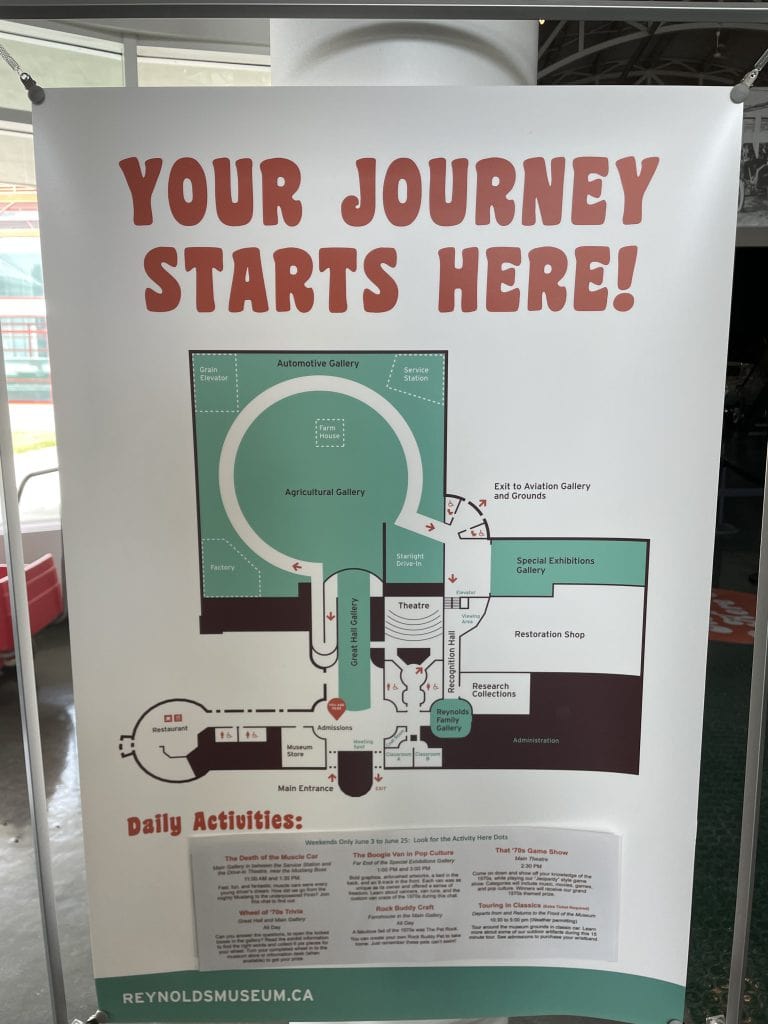 Grab a photo of the museum map by Admissions. The interior layout of the building isn't included on any of the pamphlets I picked up (maybe I missed one!).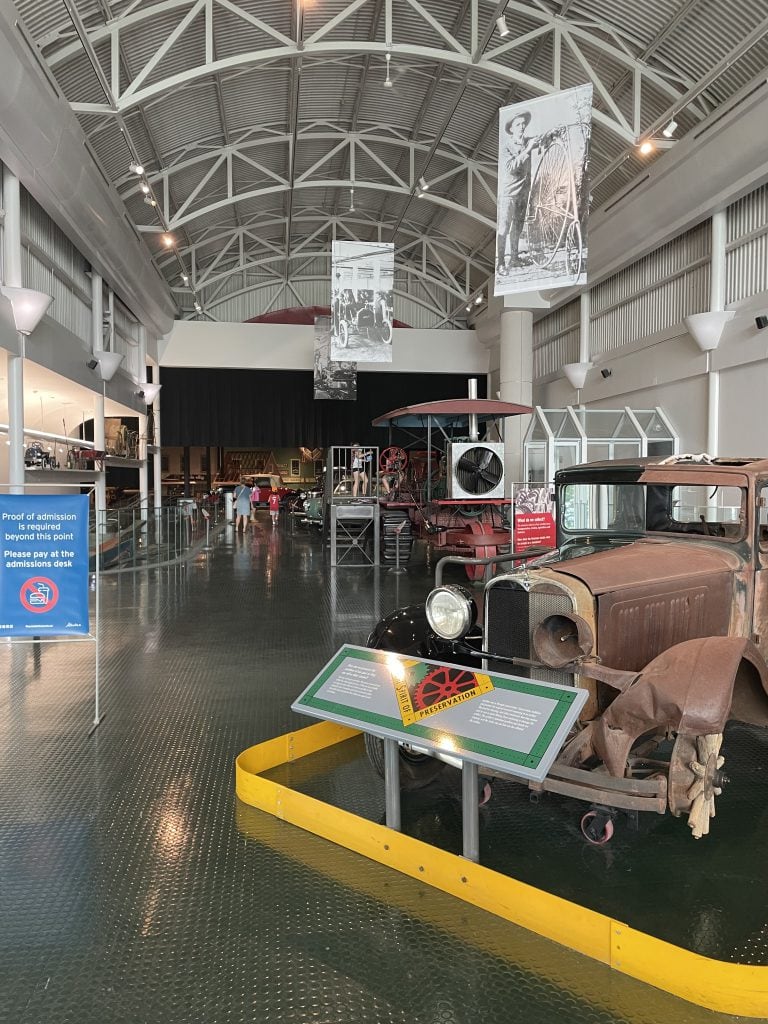 The museum starts in the airy Great Hall Gallery. The kids enjoyed getting up close to vehicles down the middle of this area, but flew through it pretty quickly.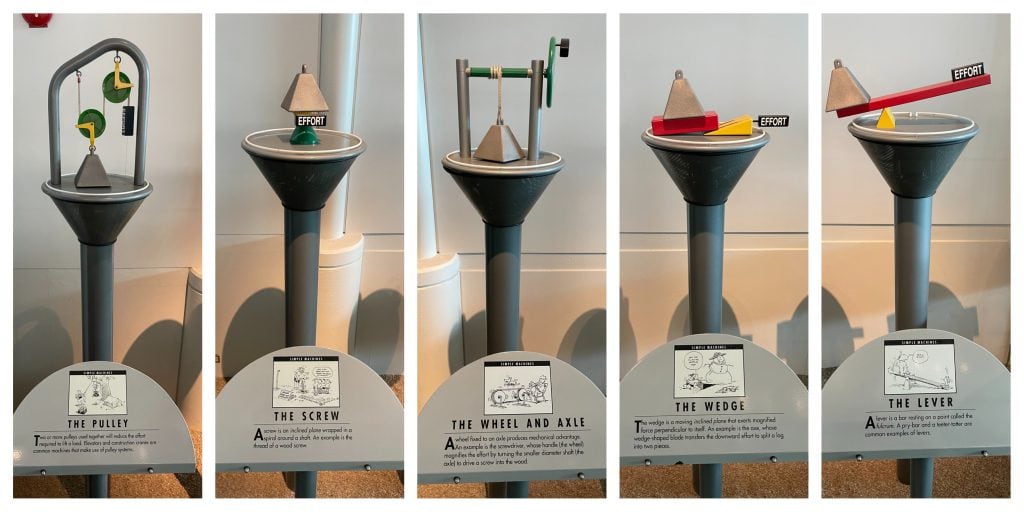 I made sure to point out the Simple Machines exhibit just after the Theatre entrance, which ties in perfectly to the Grade 4 science curriculum. There's also an interactive display by the Automotive Gallery that lets kids test out the different simple machines.
We headed down the ramp into the Main Gallery, which is made up of several themed display areas, including the Factory, Grain Elevator, Automotive Gallery, Agricultural Gallery (with Farm House for children's crafts), Service Station (for adult events), and the Starlight Drive-in.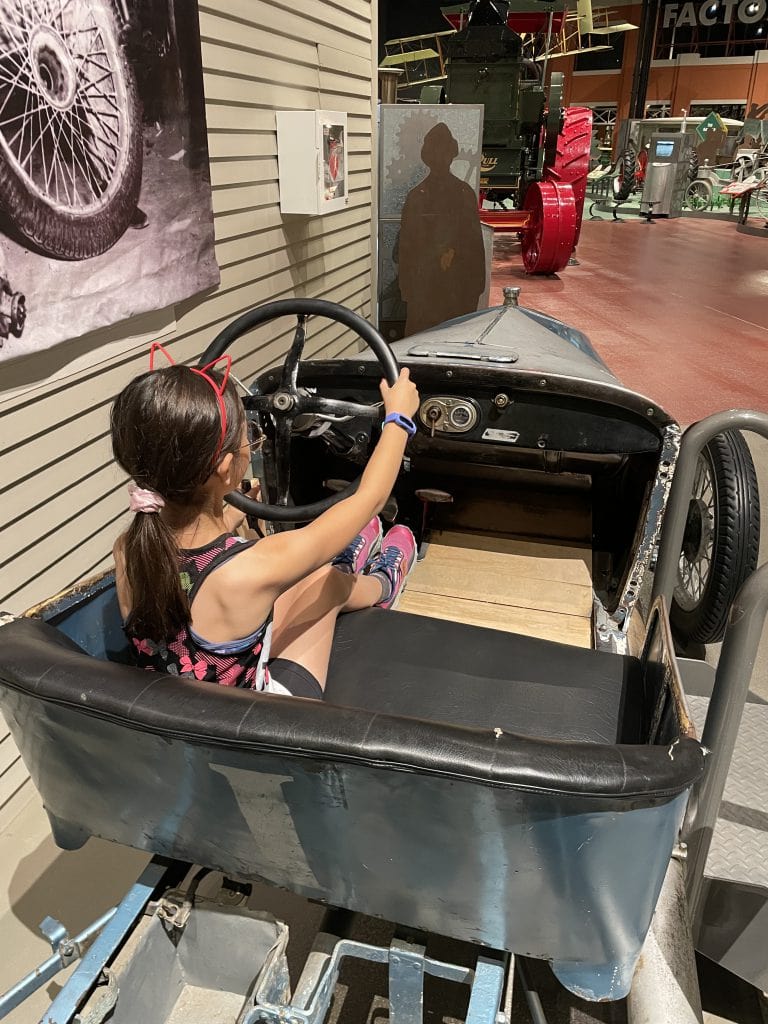 There are lots of vehicles for the kids to climb into, video displays, and interactive elements to keep the kids engaged while I (quickly) read the signs. Or took photos of them. I often find that's a better way for me to get the most out of a museum visit these days!
After passing the drive-in theatre, there's a bathroom stop, and a set of doors to head outside if you want to take in the mining machines now (we did it after).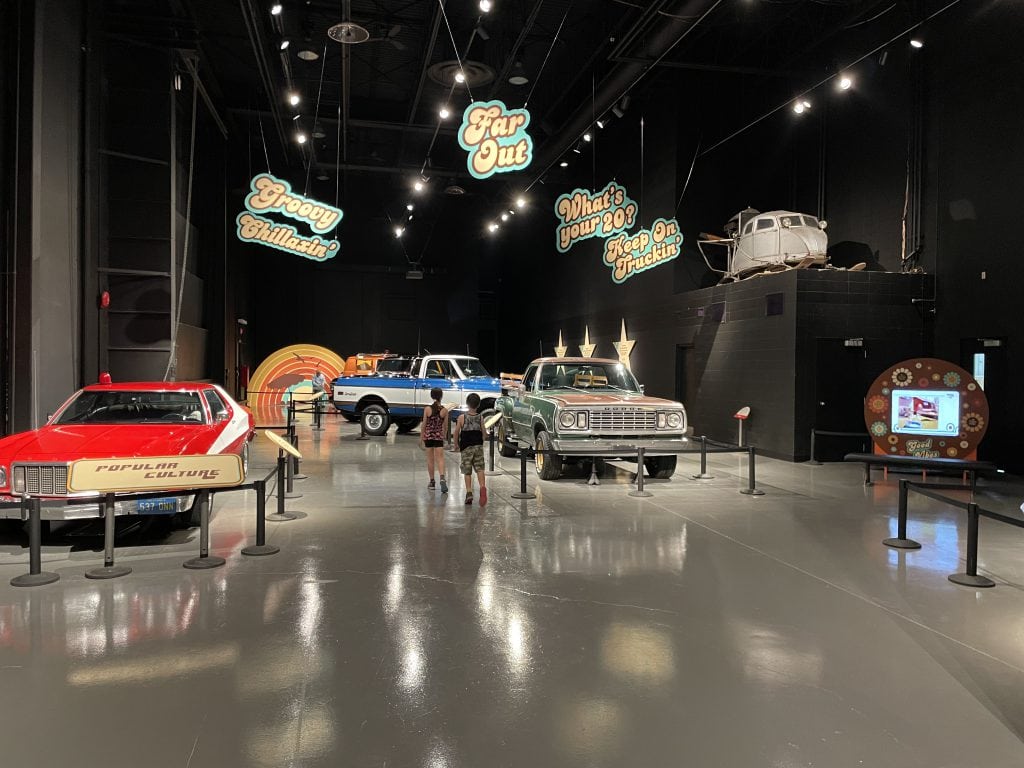 The Special Exhibits Gallery had "Driving Thru the 70s" running while we visited (it runs until Dec 31, 2023). It was a groovy throwback to the rust buckets of my childhood (just in much nicer condition!). The kids agreed with me that these are what trucks should look like.
There's a great original-era camper van at the far end of the exhibit, including shag rug. You know what I was thinking when I saw it!
Head up the stairs (or take the elevator) to take a look in the Repair Shop. No one was working in there while we were at the museum, but it was still pretty awesome to see all the in-progress projects. It's a much busier shop than the one at Remington Carriage Museum!
We walked down the Hall of Recognition, which had an interactive screen that earned more interest from my kids than any "donor exhibit" we've encountered ever has. Congratulations to the designer!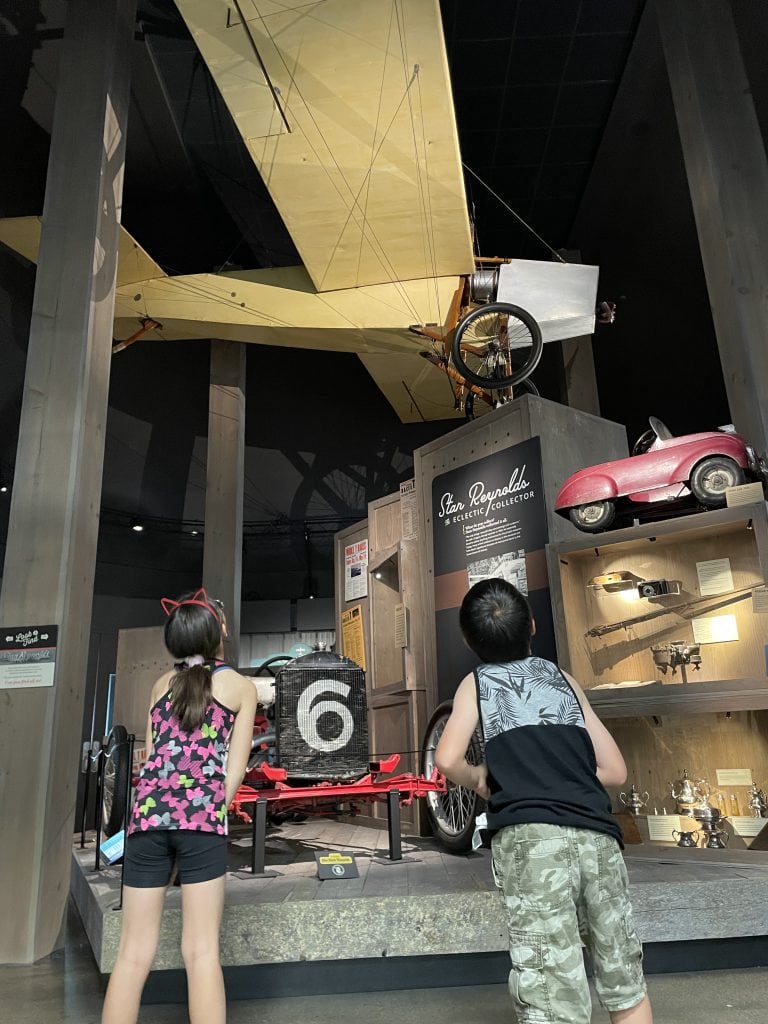 The final exhibit inside the main building is the Reynolds Family Gallery. There's a lot crammed into the small space here. Be sure to keep an eye out for the ten "Reynolds Automotive" signs hidden around the space. We managed to find 8.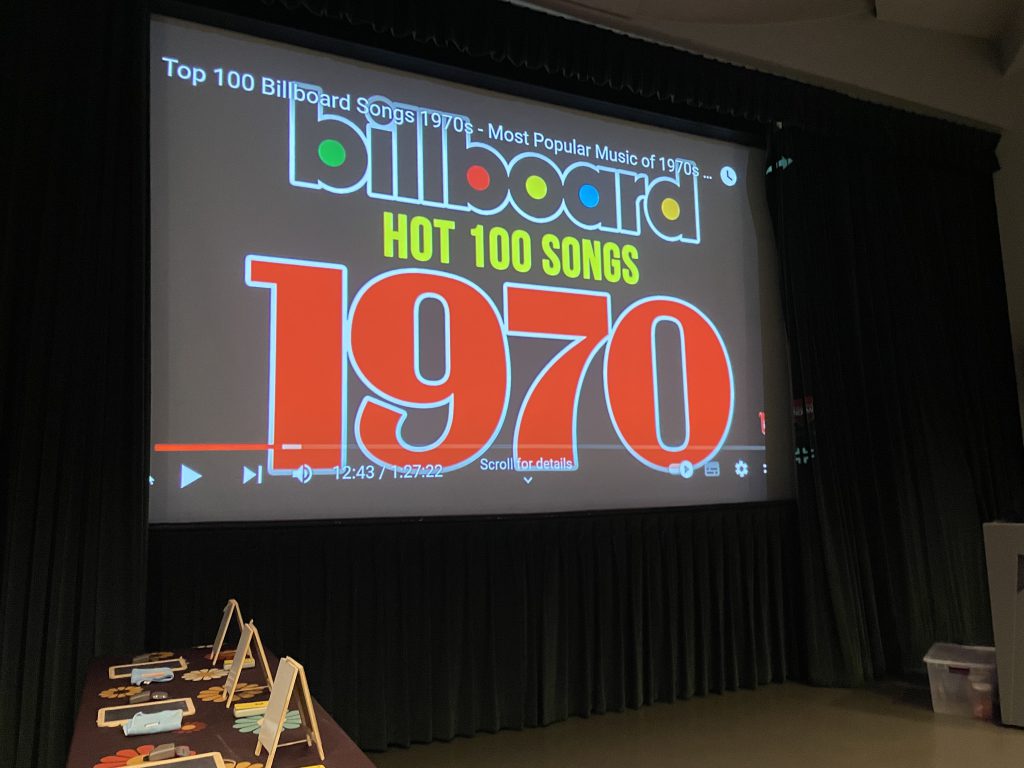 Check out what's happening in the theatre before you leave the main building. The kids roped me into a Jeopardy style game with a 70s theme. We really needed Dad with us for that one, but I managed to earn us a win with a bit of Final Jeopardy lucky gambling!
Aviation Display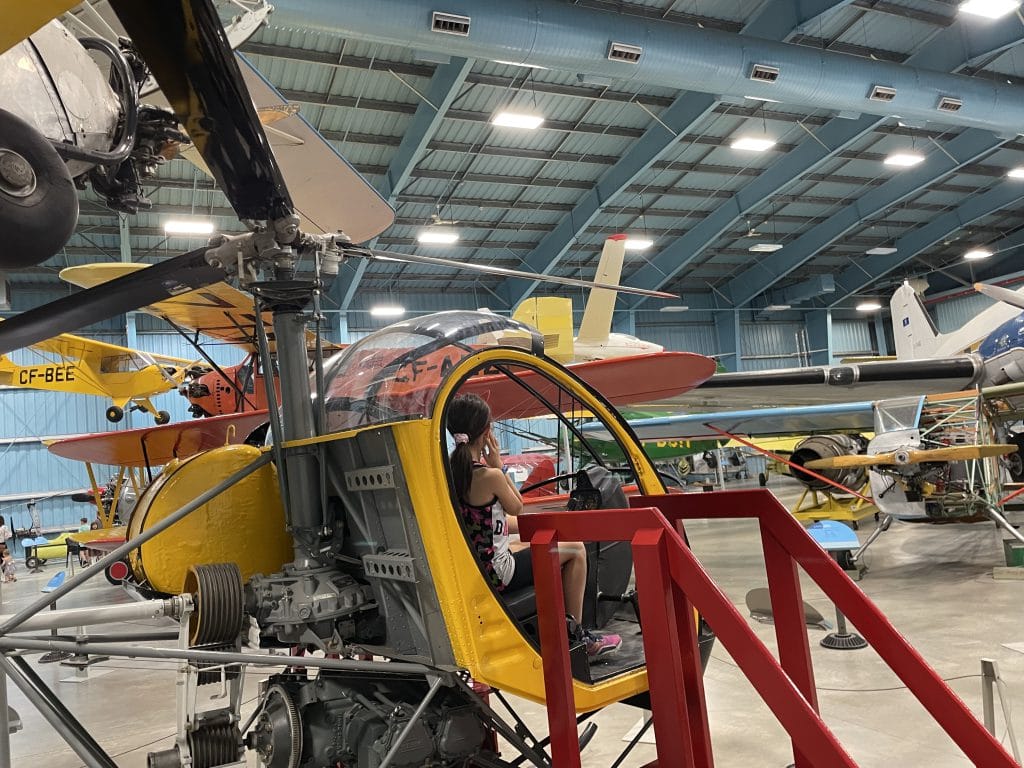 You can access the Aviation Display Hangar by walking from the main building (best doors to exit are after the Starlight Drive-In) or driving past the Exhibition Track (used during special event days). I'd recommend walking unless you're worn out. It isn't far.
It's definitely worth a visit! The space is packed full of planes, helicopters, and even an early UAV. The kids loved it and said "It's like a mini Museum of Flight!" (referencing our trip to the impressive Seattle-area museum).
There was a number of interactive elements include a 1965 helicopter you can climb into, air rocket launch, and make-your-own airtable flyer. Some of the activities get a bit noisy and the hangar amplifies it, so if you're easily overstimulated by sound this might be a challenging spot if there are lots of kids around.
In addition to the Aviation Display Hangar, there are ten aircraft outdoors to view:
1952 Bristol Feighter Type 170 MK. 31
1961 Canadair CF-104 Starfighter
1952 Canadair CL-13 Sabre 3
1953 Sikorsky H-34 Coctaw Helicopter
1958 Avro CF-100 MK. 5 Canuck
1957 McDonnell CF-101B Voodoo
1959 Canadair CT-133 Silver Star
1969 Canadair CF-116 (CF-5D) Freedom Fighter
1964 Canadair CF-114 Tutor
1983 Conair Firecat
Mining Exhibit
Head out the doors by the Starlight Drive-In and follow the path out to the giant machines. The kids weren't too impressed after seeing the machines in Fort McMurray last summer, but they are huge. There are a number of different machines on the loop to check out.
Tours & Shows
If you want a more in-depth experience, you can take a guided tour of the museum. These tours are available for both individuals and groups, and can be customized to focus on specific areas of interest. Some of the most popular tours include:
The Classic Car Tour – Featuring an in-depth look at the McLaughlin Car Collection
The Aviation Tour – Focusing on the museum's expansive collection of vintage planes and helicopters
The Industrial Heritage Tour – Highlighting the role of industry and agriculture in shaping Alberta's history
Special Events
The Reynolds-Alberta Museum hosts a variety of events throughout the year, including car shows, aviation displays, and family-friendly activities. Some of the most popular events include:
The Vintage Tractor Pull – Featuring antique tractors competing in various events
The Wheels of Time Car Show – Showcasing classic cars from various eras
The Family Fun Day – Offering hands-on activities for kids of all ages
The Ultimate Car Show – A spectacular display of automotive history, from 1900 to today!
Ride to Reynolds – A motorcycle gathering at the museum
Harvest Festival – Families will enjoy steam threshing, a children's carnival, petting zoo, and more.
Be sure to check the museum's Events page to see what's coming up.
Additional Facilities
The Reynolds-Alberta Museum is a modern, full-service museum, with all sorts of "extras" you come to expect from a bigger museum.
Cruisers Café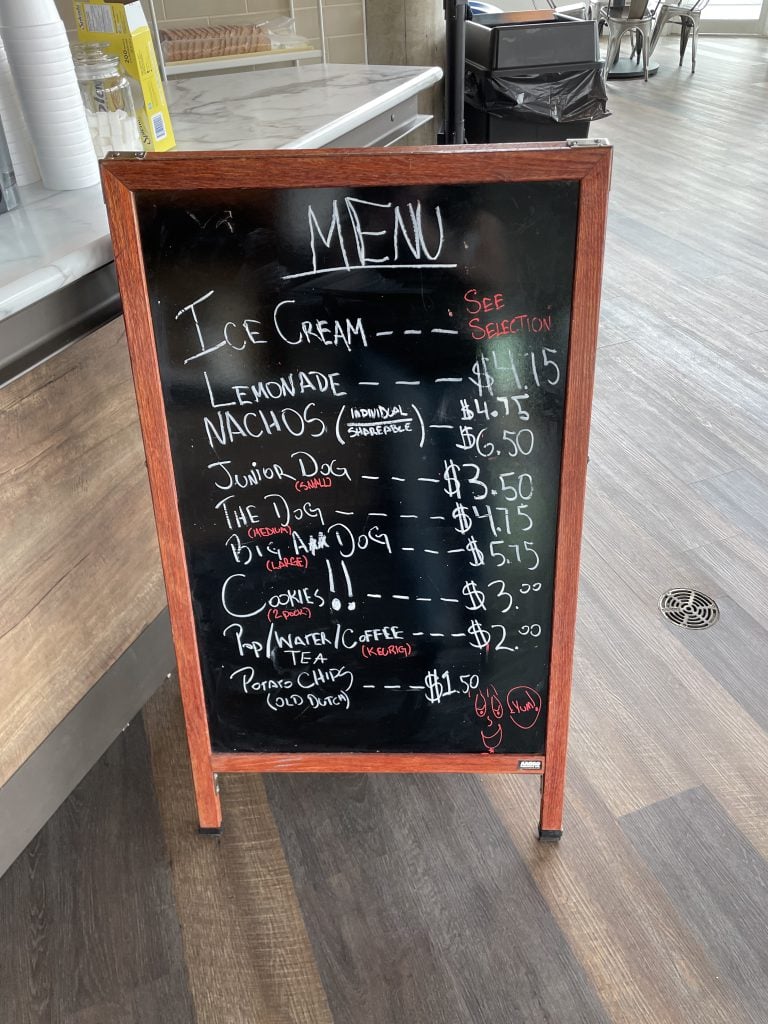 There's a nice little cafeteria past the Gift Shop with a selection of treats and hot dogs for sale. It was pretty quiet when we walked through, but it was also around 4 in the afternoon!
Gift Shop
I didn't want the kids begging to buy something, so we didn't go into the gift shop, but even from glancing in while paying admission I could see a bunch of really cool things. It would be a fun spot to browse!
Theatre
There's a fair sized theatre just off the Great Hall Gallery where the daily shows take place. These kinds of things are what my kids remember the most about museums, so no matter how cheesy it is to me, I try to take them for the memories we make. Check the list of shows for the day at the admissions counter when you check in.
Playground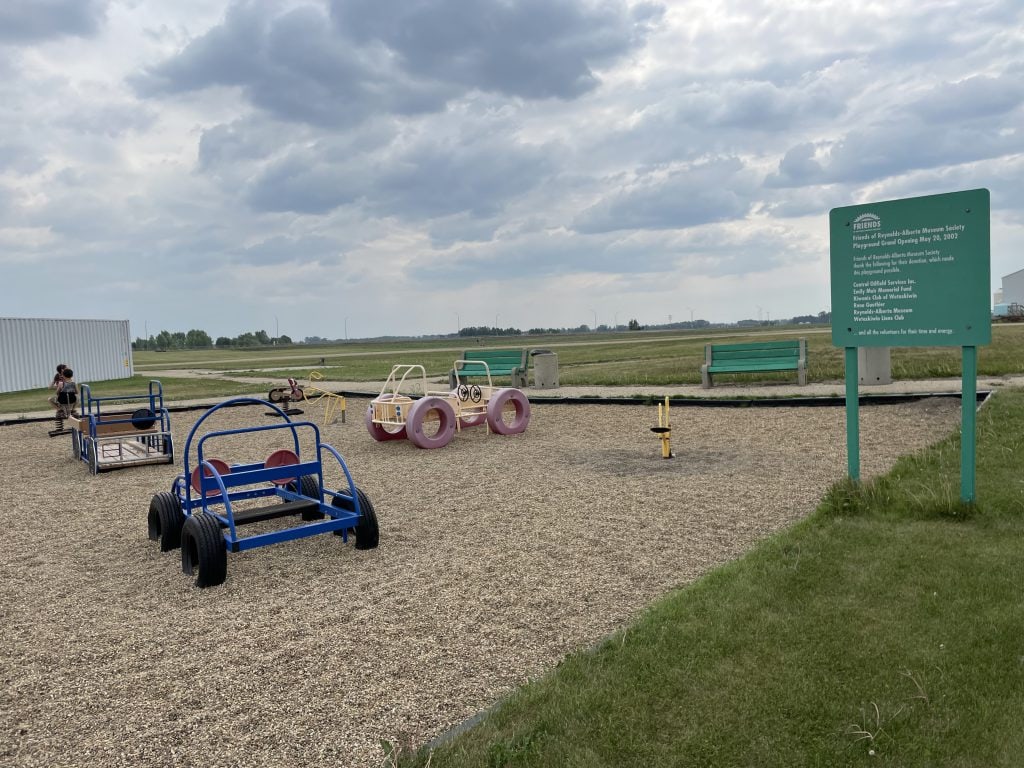 Sticking with the auto-theme the playground is filled with metal faux jeeps and some excavator-like toys with a pea-gravel base. I don't think this playground would be a lot of fun in sandals, but my kids were amused for close to 20 minutes.
Tips and Tricks for Visiting Reynolds-Alberta Museum
The Reynolds-Alberta Museum is a really kid-friendly kind of spot, and doesn't require a lot of extras, but here are a few things to think about.
The Usual Museum Rules Reminders
Some kids naturally have amazing manners. I don't have one of those miracles. So, before we head into a museum (usually in the last five minutes of the drive – before we're in the parking lot so I still have their attention), I run down a reminder of how to behave. It only takes 30 seconds, but then I can pull the line "what did we talk about earlier?" At this point they know the drill and I can just ask them "How do we behave in a museum?" and they'll run through this list for me!
No running
We watch our volume
We keep our hands to ourselves – unless we're supposed to touch it
We take turns
We use our patience and let parents read signs
The Drive
This is the type of museum many of us will do as a day trip from further afield (Edmonton, Red Deer, etc). While the drive isn't LONG, it's longer than most kids' attention spans. I keep an audiobook or two signed out from the library on my phone for almost any drive, which works well at avoiding sibling squabbles. We have a great list of tech-free ways to get through your drive if audiobooks aren't your thing.
Food
Snacks at the museum are reasonably priced, but I keep my "adventure bag" filled with nut-free snacks to save that $10. It adds up over a summer of adventuring! (I keep it nut free before the museum for the same reason we don't send nut products to school – I want other kids to be safe at the museum, too.) We have a quick snack before going in to avoid "I'm hungry!" and have more waiting when we leave.
This is a great museum to have a picnic at, with some picnic benches available by the playground, and lots of grass space if you just want to spread out a blanket. We had an early lunch at home before heading out.
Outdoors
A portion of the museum is outside, so plan to bring sunscreen and wear appropriate footwear for walking on dirt roads and playing in pea gravel at the playground.
Plan Your Visit
Admission
Admission fees apply, with discounts available for seniors, students, and families.
In 2023, the rates are:
Family (2 adults and youths up to a maximum of 8): $40
Adults: $15
Seniors (age 65+): $11
Youth (age 7 – 17): $9
Children under 7: Free
Discounted and/or free rates are available if you have a CFOne Card, Experience Alberta's History Annual Pass, or Cultural Access Pass.
Operating Hours
The Reynolds-Alberta Museum is open year-round, with varying hours depending on the season. They are closed December 24 to 27 and on January 1.
Summer: 7 days a week, 10am to 5pm
Toilet Facilities at Reynolds-Alberta Museum
There are facilities in three spots around the museum, and, of course, the one time my kids needed to go we were in the furthest corner from all of them!
The toilets near the Drive-in Theatre are single seat and not assigned a gender, which is convenient – you don't have to wait for the "correct" gender to be available. The washrooms were well maintained and stocked, with plenty of room for a parent and kids to go in together.
I didn't make it into the other two facilities, but expect they would be similar.
Accessibility
The Reynolds-Alberta Museum is fairly accessible for those using mobility aids, except for the gift shop (it's packed). There is a reasonably graded wide ramp from the Great Hall to the main gallery, and an elevator near the Repair Shop.
The main parking area is a bit of a walk from the front doors, but there is a closer loop. I didn't take note if there was parking available there, or if you're expected to drop off and then park.
If walking through a museum is a challenge but you don't have a personal mobility aid, scooters and wheelchairs are available to rent.
The Aviation Hangar can get noisy and overstimulating, and may be best visited when no one else is there if someone in your group is easily overwhelmed. (There was one other family there when we visited and it was getting a little loud.)
I didn't notice any aids for visually impaired visitors. There may be something at the front desk, I didn't ask.
The museum doesn't have a page dedicated to accessibility that I'm able to find. Further questions would be best directed to them though their contact page.
Where to Stay
There is so much to explore in the area, why not make a weekend of it? Wetaskiwin is the other side of Highway 2 to Pigeon Lake if you're looking for an indoor activity while camping in the rain.
Check out Siding 16 Lodge in Wetaskiwin for an awesome water slide, hot tub and pool with spray features – plus a free breakfast. Book now through your favourite travel site: Agoda, Booking.com, Expedia.ca, or Hotels.com. (Not sure? Check the reviews on TripAdvisor!)
Get Social!
Sharing your visit on social media, or just want to check out the museum's content? Here are the deets:
Hashtags: #reynoldsalbertamuseum #reynoldsmuseum

Related hashtags: #wetaskiwin #CanadianAviation #AlbertaAviation #carmuseums #transportationmuseum #albertahistory #albertamuseums #albertamuseum

Instagram: @reynoldsalbertamuseum
TikTok: @FriendsOfReynolds
Conclusion
Whether you're a transportation enthusiast or just looking for a unique museum experience, the Reynolds-Alberta Museum has something for everyone. From vintage cars and planes to agriculture and industry, this museum offers a glimpse into the rich history of Alberta. Plan your visit today and discover all that this amazing museum has to offer.