Did You Know: You Can Hike To a Cold War Bunker in Alberta!
Hiking with kids is always… interesting. I find that if I can entice mine with an end goal to hike to they do MUCH better. Usually we try to find a hike with water (lakes, rivers, waterfalls, etc) to get to, but this time we wanted something different so we tried the Heart Creek Cold War Bunker Hike just east of Canmore.
When you tell the kids there is an old, abandoned cave to explore at the end of the hike they move FAST!
Nearby Hikes
While you're in the area, check out these other great hikes in the Canmore/Kananaskis area:
Heart Creek Bunker History
Found under Mount McGillivary, the tunnel was built during the Cold War to house important documents for the Canadian Government in case of disaster. Rocky Mountain Vaults and Archives Ltd started construction for this project in 1969 but ended before it was completed due to moisture in the cave. Damp environments and sensitive documents don't mix well, I guess!
Bunker Hike Details
This trail is easy to do and can be done in all seasons. It is a 4km hike with slight elevation at the end but I would say it is a relatively easy hike for most families. You can see more details about the hike and check the latest trail reports on AllTrails.
Heart Creek Bunker Trailhead
Looking for GPS coordinates? Here you go! 51.04739, -115.16554
Across the Trans Canada Highway from Lac Des Arcs Campground, park in the Heart Creek Trail parking lot.
There are two parking areas once you turn off the highway. Park in the West one.
At the far West side of the parking lot you'll see a sign about bears. You found the trail!
The Impressive Cold-War Caves
The main tunnel goes more than 55 metres back and a side tunnel is more than 40 metres long, so I highly recommend bringing a couple of flashlights to explore. We used our cell phone lights but having flashlights would have been better.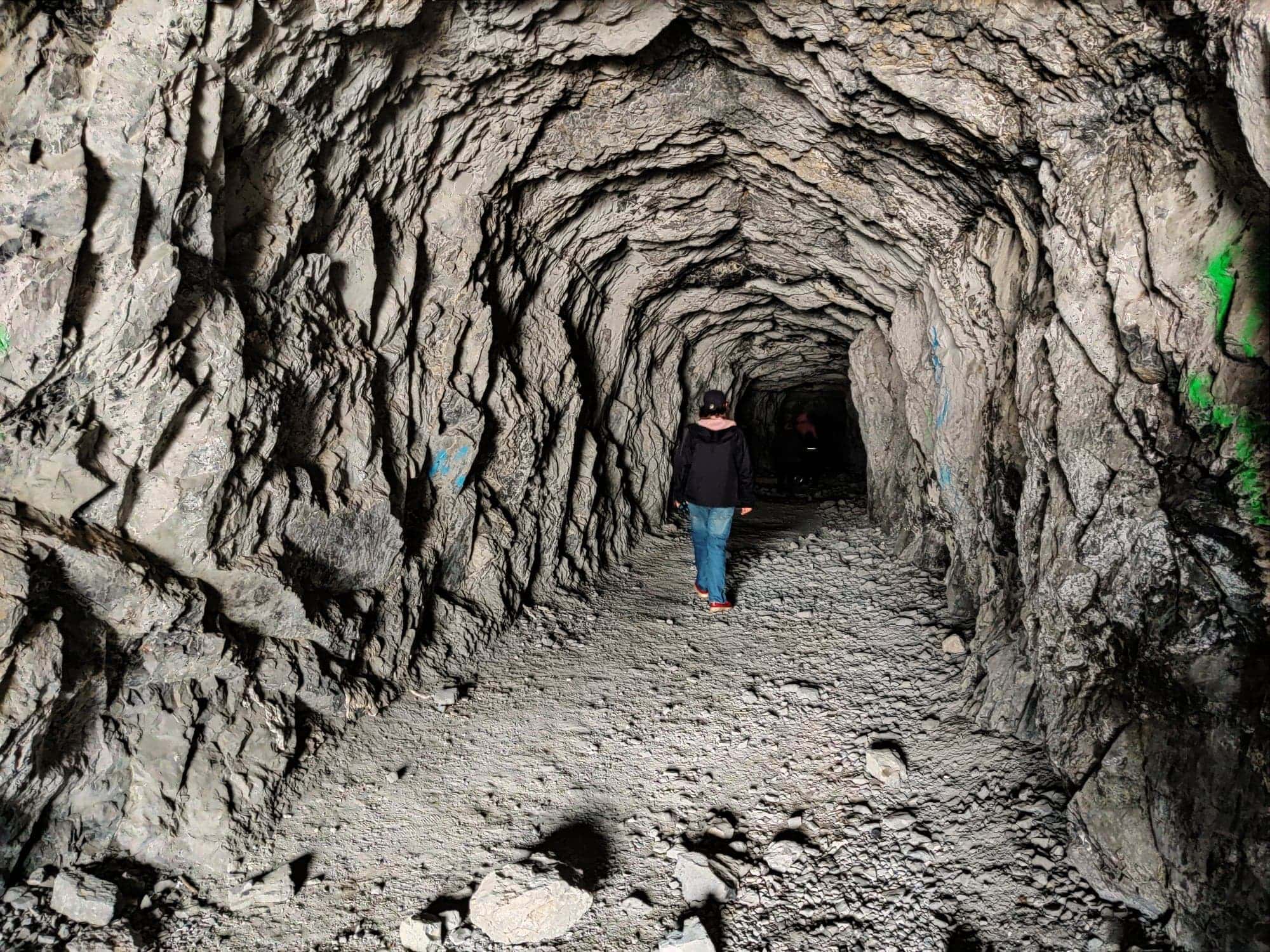 Looking for more?
While you're in the area, check out these, too!