5 Reasons for Families to Love Nakiska Ski Area in Kananaskis
My name is Tanya and I have accepted the assignment of "Ski Writer Extraordinaire" for the Alberta Mamas this winter! And while I admit that I may have added the "extraordinaire" part myself, my mission is clear: I plan to review and write about ski resorts across Alberta and BC all winter long, and to share all my family's favourites with you.
I've chosen to start with Nakiska Ski Area in Kananaskis because it's the hill that we've chosen as our "home hill" this winter as a Calgary based family. We believe in "skiing close" when we head out for a Saturday ski day, and we want to make sure we spend more time on the hill than we do in the car driving.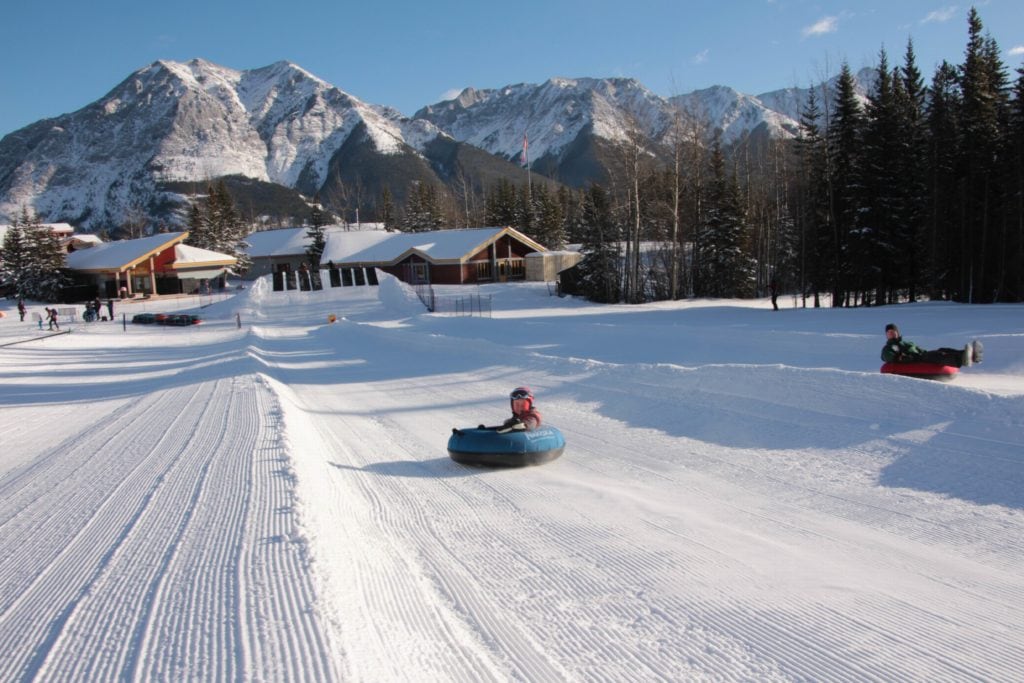 Nakiska is a great hill for families that I recommend for the following five reasons:
Nakiska is good for beginner skiers
With a dedicated beginner chair, you can rest assured that your children aren't going to accidentally drop down a black run when they get ahead of you (and yes, this has happened to me in the past at a bigger ski resort, and it was terrifying.) Stick to the Bronze Chair and ski worry-free on short, groomed beginner runs.
And, when the kids can confidently ski the runs off the Bronze Chair, they'll enjoy Nakiska's newest run, Easy Street, a true beginner run, top to bottom off the Silver Chair.
Other perks include free skiing in the beginner area for all skiers (young and old) with a free magic carpet pass.
Nakiska also offers a full assortment of ski and snowboard lessons including family coaching clinics where the whole family can learn to ski together (provided kids are 5 and up, and everybody skis at a similar ability.)
Nakiska is Easy to navigate.
Have you ever skied at a big resort and lost somebody? I have, and it was not pretty! Waiting at a chairlift, wondering if you are at the right one, or if you're even on the correct side of the mountain, is a scary experience when skiing with kids. Fortunately, at Nakiska, there is no "back side," all runs end at the mid-mountain lodge or at the bottom of the hill by the main lodge, and it's easy to stick together as a family.
There are bathrooms everywhere you'll need them at Nakiska.
I can't tell you how many times we've been stuck somewhere far from the nearest bathroom at a ski resort, my child panicking, and us having to dash quickly into the trees. At Nakiska though, there is a heated mid-mountain lodge with bathrooms and a cafeteria, and then there's the main building at the base of the hill (with all services you could ever need.) You're never more than a short ski down to the nearest bathroom at Nakiska.
Nakiska is great for families with young children.
Looking for somewhere to hang out with a tired toddler who's finished skiing for the day (while the rest of the family still wants to stay at the hill?) I recommend heading to the nearby Delta Kananaskis Lodge. There's a coffee shop, large fireside room with cozy sofas, walking paths, a playground, and even a skating pond (with rentals on site.) It's a great place to hang out with younger kids near Nakiska. (Just have your partner text you when the rest of the family is ready for you to come pick them up at the hill.)
Spend a weekend and enjoy a variety of fun winter activities.
You'll find plenty of activities near Nakiska for a well-rounded winter getaway. The resort plans to build a snowshoe trail from the base of the hill to the mid mountain lodge for non-skiers that might be joining you. There are also snowshoe trails nearby at the Village beside the Delta Kananaskis Lodge.
You'll also find a tubing hill at Nakiska, cross country ski trails in the Village area, along with a skating pond and a sledding hill at the Delta Lodge.
The Delta Kananaskis Lodge offers a wide assortment or rooms and has great dining options for families (including the children's buffet at Forte Restaurant.) There's also an indoor swimming pool and a large indoor/outdoor hot tub.
For families on a budget, you can also book a private room at the HI Kananaskis Hostel nearby where you can save money by doing your own cooking in the communal kitchen. The hostel is a wilderness property but has indoor plumbing and heat, so you'll be comfortable during your stay.
Whether you visit Nakiska for a day trip from Calgary, or you spend the weekend in Kananaskis, it's a great family-friendly hill and a safe place to get the kids on the slopes this winter.
Enjoy!
Tanya Koob
Tanya is an active Calgary-based mom and an outdoor family travel blogger over at Family Adventures in the Canadian Rockies.