By Kathryn Wright
I found myself alone with 4 kids aged 1, 4, 7, 11 for two full days last week and wanted to find an activity that was age appropriate and interesting for all of them. I decided that a day trip to Drumheller and the Royal Tyrrell Museum would be a great way to spend one of our days together. 
Our day started at 9 am. I loaded up my new-to-me minivan with lots of snacks, a picnic lunch, DVDs, water bottles, swim suits and towels, sun hats, sunscreen, bug spray, diapers, wipes (I triple checked that I had them!) and of course keys, phone and wallet. 
The drive from Dead Man's Flats (a wonderfully named hamlet 5 minutes from Canmore) is about 2.5 hours to Drumheller. The kids watched Spy Kids in the back while the baby slept. The drive there was peaceful and fun. It was easy to distract them by asking them to make the various sounds of each dinosaur species – hilarious because they all sounded the same. 
We got to the World's Biggest Dinosaur right around 11:30 and settled in for a picnic before a splash in the water park. My one-year-old watched blissfully as the kids ran all around and came around to say hi every few minutes. The park is large and lovely, it was an overcast day but still hot out and there was tons of lawn space and picnic tables for everyone. It's great little spot to hang out for an hour or so before we headed to the museum. 
The museum is such a fantastic resource to have in our province and ever better that we are able to day trip there. It's also affordable, the two little ones were free and the 7 & 11 year old were only $10 each. A regular adult admission was $18. So the 5 of us only cost $38, a steal if you ask me! We wandered through together and laughed, and roared and took photos at most of the fun photo stops and generally had a wonderful time. We somehow missed the garden area and I assume other parts but the kids were tired and we got out before anyone had a meltdown. So a success in my books!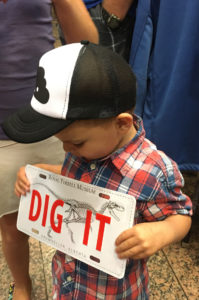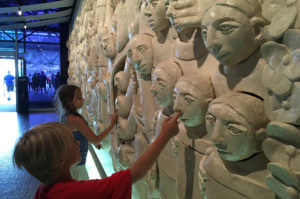 My first visit to the Royal Tyrrell was just a few years ago and I was frankly in awe. I couldn't believe that these were once living creatures, it was the first time I related to them as animals instead of cartoonish monsters. I hope the kids felt the same way, but I'm ok if they just thought it was cool. 
Our drive home was a little long and exhausting, the last hour of the drive both of my kids, the 4-year-old and the 1-year old screamed until we got home. That was not especially fun. But I suppose during 5-6 hours of driving that is a possibility. The older two were lovely and helpful and it was probably a much better trip than it might have been if it was just me and the little ones.
Highly recommended if you are looking for a way to pass a summer day, we give it 5 roars out of 5. 
Hi! I'm Kat, the mom of a wild, beautiful, truck and adventure-loving little four-year old boy named Mac and a fair, flexible, sweet pea named Mia-Rose who is almost one. I live in the beautiful hamlet of Dead Man's Flats in the Rocky Mountains about 5 minutes from Canmore. I recently launched an online new & resale baby boutique called Tiny Campfire. Originally from BC, I have lived in the Bow Valley for the past seven eventful years: I fell in love, moved in together, had a baby, bought a home, bought a second home, had a second baby and started a business and I have loved (almost) every second of it.