Updated: June 11, 2023
30 minutes west of Edmonton you'll find 480 acre Chickakoo Lake Recreation Area. We went out for a hike (okay, so maybe it was more of a walk) and discovered so much more! From the little playground, to the interpretive signs, docks (anyone else's kids obsessed with running out onto every. single. dock they encounter?), and more, it was a spirit-renewing outing in the woods.
My History with Chickakoo Lake
Before I get into the details of this place and our trip I want to take you down my memory lane a little bit. When I was about 6 my parents divorced. Since my father was a long distance truck driver we got to see him about every second weekend. I feel so lucky though that he sure made those weekends count and we created memories. One of my fond memories is him taking us to Chickakoo Lake. We went summers for bike rides and winters for cross country skiing.
Last week I decided our family needed to get out of the house and into some nature, away from work and screens and other distractions. I called up my Dad too and as we were walking this weekend we shared stories with my husband and girls from our trips when I was a kid. *Insert big AWWWWWWWW's here*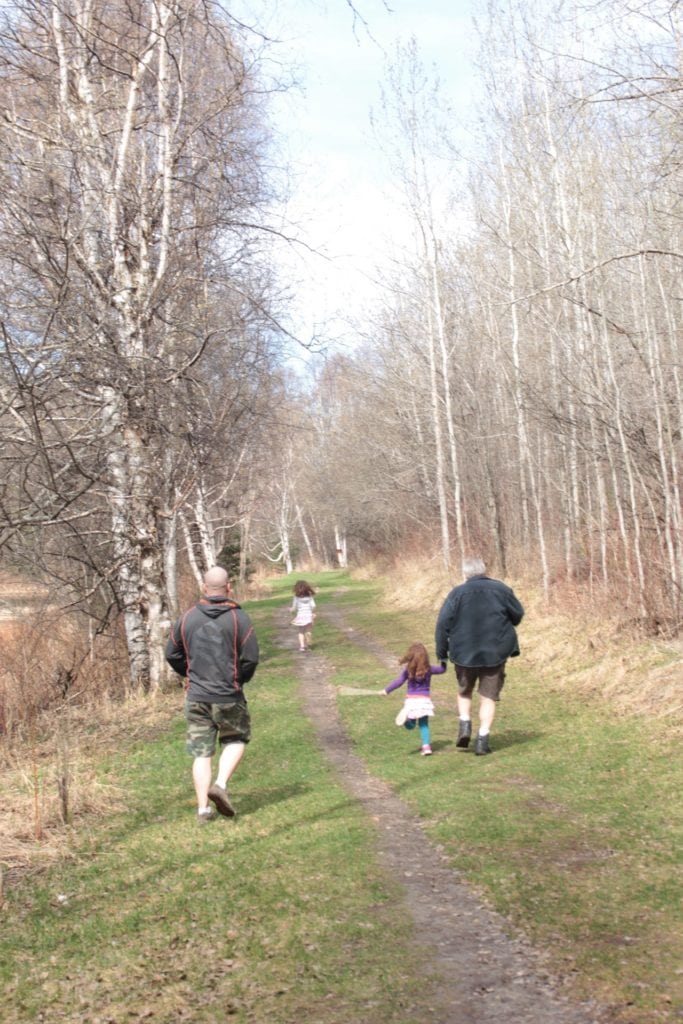 Getting to Chickakoo Lake
Chickakoo Lake is a short drive off of Highway 16, located at 1228 Township Road 535. It makes it a great stopping point for anyone traveling through Edmonton to head onto somewhere west (Edson, Hinton, Jasper, or even BC) that needs to give the kids a bit of run around time.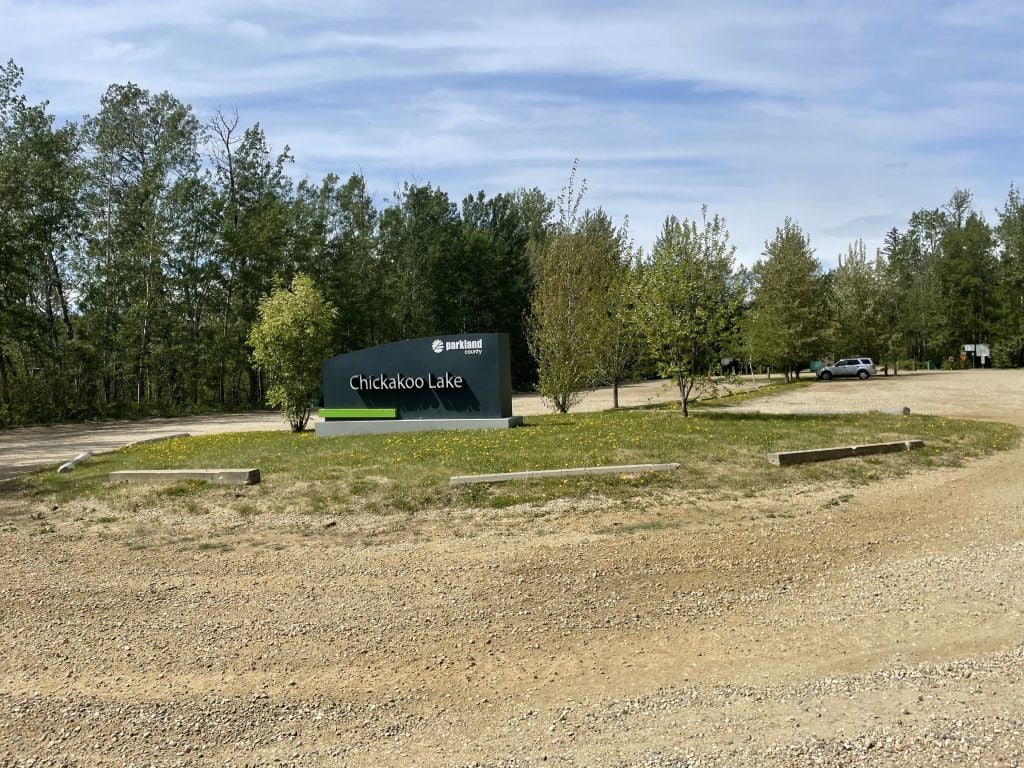 There are several parking lots at the lake. On this trip we chose to stop at the large lot near trail marker "1" and the "Information" sign on the map.
Hiking Trails at Chickakoo Lake
Let's kick this off with the most popular activity – with 11km of trails, hiking is what most of us think of doing at Chickakoo Lake Recreation Area. There are three trail ratings of Novice, Intermediate and Advanced with a few options for each. You can branch off from one trail to another to make it shorter/longer or easier/harder. Luckily they are pretty well marked so you don't get lost!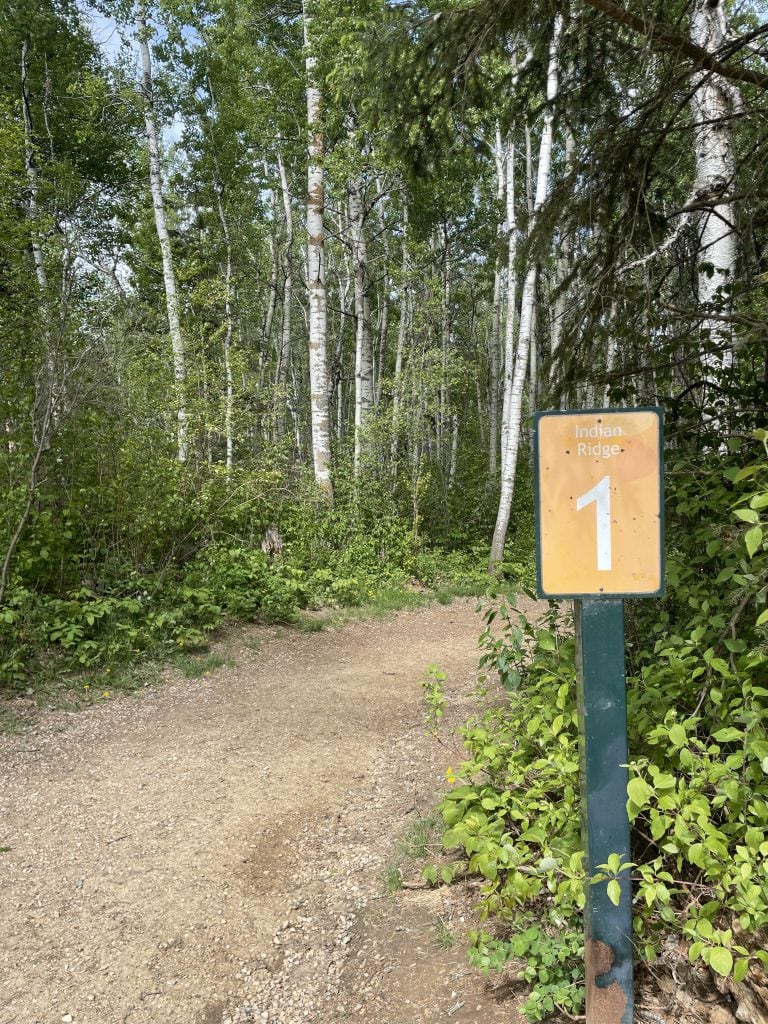 If you're worried about getting lost, grab a photo of the trail map when you're in the parking lot or download a copy of the trailmap from the Parkland County website. Cell service was sketchy, so be sure to do this ahead of time!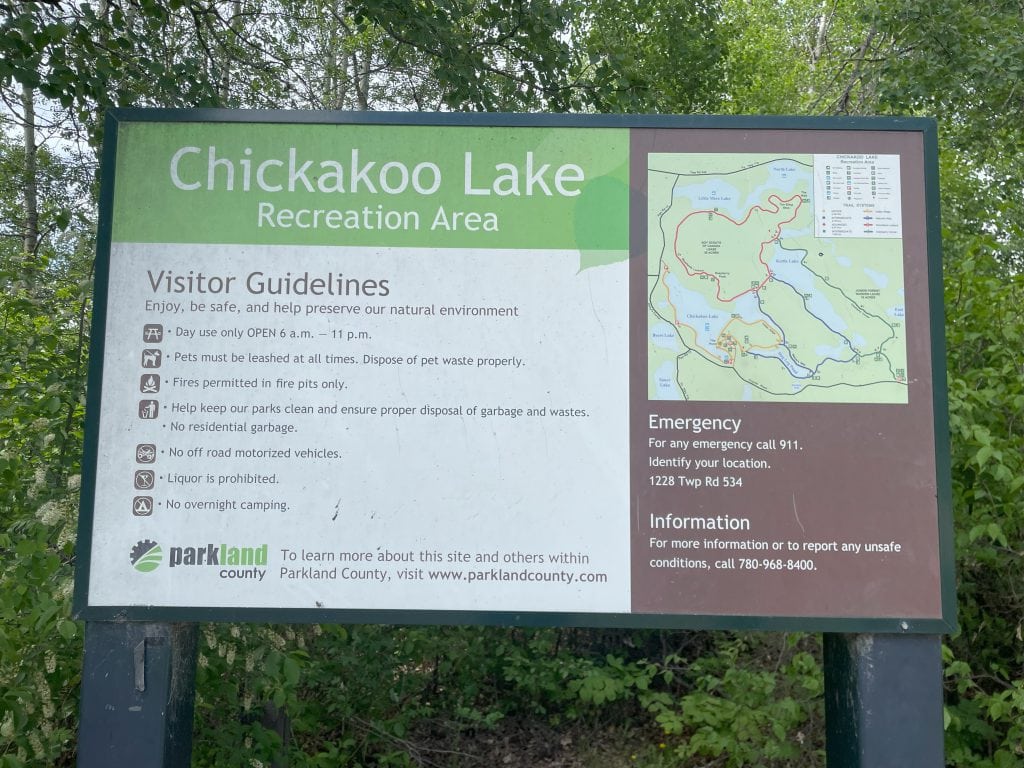 The trails are mixed use, so be sure to share the space. Other activities you can use the trails for include biking, horseback riding, and cross country skiing in the winter (the trails are groomed regularly). On-leash dogs are welcome at the Recreation Area.
Fishing at Chickakoo Lake
While you can take your non-motorized boat out on three of the Chickakoo Lake Recreation Area lakes, fishing is only allowed on Chickakoo Lake. The county installed a diffused aeration system in 2016 which has helped with oxygenation of the lake, making fishing better. If you dont have a boat, you can fish off one of several docks or from a side shore.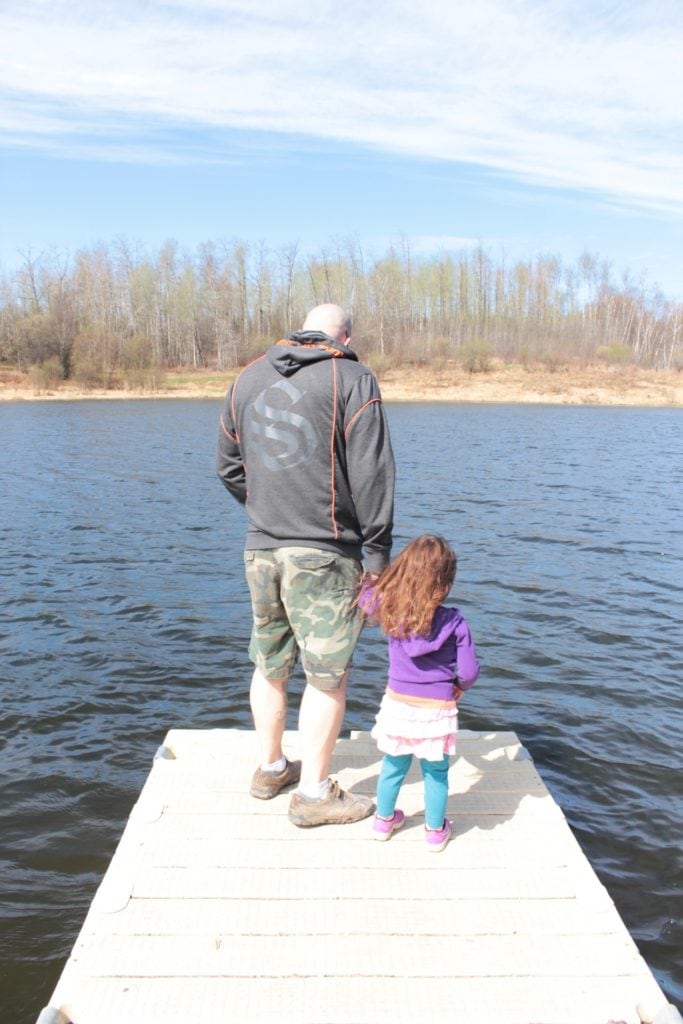 Birdwatching at Chickakoo Lake
We were fortunate to see a number of birds during our visit to Chickakoo Lake. Canada Geese and Loons were both raising chicks on the lake, and we saw both male and female Redwing Blackbirds hanging out on the cattails. As we were driving away I also spotted a Blue Heron!
There are a number of larger animals in the Recreation Area though I've rarely seen them. It's possible to find moose, deer, beavers and more here!
Chickakoo Lakeshore – Picnics and Campfires
The Recreation Area is home to over a half dozen lakes! Chickakoo is the only one with a developed lakeshore, though. The remaining lakes can be enjoyed from the trails and viewpoints, and Little Mere and North Lake allow non-motorized boats.
Please note that the lake is not safe for swimming in. Do NOT bring your bathing suit or let the kids go wading in. Green algae was already lining the banks when we visited on the May Long weekend.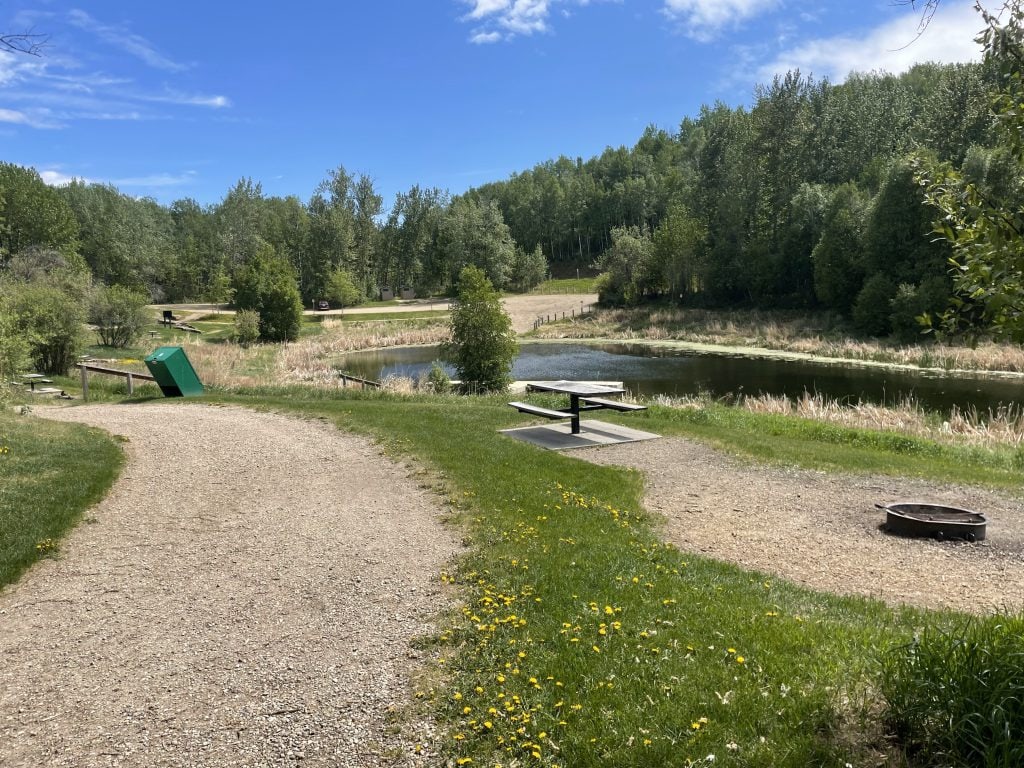 Four parking lots provide access to Chickakoo Lake's shore. If you are planning to launch a boat (hand launch for non-motorized boats), park at the third lot (in the background of the above photo – sorry the launch is behind the tree!).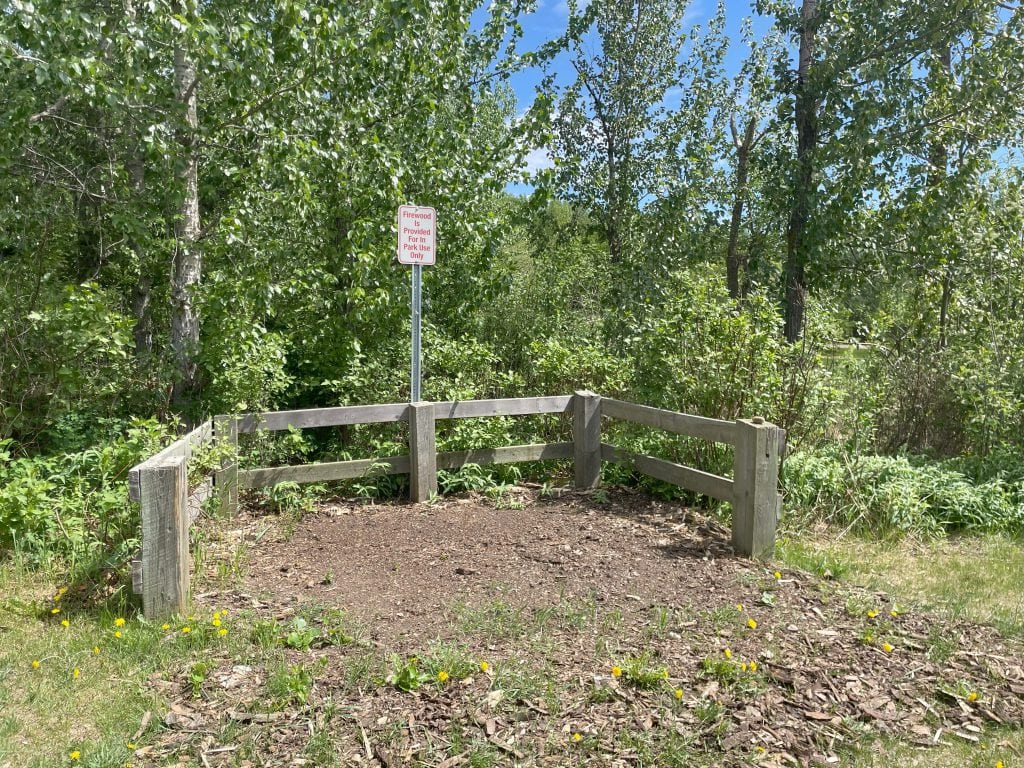 There are plenty of picnic tables and campfire rings available around the lake. We visited during a fire ban, but it looks like firewood is available for free when it's safe. You'll find this coral near the playground.
Chickakoo Lake Playground
The playground was a bit underwhelming for my kids. The major features are two small slides, and a plastic climbing wall. There's a steering wheel steps, and metal curved climbing structure on the other side.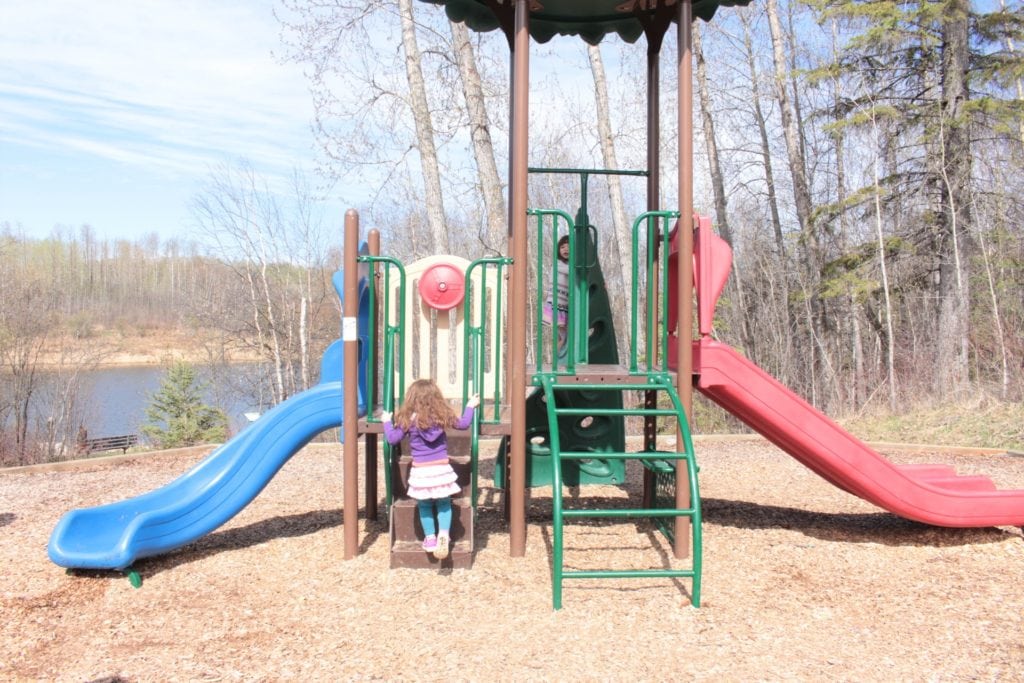 I liked that there is a sheltered picnic table across the path to sit at out of the sun while the kids played.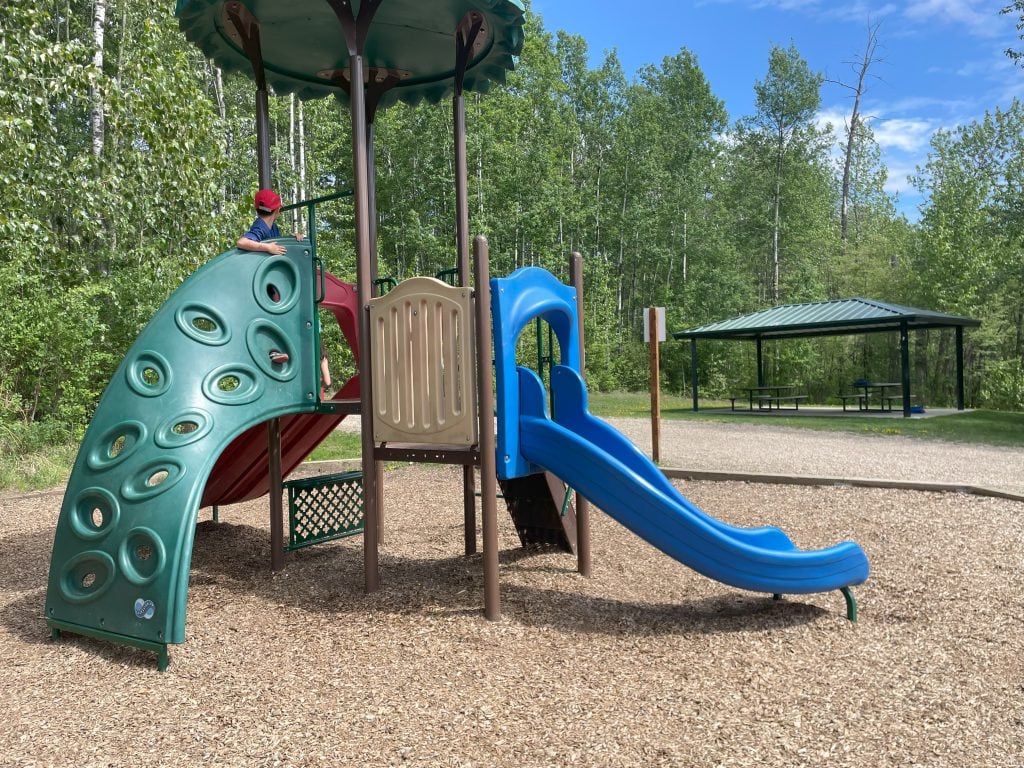 Chickakoo Lake's Little Free Library
I love discovering new Little Free Libraries during our travels. Chickakoo Lake has a registered one, even (Charter #91549)!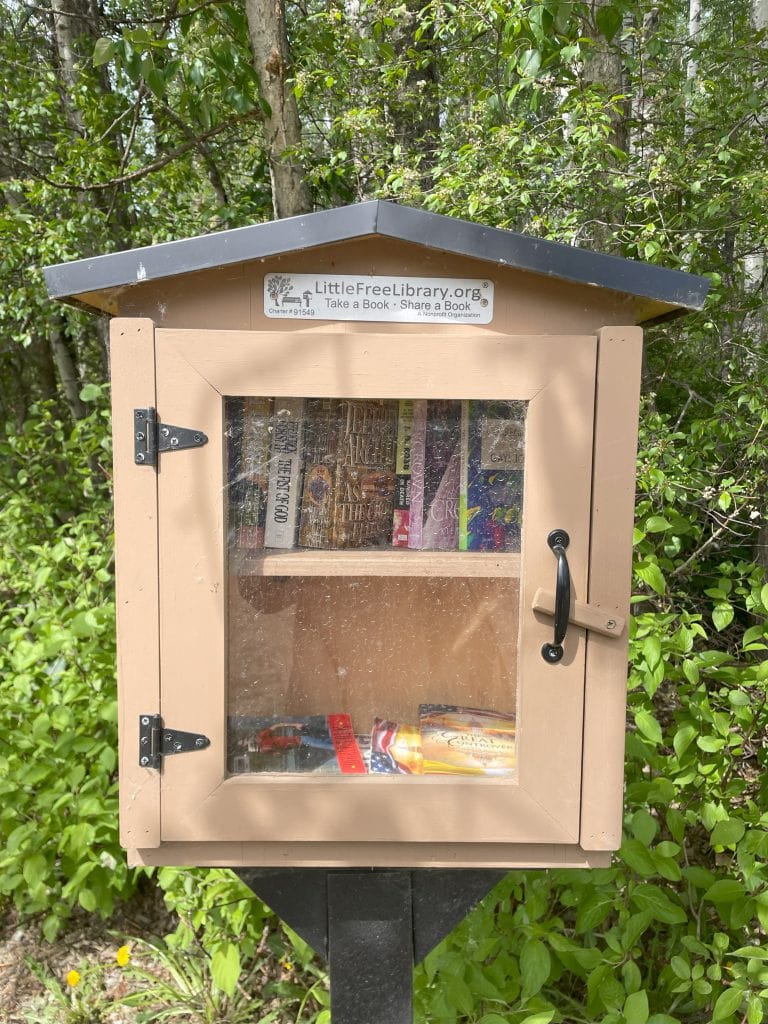 I try to keep a small bag of kids books in my trunk that we're done with so I can "leave a book" when we discover these great little libraries.
Toilet Facilities at Chickakoo Lake
Chickakoo Lake does not have running water or a septic system, which means you'll have to pinch your nose if you need to use the facilities while you're out there. The were in great condition when we visited and not terribly smelly. It's a necessary life skill for kids to develop, right?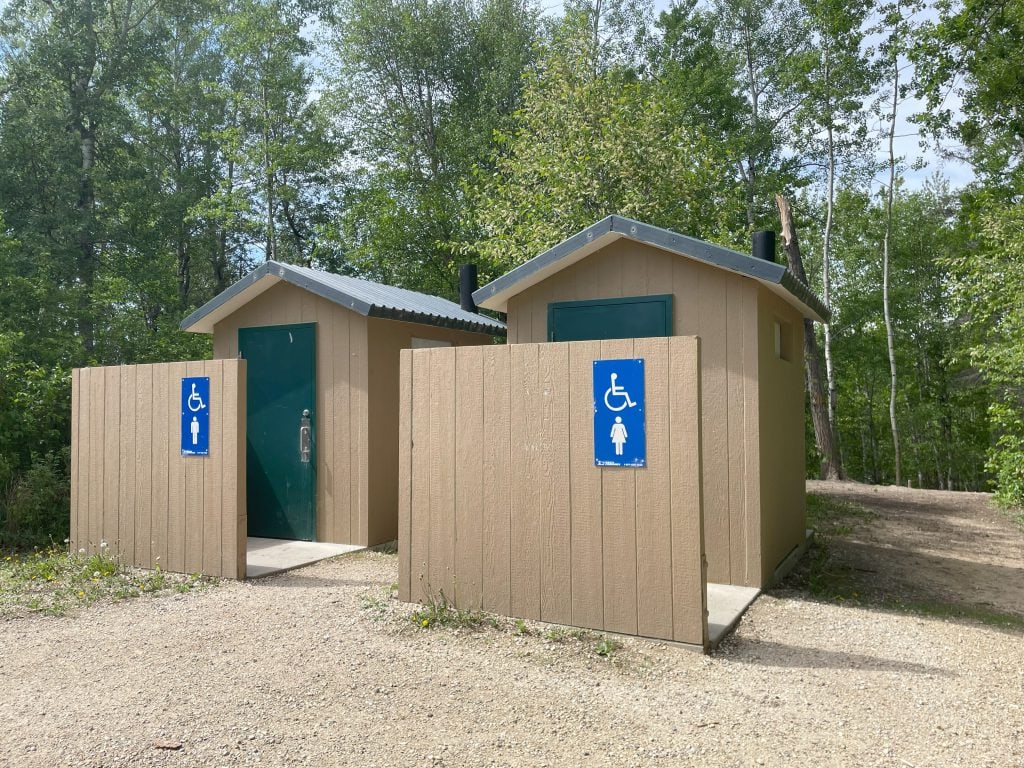 Best Time to Visit Chickakoo Lake Recreation Area
Chickakoo Lake is well maintained year round, and is a great stop to get out of town any time of the year. In the winter you can pack your cross country skis, snowshoes, or just winter boots and enjoy the groomed trails. In the summer bring your camera, boat, walking shoes, and fishing gear and have a lovely day out.
Parks and Activities Near Chickakoo Lake
Be sure to check out our other posts about spots close(-ish) to Chickakoo Lake:
Hope we see you on the trails soon!
Love,