I'm going to come right out and say it: Canadian Energy is a controversial topic. And I LOVE that the Canadian Energy Museum owns that fact. There is a newer film to watch – I strongly recommend doing it as the first thing after paying for admission – that covers a lot of the information in the museum and gets you ready for what you'll be seeing. I found it very helpful to guide conversations with the kids about the exhibits before I'd had a chance to do any reading.
The museum offers a combination of
history of oil in south/central Alberta (it doesn't really go into the oil sands much),
education on how oil drilling works,
some geology education (very important for finding oil),
the human history of the oil industry,
information on alternative energies, and
an oil field related art exhibit.
The controversy between indigenous peoples and oil is talked about in the film you can watch at the start or end of your tour, but there currently isn't much within the museum around the topic. I suspect that is a work in progress and hope to see it as part of the several exhibits that were labeled "we're working on this space."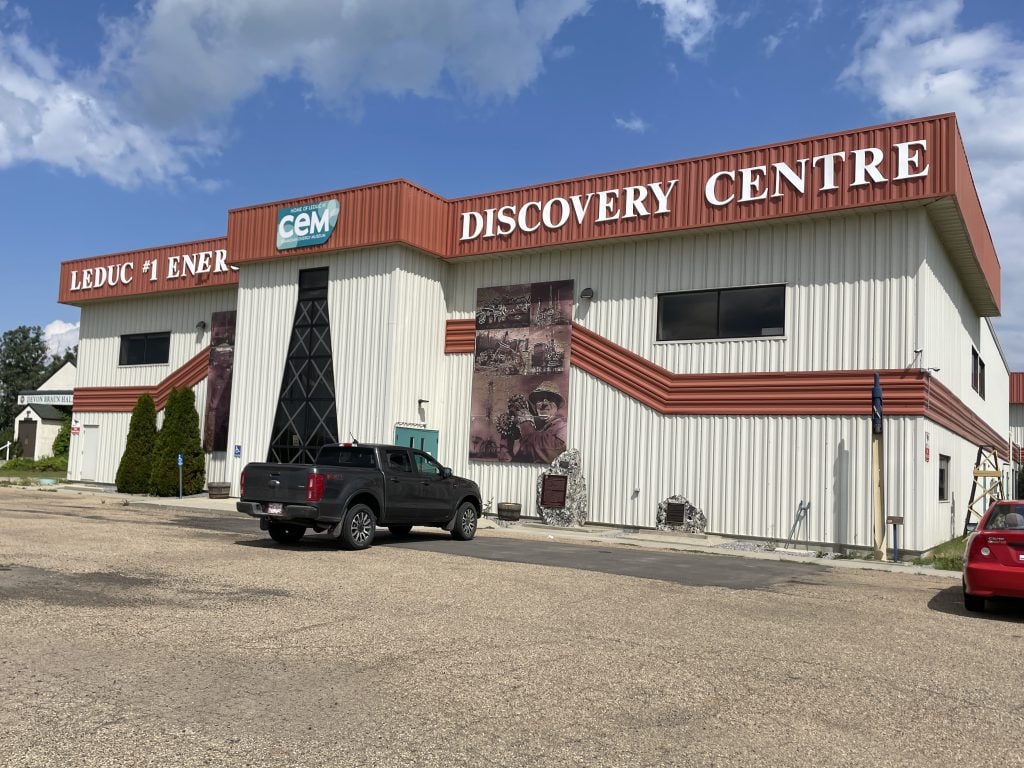 Plan Your Visit
Location
Address: 50399 Highway 60 South, Leduc County
Located just south of Devon on Highway 60, the Canadian Energy Museum is easy to access via Highway 19 from the QEII or Edmonton International Airport.
Hours and Admission
Admission: Free/0-5yrs; $4/6-12yrs; $4/students; $6/adults; $4/55+
Discounts/free admission available for: Military, Indigenous/Metis cardholders, National Trust cardholders, and museum members
Hours:
Tuesday-Saturday: 9am-4pm
Sunday & Monday: Closed
Expect to spend about 1-1.5 hours at the museum.
Accessibility
The museum is fairly accessible. Entry into the skid shack and possibly the immersive well would be impossible for someone in a wheelchair. The upper level of the theatre is also accessible. Overall the museum is well spaces and navigation should be easy.
For more details, see the Accessibility section at the bottom of the museum's Plan Your Visit page or reach out to the museum at (780) 987 4323 or info@canadianenergymuseum.ca. The staff are incredibly friendly!
Where to Stay
The Leduc No. 1 Campground is located at the museum and has water and power hook-ups (15 or 30amps) as well as flush toilets and hot showers. There is a small playground with sand for the kids. Online reservations are available.
There isn't much for hotels within the small town of Devon, but if you head east on Highway 19 to Nisku or Leduc you'll find a lot of options. Our top picks even have waterslides!
Holiday Inn Express & Suites: 1102 – 4th Street, Nisku
Coast Nisku Inn & Conference Centre: 101 – 4th Street, Nisku
Best Western Plus Edmonton Airport: 5705 50th Street, Leduc
Nearby Attractions
While you're in the area, be sure to check out these other attractions!
Get Social
Sharing your visit on social media, or just want to check out Canadian Energy Museum's content? Here are the deets:
Can you make this article better?
We're always looking to improve! Have you noticed a spelling or information error, know of something we left out, or would like to share anything else, reach out to us!