By Chantal Aird (Updated June 30, 2023)
One of the most amazing things you can experience with your family is discovering your own neighbourhood and building a sense of community.
My family and I moved to Leduc last year and one of my goals was to really explore this new city and build connections. I wanted the transition to a new home to be a positive encounter for my children and an opportunity for them to engage in their surroundings and think about what makes our new city a good place to live.
Over the last year, we have discovered many hidden gems in our city, and do truly believe Leduc is a great place to live. We are also a great road trip destination for families!
We are 15 minutes away from Edmonton and you can encounter a community where the pace is slower, the adventures are enriching and the people are welcoming!
Here are some of our favourite things to do in Leduc with the kids.
Leduc Heritage Grain Elevator
The Leduc Heritage Grain Elevator is open for pre-booked tours! Grain Elevators are an important development in our Albertan history and offer a chance to see our past. Instructions to arrange a tour are available on their website.
Dr. Woods House Museum
The Dr. Woods Museum is the home of one of the first doctors in the area. Located at 4801-49th Ave in downtown Leduc, the museum is open year-round Monday through Saturday, 10 am-4 pm. You can also find them on Facebook and Instagram.
Note that Dr. Woods House Museum is closed for the summer of 2023 for renovations and should be opening in the fall.
Alexandra Outdoor Pool
A entry on our list of Alberta's outdoor pools, the Alexandra Outdoor Pool is open May 13 to September 3, 2023 from 10am to 8pm (weather permitting). You can cool down at the pool, sunbathe on the grassy area or take a plunge on the diving board. Did I mention that a family rate is only $15.50 for the day?
Leduc Spray Park
Next door to the outdoor pool, the FREE Leduc Spray Park also opened May 13th. Washrooms, a playground and picnic areas are available.
We love the huge water bucket that instantly soaks us! Young ones who might not be sure of the spray deck, can enjoy the toddler area. You can splash in the water feature and float toys in this water feature.
Shopping on Main Street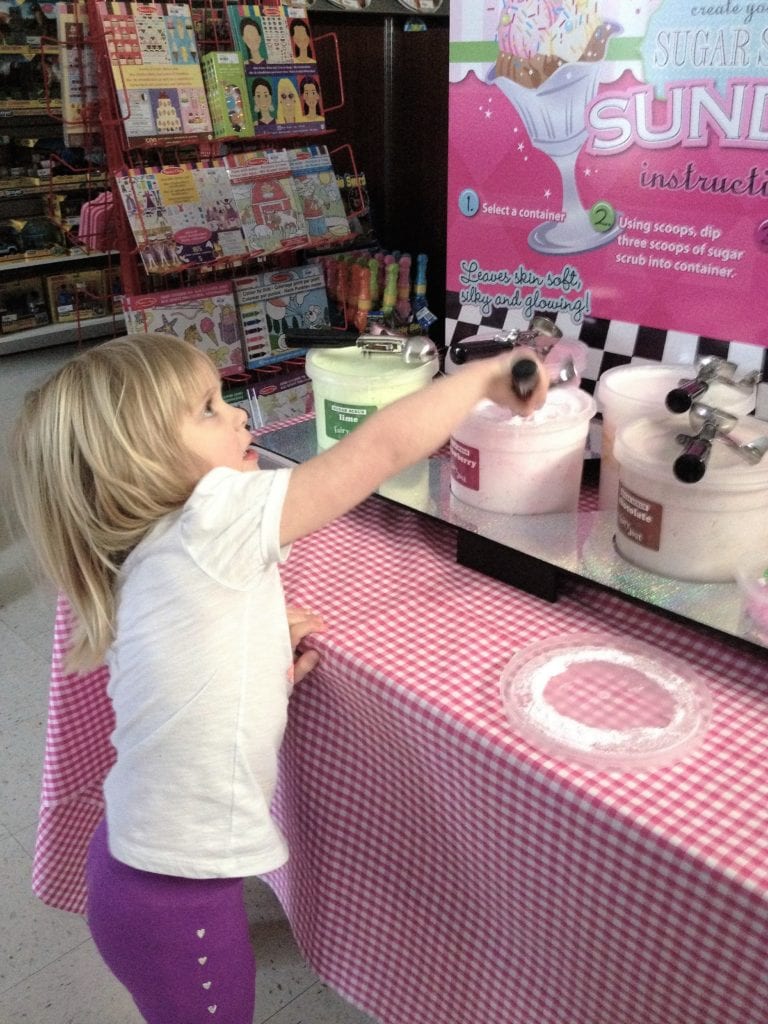 Take a stroll down Mainstreet Leduc and check out the historic buildings and local businesses. Stop in for a milkshake at the Leduc Coffee Shop. You can choose any flavour and have it made fresh right before you! After your treat, check out the neighbourhood toy store, Playing for Keeps Toys. Kids can play with the Calico Critters or make an ice cream sundae bath scrub to take home.
The Sweet Shoppe
Do you remember going to the Candy Store? Take a short drive outside of Leduc and encounter The Sweet Shoppe at Cliffs Landscaping. Homemade fudge, Nostalgic Candy and an assortment of unique pop flavours like Bug Juice, will satisfy your sweet tooth!
Indoor Play Place – Kubabunga Jungle
Need an indoor break? Take your 7 and under kids to the Indoor Kukabunga Jungle at the Leduc Rec Centre. Kids can climb, slide and play on this structure. Admission for under 2 is free and only $4.00 for ages 3-7.
Leduc West Antique Society
The Leduc West Antique Society offers an outdoor museum experience. The society has collected, restored and displays historic buildings, vehicles, antiques and other items used by the pioneers who settled this area. The Society is only open on special events. Check them out during the Leduc West Annual Exposition, July 22 and 23.
About Chantal: I am an Albertan mom of three girls and I love exploring local cities and hidden gems in our unique province! I am a local stop for events, activities, tips and resources on creating fun family memories within road trip distance. I am always on the lookout for the next fun family outing but also want to create a forum for parents to share, support and learn from one another.