The opening date for Granary Road has been set for July 7th and this past week I took a trip there to check everything out!
Even though Deanne was there just about a month ago so much more has been done, and there was even more to see!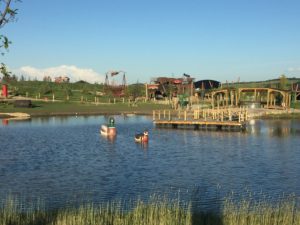 5 things your kids will love at Granary Road
The options for treats and food – Okay you'll probably love this one too. From fresh fruit and veggies, local artisans that make treats like bonbons (yum!!), mini doughnuts, and the loft kitchen where you can order a variety of food such as salads, soup, burgers, quiche, and more! (There is even a rooftop for you to enjoy a drink or two should you be sans kids.)
The Space overlooking the Active Learning Park – Whether you're bringing your own food or grabbing something there are plenty of places to sit, enjoy the view, and plan where to explore first!
The Bat Cave maze – Bats get around using echolocation and this maze lets you see hear how to get around the maze using a helmet that makes it so that you can see and a chest pack that beeps when you get too close to the wall.
All of the slides and place to climb – 11 exhibits and pretty much all of them have something or everything! There is even a zip line at one of the exhibits!
The petting zoo/animals – Go and interact with the goats and check out the other animals like the pigs, alpacas, horse, and more!
Enter to win a family pass to Granary Road
There are really so much more reasons that you AND your family will love Granary Road and we can't wait for you to check it out. We've partnered with Granary Road to give you a 4 pack of tickets to check them out for yourself.  Enter via the widget below!