I admit it, I am not a huge fan of outdoor winter activities…. Cold weather is not my jam. Neither is skating around a circle over and over. BUT I proved myself wrong when my family, along with some family friends, decided to check out the IceWay Skating Trails at Rundle Park this weekend. After a Christmas break of being cooped up inside from colds and severely freezing temperatures, we were ready to get the heck out of the house.
Rundle Park has just under 2 kms of smooth, well maintained ice skating pathways that wind you through the trees and beautiful setting in the parks area. We skated the trails at dusk and really enjoyed the Christmas lights and lanterns along the path, though, it would be awesome to see even more lights. Skaters can explore the trails, all of which interconnect, and enjoy larger skating surfaces along the way. It really is a beautiful setting!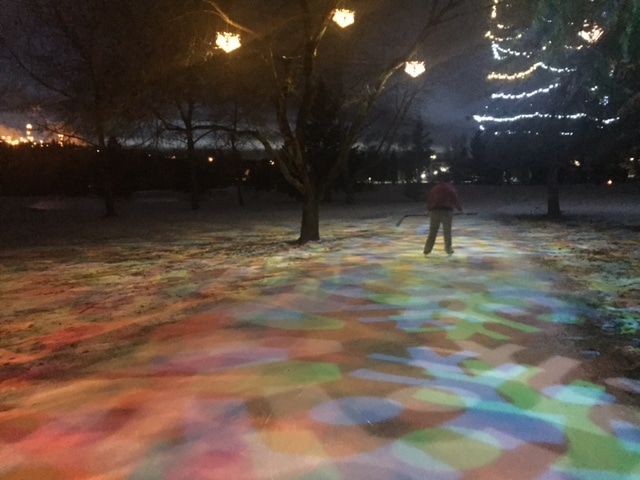 Some tips for enjoying the IceWay Skating Trails at Rundle Park:
Park your car in the lot in front of the Family Centre (not ACT pool). There's an indoor heated building (with bathrooms) where you can leave your shoes and put on your skates.
Bring hockey sticks or a skating aid for your child if you have one.
Always wear a helmet.
If you are going just before dusk, like we did, a headlamp might be a good idea. It got a little dark in some spots of the trail.
Make an afternoon of it and take advantage of one of the many picnic areas with fire pits along the trail. There was a family enjoying a nice hot dog roast while we were out and it looked lovely!
Warm up in the warming hut along the trail. Read about this innovative building here.
Bring some hot chocolate in a thermos and enjoy a post skate treat by the fire in the Family Centre when you are finished.
Always check the ice conditions via the City of Edmonton Notifications, located here.
Another option for fun skating is the IceWay Skating trail at Victoria Park or take a little road trip and check out the skating at Miquelon Lake Provincial Park.
Where do you like to skate in the Edmonton area?