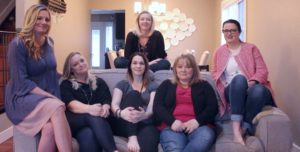 Welcome to Alberta Mamas. We are a collective of social media managers, bloggers, and entrepreneurs living in Edmonton. Alberta Mama's has been a concept we've been working on over the past year and are so excited to see it all come together. Our goal was to create a community for all parents in Alberta, from local perspectives and explore all that Alberta has to offer.
What can you expect?  We'll be posting about activities to do with your family within rural and urban setting, parenting tips and woes, DIY's, health, fashion, tech and basically everything Alberta.
Alberta Mamas is about connecting together, so we invite bloggers, or anyone with a unique perspective on our province to write for us.
Who we are:
Chris from Edmonton's Child Magazine
Christine from Just Another Edmonton Mommy
Nicola from Cultivate Digital Media
Deanne from Box Social Event Planning
Jennifer from Bitchin Housewife
Kimberly from The Everyday Girl