by Laura-Lise Wong
Traditions are a valuable way to strengthen families and create lasting memories. When you think of traditions most people think about the holidays or cultural traditions. But what about the simple traditions that get overlooked? The weekend pancakes or movie nights. The family swim day the first Saturday of every month. These traditions are more meaningful than you can imagine. We live in a busy, go-go-go information age which can result in very hectic lifestyles. We don't have time for relationships. Family bonds are weakening. Maintaining and creating meaningful family traditions counter-acts this current trend. Traditions allow families to spend time together having fun, promote a feeling of closeness, and strengthen the family unit.
Growing up here in Edmonton one of my favorite, most memorable traditions was going to Fort Edmonton Park.
My parents bought a pass every season and we would go pretty much every single Sunday. I always looked forward to Sundays. I can almost say I grew up at the Park-ha! The one woman that works in the Native Camp has worked there for as long as I have been alive. I would spend hours there learning how to bead on a loom; which I made my dad make me my own loom at home to make beaded bracelets for friends and family. I learned how to make a dandelion salad from the old stage coach driver who worked there. And I couldn't even tell you how many things I helped cook up in the kitchen at Mellon Farm. I have been to most of their off-season special events (Easter, Halloween, Christmas, Sunday Brunch at the Selkirk Hotel). I have attended weddings and receptions held there. These are memories that are ingrained into me and although we don't get there as much as I did as a kid, my boys have definitely been spent a lot of time there already. It needs to be on your bucket list for so many reasons.

Fort Edmonton Park is made up of four sections, each representing an era, all spread over 158 acres. Because of the massive size, you can go on even the busiest of days and not feel cramped at all. There is so much space to spread out. I have spent a full eight hours there and still did not see everything the park has to offer. Costumed interpreters play characters based on real-life individuals who lived in the era, and many of them are unpaid volunteers who love to talk about what life was like in the role they are playing. What better way to teach your kids history and have it be fun?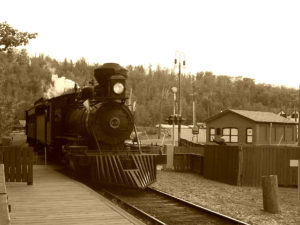 The park was built in a chronological order with the start not being at the front gates but at the other end of the park where the actual Fort is. That is not a problem however as the train is always running and the station is the first thing you will find upon entering the park. The kids are usually begging to go on the train before anything else anyways so it is a win/win. The train is "stroller friendly" but they have to be folded down and stored in the front cart of the train. The 1919 Baldwin Steam Train has transported visitors from the park's entrance to the fort since 1977. Hop on board and head to 1846.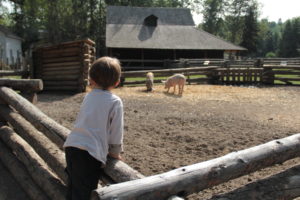 The Fort is massive with many hallways and rooms and levels. It definitely helps to have a buddy system and a meeting spot if you are with a larger group. Park your stroller under the steps of the Rowand House so it is out of the way as you will have to explore on foot. The Rowand House dominates the other buildings along Fort Edmonton's courtyard. The other buildings include the men's quarters, the clerk's quarters, and a personal favorite, the trade store which was where the natives would bring the furs to trade for European goods. The kids love to look at and touch all the furs. Our city was built on the fur trade and it is always amazing to hear about its history. Once you are done exploring the Fort itself the next stop is definitely the Cree camp just outside the Fort's entrance. The women who work there are so friendly and will answer as many questions you have about their culture and history, and they usually have something cooking that they might just let you sample. There is nothing like the taste of bannock cooked over an open fire. The kids are free to explore inside the Tipis and touch all the different kinds of furs as well. Make sure you stop at the Trading Post. I still remember my raccoon tail hat purchased there as a child. And my boys love to look through the rocks and minerals.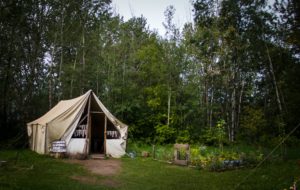 Now it is time to visit 1885 street. One of the first places you will reach is the Ottewell Homestead. The kids always love to spend time here visiting all the animals and having a pony ride. There are horses, cows, goats, sheep, chickens, turkeys and pigs. You can tour all of the buildings and outbuildings but of course, respect the rules to stay behind the ropes. The majority of the buildings are original or rebuilt historical structures allowing you to see what life is was really like in that time. As well as, the artifacts you will find in the buildings; some are original but even the ones that are not are incredibly detailed re-creations. The kids are always so curious to learn about them all and of course there is usually an interpretor around to explain in great detail.
Some of the other places to visit on 1885 street are the billiards at Kelly's Saloon where you can play a game or two (kid friendly), the Carpentry Shop, the Hardware Store, the Police Outpost, McDougall's General Store (here you can purchase a variety of houseware items), and Daly's Drug Store(where you can pick up some unique toiletries), just to name a few. Our personal favorite place to stop is the Jasper House Hotel's Bakery. The cheese buns are always amazing. Every day they have a different selection of baked goods, sandwiches, soups and other goodies. We usually pack our own snacks and drinks from home but it is just one of those places you can't help but get something. I am hoping they continue with their picnic baskets this year as I did not get a chance to try them out last year. If you order a day in advance you can pick up the basket from the bakery filled a meal and drinks, cozy blanket and cutlery set. The basket comes in a 2 person or 4 person option (priced according to that). It is also at the bakery where you can purchase tickets for one of the horse-drawn wagon rides. The rides start at McDougall's general store on 1885 Street. This quiet, scenic loop past the pond and the Fort takes about 10 minutes.
From here you will turn the corner into 1905. This was when Edmonton was officially established as a city. Because of the 1905 boom there was a lack of housing and a tent city was formed to accomodate the influx of newcomers. Tent City is always a favorite of the kids. Another great piece of history is the Rutherford House which was home to Alberta's first Premier. Just down from there another place to grab snacks or drinks (or a potty break) is the Masonic Hall. Across the street from there is the St. Anthony's Chapel and School which is another one of my kids favorites. They love to see the tiny school room and sit in the desks while using the personal chalkboards.
By this time the kids are ready for lunch. It works out perfectly that the Gyro Park and Playground is right behind Reed's Bazaar (which you will want to stop at and perhaps buy some different teas from their selection to take home). We head over for some food and down time while the kids have a chance to run around and play. There are also washrooms located at the park so everyone can have a potty break before carrying on. Tip for the Dads/Grandpas that are looking for a different kind of break while the kids are at the park – the Selkirk Bar is about a minute away and is fully liscensed. Sneak off to have a quick pint (wife approved of course). However, if you need to butter the wife up first just agree to have a family portrait done in historical costume at the Ernest Brown's photography studio. By the time you have a pint or two you will feel up to having your photo taken anyways.
The very next stop we make is to the Penny Arcade and Shooting Gallery. The kids love being able to shoot a "real gun" at the target sheet; and they get to take their results home as well. Next, hop across the street as no visit is complete without seeing the Fire Hall and Police Station. The old jail cell in the back is always a huge hit. Before heading over to 1920 make sure you hop on one of the Streetcars for a quick ride. It will take you along 1905 and 1920 free of charge; just make sure to take it back to where you started from. The street cars however are not able to accommodate strollers, walkers or wheelchairs.
From here you will hit the last era of the park, 1920. Hotel Selkirk has a wonderful Cafe inside and their Sunday brunches sell out very fast. Another interesting fact is you can actually stay overnight at the hotel and experience a hotel visit before there was TV (don't worry though they do have WIFI and running water). It is definitely one of the most unique hotels in Edmonton. They do their best to create an authentic experience while offering many (but not all) modern amenities. Definitely something to consider if you've ever wanted to be a tourist in your own town.
A few of the other spots that are a must on 1920 would be Tom Thumb's Mini Golf, ice cream at Bill's Confectionary, and the newly added Capitol Theatre. The theatre is an amazing experience with screens that surround not only the front of the theatre but the sides as well. The short film "Northern Light" is a 4D experience like no other. It is a brief lesson on Edmonton's history but it is the effects that the kids will be talking about for days. The seats vibrate and move, smoke rises from the floor and one of the most magical features is it SNOWS real snow from the ceiling!! The kids will be in awe. It is a fairly loud show so really wee ones might want to cover their ears or not partake at all.
From there the kids will love to see the replica biplane that is parked inside Air Hangar. Then right on the corner from there is Mellon Farm. The Mellon Farm is distinctive as the only structure original to the park site. It was located close by to its current location because the land that Fort Edmonton Park sits on was once owned by the Mellon family. There is always something cooking up the kitchen there and the kids are welcomed to join in. This is the also where you can learn about Edmonton's rich agriculture heritage when the park holds its annual Harvest Fair in September.
Last, but not least you will most definitely have to stop at the 1920 Midway & Exhibition. Rides, games, prizes, a ferris wheel and a fun house are some of its features. Tickets can be purchased at the Candy Store located behind the carousel. Browse the selection of old-fashioned candy and toys (AND pick out your favourite flavour of candy stick or drop, indulge in old fashioned Sponge Toffee, or choose from the various flavors of salt water taffys). It is the perfect way to end a long, amazing day making unforgetting memories with your loved ones. Remember happy families stay together by intentionally spending meaningful time together.
Keep in mind this only touched on some of the main features but there is so so much more to do and see.
Visitor Map
Lise is a mom to two very rambunctious boys.  Justin Danger age 5 and Hendrix Ruckus age 2. She's a WAHM who runs "If You Have The Vision Designs" You can also find her on Twitter & Instagram.