I used to go BIG for birthdays. That is actually one of the things Box Social Event Planning did when I started the business. We planned parties for parents that wanted that "Pinterest" party but didn't have time. We would do such elaborate parties that one time we brought 8-foot trees into a play place to create a perfect Woodland Theme.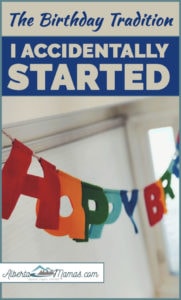 But then I stopped. Because I didn't understand why I was throwing all this time and energy into one day for a little human that wouldn't even remember it. I still love scrolling through Pinterest and Instagram and seeing beautiful, well curated parties but it just doesn't work for our family anymore.
I wanted my kids to still have memorable birthdays though. Not something that just blipped by. And then we got the Birthday Banner.
I am not sure when it started but it has become a tradition in our house to hang the Birthday Banner. I remember picking it up at Target (sigh I miss Target even though the Canadian one wasn't as good as the American one) and hanging it up for one of my kids' birthdays. It was a September birthday and it was a very busy time for our family between school starting (being married to a teacher in September is not fun) and a busy event schedule for myself. So we threw up the banner and sang Happy Birthday to my youngest around Eggo Waffles topped with whipped cream from a can.  Then I brought it out for the next one. Now a few years later it is something my kids love waking up to. It is made out of felt and gets hung in the same spot every time. Sometimes it gets fancy 3M hooks, other times it is held up by green painters tape.
But it is always there.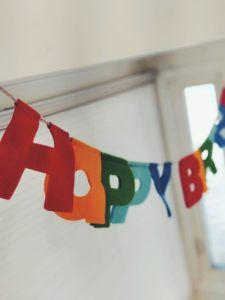 It took me a while but I have realized that the kids do not care about all the decorations, the cake, the late night party planning. They don't care whether they have Pinterest worthy handmade cupcakes or a cake bought on the way home from work with a generic "Happy Birthday" on it. They want you to be there. To be present. To sing "Happy Birthday" and watch them blow the candles out not be worried about all the other stuff.
So from now on that is my goal. To be present. And hang the banner every birthday.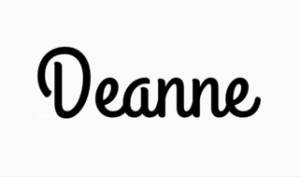 Deanne Ferguson is the owner of Box Social Event Planning. When she is not planning fun, family, friendly events she is finding the yummiest food for the Edmonton Home and Garden Show Food Stage. She loves her #cocktailsMonday dates with her husband and chasing around her two boys. You can find her at @DeanneFerguson on Instagram and @BoxSocialYEG on Twitter.