TELUS Spark Science Centre in Calgary is world class! The first purpose-built science centre in Canada in 25 years, the new location opened in 2011 and is a massive upgrade from the building I grew up visiting.
Plan Ahead
Please Note: We do our best to keep the information Alberta Mamas current and accurate, but all information shared is subject to change. Please check the website and/or social media for the organizations directly (we always try to link to them!) to confirm before traveling.
Our first tip for visiting any location is to plan ahead! Confirm the location, drive time, admission, parking, and that the spot you're going is actually open! There's nothing worse than showing up somewhere only to realize it closes in 5 minutes or didn't even open that day.
Location
Address: 220 St Georges Drive NE
Located near the Calgary Zoo, it's easy to get to Telus Spark from anywhere in the city, and very accessible if you plan your hotel stay based on the best kids attractions in Calgary.
Admission
Admission: Free/0-2yrs; $19/3-17yrs; $22/student; $26/18-64yrs; $24/65+; $90/family
Discounts: AMA/CAA/AAA members, members of other science centres (Canadian Association of Science Centres, Association of Science Technology Centres), guests of members
Hours
Friday & Saturday: 9am – 5pm
Sunday to Thursday: 9am – 4pm
Confirm hours online before visiting. Reduced hours occur a couple times a month, and hours are often adjusted on holidays.
Parking
Rate: $7/day
Unless you are a member, you have to pay for parking over 45 minutes at Telus Spark (register at the kiosk if you're parking for less than 45 minutes to get it free!). You'll need exact change or a credit card to pay at the kiosk, or use the ParkPlus App, ZONE 8310.
Calgary Science Centre Visitor Tips
1. Wear Easy-Off Shoes
The climbing structure in the Creative Kids Museum is shoe-free. Save some time and hassle by putting the kids in shoes they can easily put on and take off themselves. (And make sure adults wear comfortable, walking shoes!)
2. Bring a Camera
There are some great spots to take a photo or video in TELUS Spark. Be sure to snap some on your phone, and if you're into photography bring the good camera.
3. Pack Snacks and a Lunch
You can buy food at the Spark Eatery and Austronaut Ice Cream cafe, but the price adds up quickly. We always recommend packing an allergy-sensitive lunch bag.
4. Bring Outdoor Clothes
The Brainasium Outdoor Park is an incredible playground you don't want to miss. Be sure to bring weather-appropriate clothing (and sunscreen in the summer)! The kids-only Junkyard Playground and the Gather Circle – a place to get together and share Indigenous stories and knowledge – are also outdoors.
5. Bring Water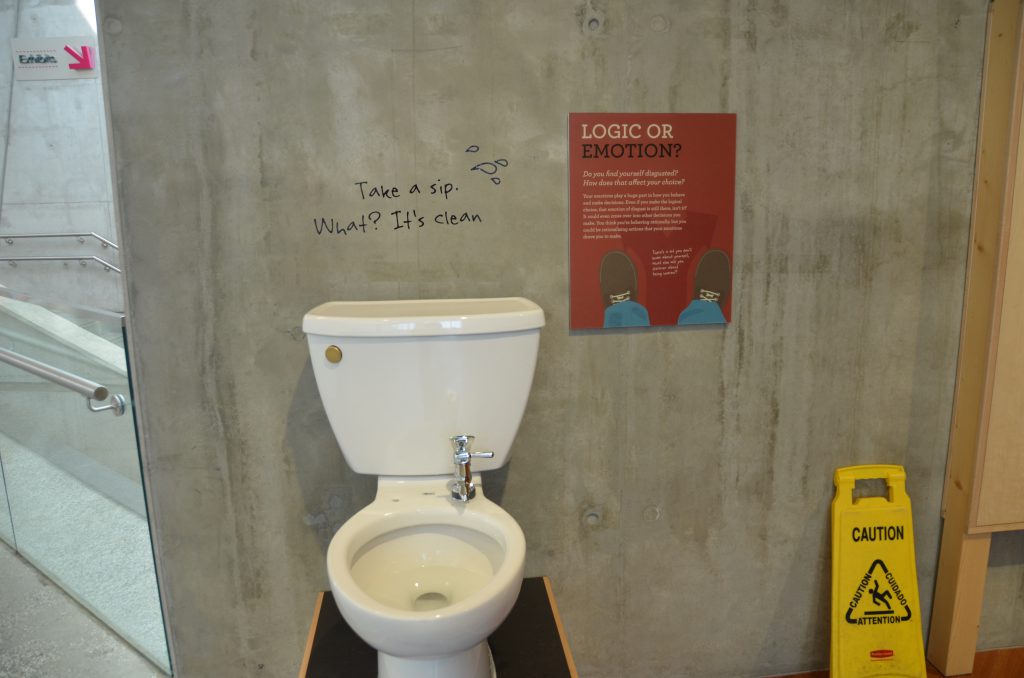 You may not want to grab a drink from this fountain, so we always recommend having your own water bottle with you. It's easy to spend an extra $10+ on drinks if you don't bring your own!
6. Save the Creative Kids Museum to Last
If you want to see the rest of the science centre, save the kids area until last. It's impossible to convince the kids to leave once they're in!
7. Get Some Quiet Time in the Infinity Dome
Be sure to take a bit of time to rest and recharge. There is a lot going on around TELUS Spark, and it can easily overstimulate kids. A 30-60 minute break taking in a show under the Infinity Dome does just that!
8. Don't Miss the Indigenous Science Features
Kids today are gaining more Indigenous ways of knowing than previous generations. Checking out the Indigenous exhibits and displays can help the adults in the group learn and move closer to reconciliation, and gives kids a great opportunity to share what they're learning at school. Science is more than Europe's scientific method.
9. Take Photos in the Gift Shop
There are some really cool things for sale in the gift shop. We'll often let the kids pick up something small (a post card or candy is perfect) and take photos of more expensive items we really like. The kids are encouraged to add them to their Christmas List, and you can order online if you don't want to go in.
10. Double Check Everything is Open
Before you head out, double check the admission hours and which exhibits are open. An unforeseen event could have closed something you really want to see, or you may have looked at yesterday's times and the Science Centre closes earlier today. TELUS Spark keeps their website up-to-date, but you can also check their social media (links in Telus Spark's website footer).
Bonus: Have Fun and Embrace Discovery!
Finally, go in with the intention to have fun! A sour mood can ruin everyone's experience. After the day is done be sure to ask everyone what their favourite part was, and also one thing they learned today.
Can you make this article better?
We're always looking to improve! Have you noticed a spelling or information error, know of something we left out, or would like to share anything else, reach out to us!