For someone who doesn't really hike I have more than my share of trail guides. Some are better than others, and I've developed a serious appreciation for a well researched guide book. "Stoked on Waterfalls" is up there with the best.
Stoked on Waterfalls: Volume I by Jason Walchuck is an exhaustive reference of waterfalls within a half kilometer of a public road in Alberta. Some are visible from a major highway, a few require driving down rough back roads and doing some serious bushwhacking, but they all meet the requirement of being within 500m of a non-private road.
The Book Contents: a summary
Preface
The book opens with the typical Preface covering the interesting backstory of the guide book and standard acknowledgements, before getting into some important information on How to Use This Book, Waterfall Safety, and Accessing Waterfalls on Public Land. There's also a delightfully nerdy chapter on "What Do I Consider a Waterfall?" that defines the different kinds of waterfalls.
Waterfall Guides
The majority of the book is the almost 400 pages of coloured maps, photos, and details about 208 waterfalls. It is amazing. There's a colour photo of Every. Single. Waterfall. The driving and hiking difficulty are individually rated using green/blue/black like hiking, biking, and ski trails.
Each region begins with a map labeling the sub-regions and a list of waterfalls near that marker. The following pages go into details on each falls and include:
Colour photograph with caption
Level of difficulty for:
Driving directions from a local landmark or intersection
GPS coordinates and name of the waterfall (official or not)
Waterfall and hiking description
Map (generally at a scale of approximately 1cm:100m)
These details provide a solid idea of what you're getting into. When I look at some of the falls I've visited the book generally paints a more challenging picture than I would. Most able-bodied people should be able to visit any blue rated falls, even with small children.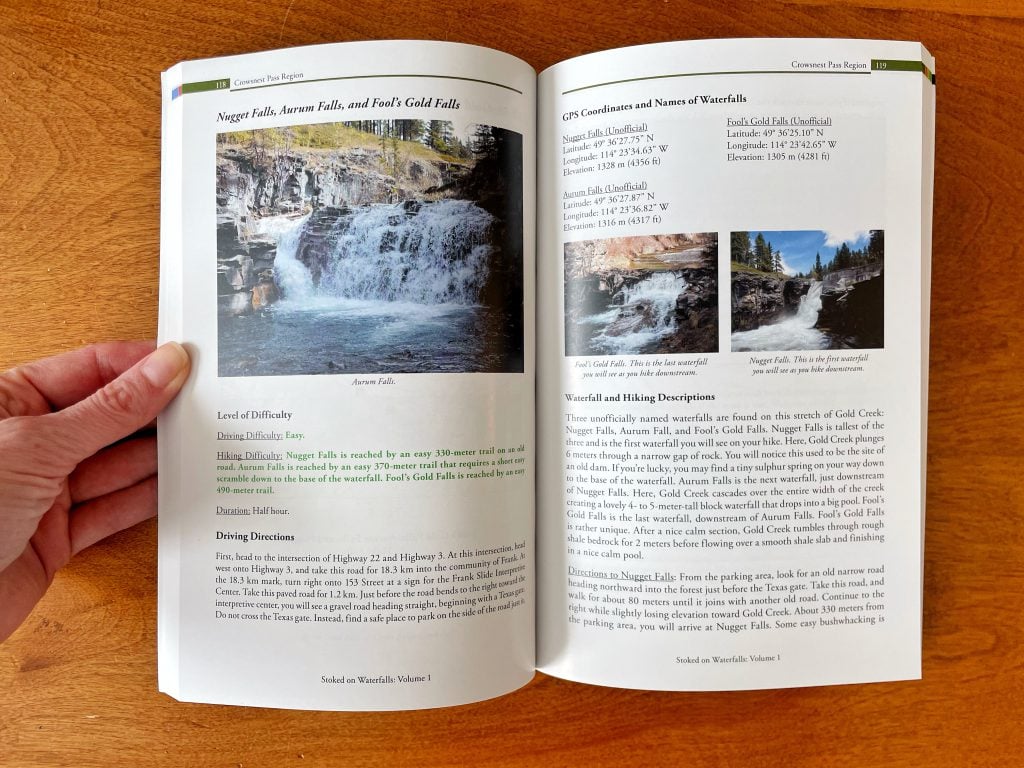 The book closes with a checklist and GPS reference table, list of references, a brief biography of the author, and an index. I can't wait to fill up the checkboxes in mine!
More Waterfalls
Don't want to hunt down the guidebook? Check out our list of family-friendly waterfall hikes!
Book Design and Aesthetics
I was amazed the first time I opened Stoked on Waterfalls to discover coloured photos, maps, and even difficulty ratings. Used to so many other black and white guidebooks, this was a welcome treat!
Each region is colour coded and bleed to the side of the book, making it easy to find the section you want to read. This adds a nice punch of colour to each page and a very polished look, too.
There are two print versions of the book. The version in my personal collection was ordered directly from Stoked on Waterfalls, and the version Edmonton Public Library carries is the Amazon.ca edition.
The Stoked on Waterfalls version has considerably better print quality than the Amazon one. The photos in Stoked on Waterfalls are a bit dark, but still clear. The Amazon photos are incredibly dark and often challenging to see details. If you like the photos for more than getting a rough idea of what you're in for, invest in the direct-from-author edition.
My only true peeve with the book is the Geographical Regions Map. The most detailed part of the map falls right over the gutter (by the spine where the two pages meet), making it challenging to visualize the regions. They are well named and align with park borders, so if you know Alberta geography it's manageable.
So my biggest issue with the book happens on a single page. Not too shabby!
Family-Friendly Guide Book
Close to the road checks off a number of "kid friendly" hike requirements. Waterfalls gives children a goal that will capture their imagination before, during, and after the visit. It's something to see, often has somewhere to play (rocks are incredibly entertaining), and not too much of a time investment so short attention spans aren't tested.
As a non-hiker (thanks, broken body) but still loving the chance to take in nature's incredible beauty, the idea of having a guide book specifically targeted at "easy to reach" destinations caught my attention. I love that it covers all of Alberta, too.
Extra Details About the Book
If you enjoy camping there are many references to campgrounds near waterfalls. When planning a trip be sure to read about the region you're traveling to. You may discover a new-to-you campground!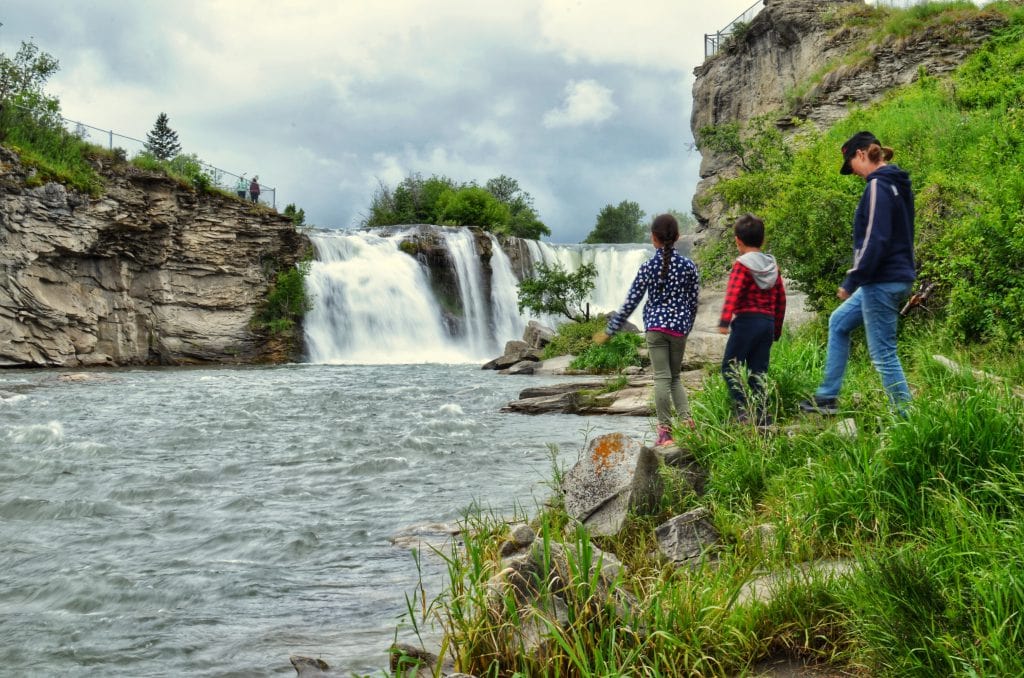 One of my favourite features of hiking guides are the sidebars about a trail or region's history, geography, or other little tidbits of trivia I can share with the kids while we're exploring. Every region, sub-region, and waterfall has little tidbits of these scattered in the descriptions, waiting to be discovered.
Not all of the 208 waterfalls in the book have official names. In fact, it seems many of them haven't been named. Walchuck has done extensive research on names, and includes "official" or "unofficial" based on his findings. There are some delightfully creative "unofficial" names. Keep an eye out for them!
Be sure to read as much as you can within the book about the spot you are going to to pull out all the interesting details.
Final Thoughts on Stoked on Waterfalls
This information dense book gives subtle learning opportunities at each falls ("what kind of waterfall is this?" may become my catch phrase!), and is a chance to manage expectations on all fronts (drive and hike effort, and how impressive a waterfall you're visiting). I hope being able to see the awesome power of nature will give the kids an appreciation for the incredible landscape we are privileged to live in.
I may never get to build up a collection of summits like I wanted to in my younger years, but this book on waterfalls is going to become very dog-eared in my quest to "collect" as many (low effort) falls as I can. I highly recommend picking up a copy of Stoked on Waterfalls: Volume I to keep on your bookshelf or in your glovebox.
The price difference (especially if you have Prime) may make the upgrade to Stoked on Waterfall's edition hard to swallow (almost $20 when my copy was ordered), but you're paying for shipping, quality, and supporting the author with that. Alternatively, check in with your local bookstore or outdoor outfitter to see if they carry it, borrow it from your library, or pick it up on Amazon today!