Sprog & Sprocket is a Calgary portable playground rental company that you're definitely going to want to check out.
Calgary Portable Playground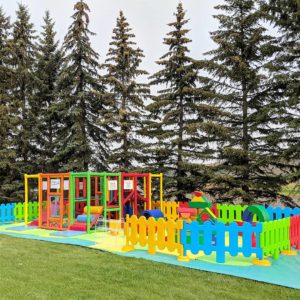 Perfect for birthdays weddings, family reunions, public functions, and more this is the perfect way to bring an indoor playground to you. The portable playground also has a low ceiling height and doesn't take up too much room which allows it to be set up in many different venue options. (Including your home or garage if there is enough room)
Rentals cost is $479 for 4 hours & $599 for all day which includes a shoe rack, free delivery, as well as set up and take down. The portable playground can accommodate 15-20 children and is perfect for kids 18 months – 8 years old.
Soft Play Rentals
Sprog and Sprocket also offers soft play rentals for babies, toddlers, and preschoolers and can accommodate many different venues.
Rentals are for 4 hours with 3 different packages.
Lil'Nippers – $265
Lil'Rasals – $295
Lil'Sprigs – $355
Each package has different options for the play space. The full list can be viewed here. Customizable packages are also available if you don't see an option that fits your needs.
Add A Ball Pool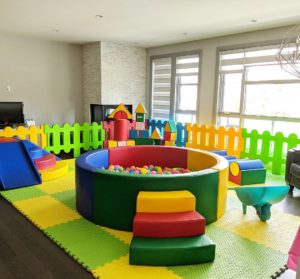 Ball pools can also be added to any booking for $60/round pool and $90/large oval.
To learn more about Sprog & Sproket or to inquire about booking this amazing Calgary portable playground you can check out sprogandsprocket.ca
Photo credit: Sprog & Sprocket Facebook Page