This post is from 2017. 
This past weekend the kids and I decided to give the new Snow Valley Aerial Park a test climb. We didn't know what to expect and this person here (me: who's afraid of heights) was super nervous.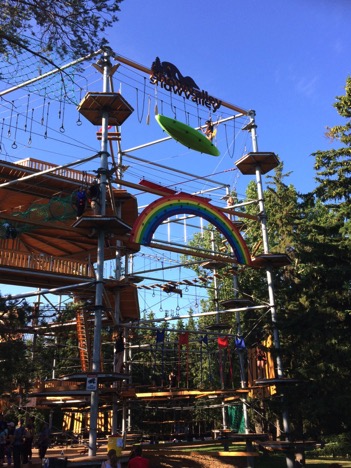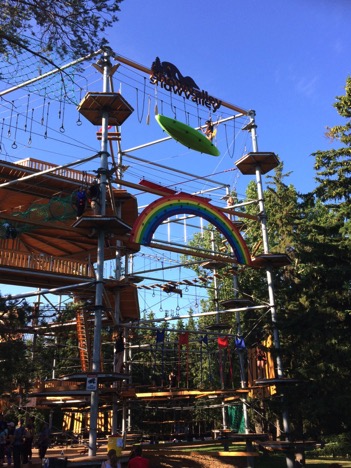 We pre-booked our time slot online (saving $3 per person in doing so) and arrived 30 minutes early. The time is used to put on all your safety gear and go through instructions on how to attach your harness to the system. The harnesses are sturdy, and knowing that there is no way to ever detach, put me somewhat at ease. Both my seven and ten year olds were tall enough to go on the entire system (accompanied by an adult).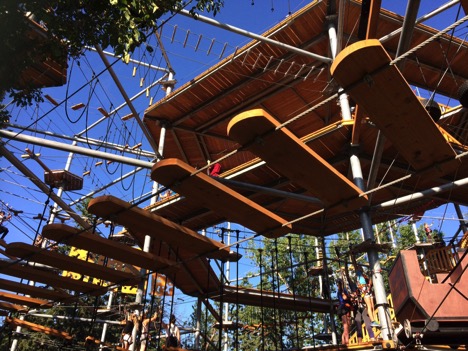 Once we received all our instructions we ventured to the second level then quickly realized we were terrified and went down to the first level. There we did almost all the obstacles. Each one has a difficulty rating of green, blue or black. We stuck to the greens, and when we felt extra adventurous, tried the blues. We walked across tires, wires, a ladder, skateboards, and the list goes on. We eventually went up to the second level again, only to realize it was still too high and went back down.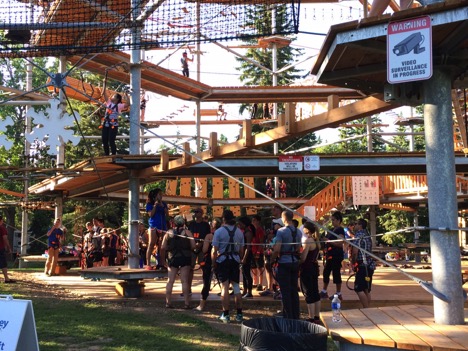 I stayed close to my seven year old as I needed to attach his harness to the wires along the way. We would discuss each obstacle to make sure I was up to the challenge if he needed help. This was a good team approach, my child taking care of me. Meanwhile my ten year old ventured off on her own.
We all enjoyed the course more than expected. It's a good work out for the mamas, and pushes boundaries. It's the perfect place to go as a family, everyone from age 3 years and up will find the course challenging and rewarding.
"Mama, I had so much fun, when can we go back?"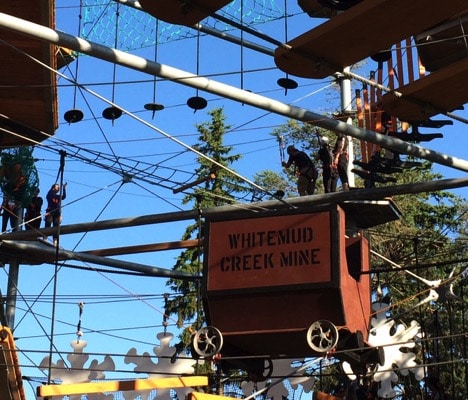 We never did go up past the second level, but we will be back and if we are feeling extra adventurous, we might go to level three to see the view, then quickly back down again.
The kids are already asking when we can go back and if they can have their birthday parties there. It's not a cheap outing (though there is a family discount) but definitely worth going. It's the perfect place to take visiting family and friends, even the dads and teens will get an adrenalin rush.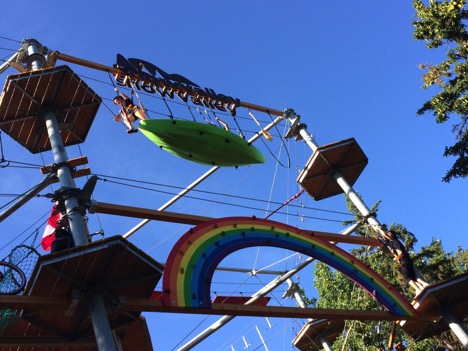 And for the little ones, there is a kids course which is on the main level. We didn't go on that course, but it was full of small kids having a blast.