SkirtsAfire Festival in Edmonton is self-described as "diverse, inclusive and daring", guaranteeing there's something for everyone at their 10th anniversary festival, running March 3-13 in Old Strathcona. With the ever-changing pandemic climate we're all navigating, there is one thing for certain – SkirtsAfire will offer 10 days of engaging and entertaining performances and experiences!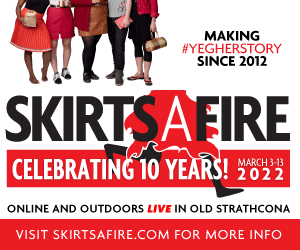 We have taken in their MainStage Productions since 2017 as well as Opening Night Parties, and of course, the fantastic SkirtsAfire Skirt Design Competition. Featuring the work of women and non-binary folks in the arts in Edmonton – MARCH 3-13, 2022.  Check out SkirtsAfire, experiencing theatre, visual art, design, music, comedy, and more.
This multidisciplinary arts festival focuses on empowering, developing, supporting, and showcasing women artists in all our diversity. They represent and therefore welcome artists of all diverse backgrounds, including cis and trans women, non-binary people, the 2SLGBTQIA+ community, and of all ethnicities and all abilities.. Running in conjunction with International Women's Day, their 10 days of programming truly celebrate us – in all our unique, amazing talents.


Ayita by Teneil Whiskeyjack
We are so excited to see their MainStage play this year, a fusion of theatre and Indigenous contemporary dance following three Cree women. Each in a different cycle of their womanhood, yet seamlessly interconnected to one another, these women navigate through their own stories of sovereignty, breaking free from and transcending past personal pain, stepping into their healing and liberation, awakening to their medicine.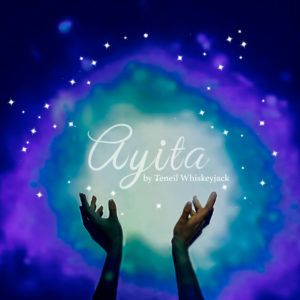 Tickets for Ayita by Teneil Whiskeyjack are on sale now! Join us for Her Night Out on March 9 where you can enjoy a delicious dinner at Chianti before the show with a special deal (reservation required) and enjoy live music by Kate Blechinger. Use code abmamasbogo for buy-one-get-one-free tickets that night, or code abmamas20 for 20% off your tickets to any other performance of Ayita. Group discounts, complimentary tickets for Indigenous folks, and festival passes also available. Limited capacity, subject to availability. 
Skirt Design Challenge 2022
This time around, SkirtsAfire is dropping the competition part of the Skirt Designs. Instead, they have chosen 10 local artists to be a part of creating a full window display at 1 of 4 participating Old Strathcona retailers, with an up-cycled skirt as the centrepiece. The Skirt designer's challenge will be to design a piece using up-cycled waste materials that the retailers provide (cardboard, plastics, and other materials that would normally end up in the landfill).
4 Directions
The theme for this year's displays is: 4 Directions and each window display will have a color: red, white, blue or yellow. Visit all 4 and see how the same upcycled materials were used in 4 directions by 4 different artists.
Locations
On display from February 28 – March 13, 2022
C'est Sera (8239 104 Street NW)

The Paint Spot (10032 81 Ave NW)

The Quiltbag (10516 82 Ave NW)

gravitypope Tailored Goods (10414 82 Ave NW)
Snapshot from 2020 Skirts Design Challenge  – Pre-Covid, when life was simpler 🙂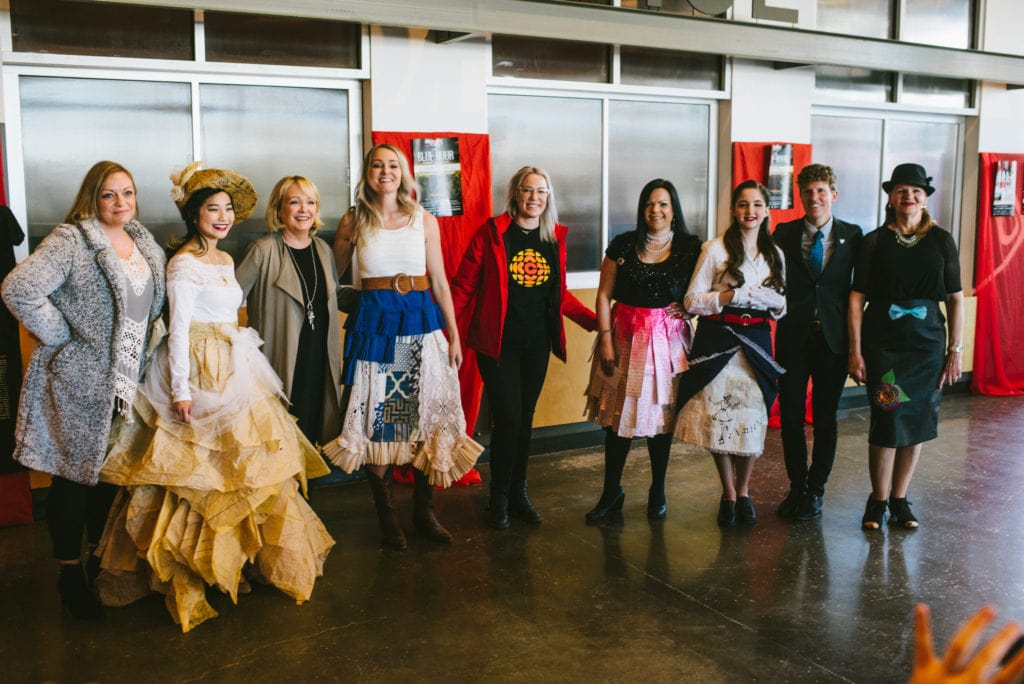 So much more!
SkirtsAfire will be transforming the Army & Navy even bigger and better than last year, presenting The A&N Experience. Designed by Vignettes and home to their Cabaret Stage, their newest festival venue is where you can experience interactive art installations, design, and live performances including comedy nights and concerts!
The full schedule of events and ticket information can be found on their website skirtsafire.com.
We highly recommend you save the date and check out SkirtsAfire making #yegherstory since 2012
Photos supplied by SkirtsAfire by photographers April MacDonald Killins (festival photos) and Noella Steinhauer (Ayita image).