"This retreat is like Summer Camp – For Moms!" ~ Maria, Mom of 2
I joined a few friends last year at the Summer Breathe, Women's Retreat. The retreat took place by Winfield, Alberta at Pure Awareness, about an hour and a half west of Edmonton. To say this place was beautiful is an absolute understatement.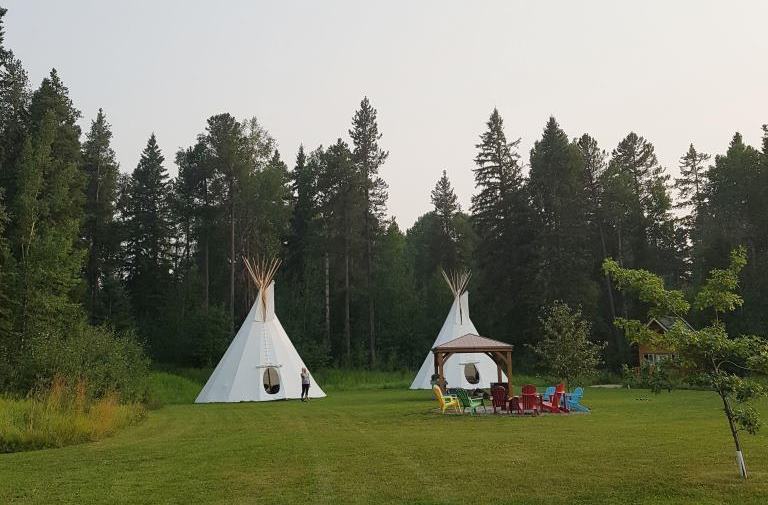 Friday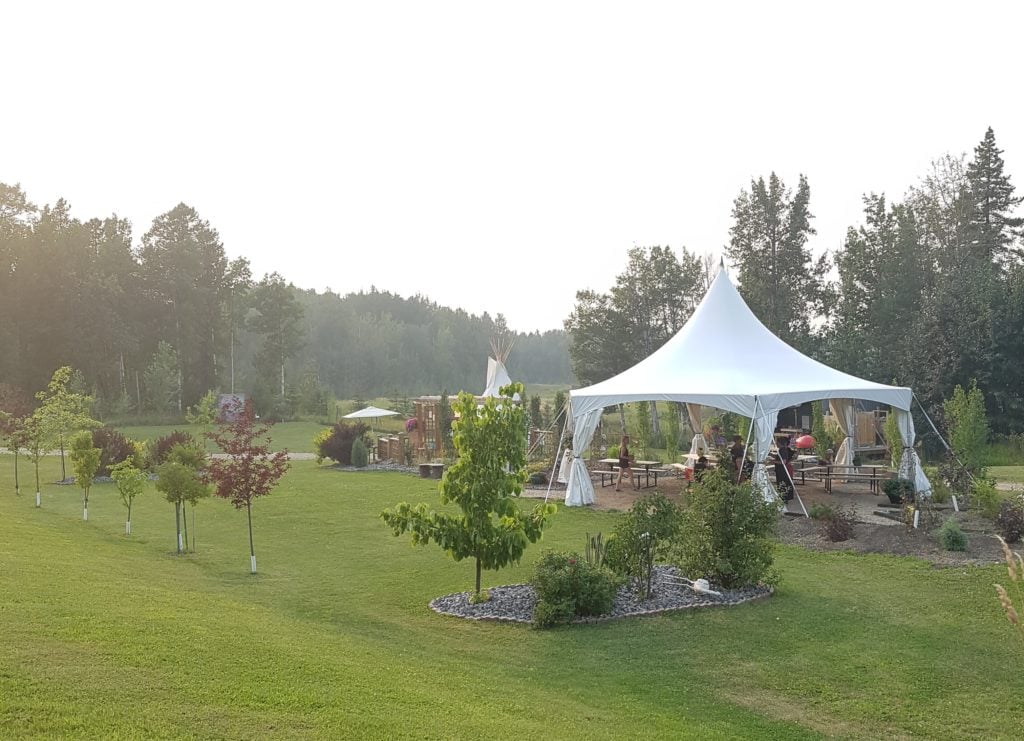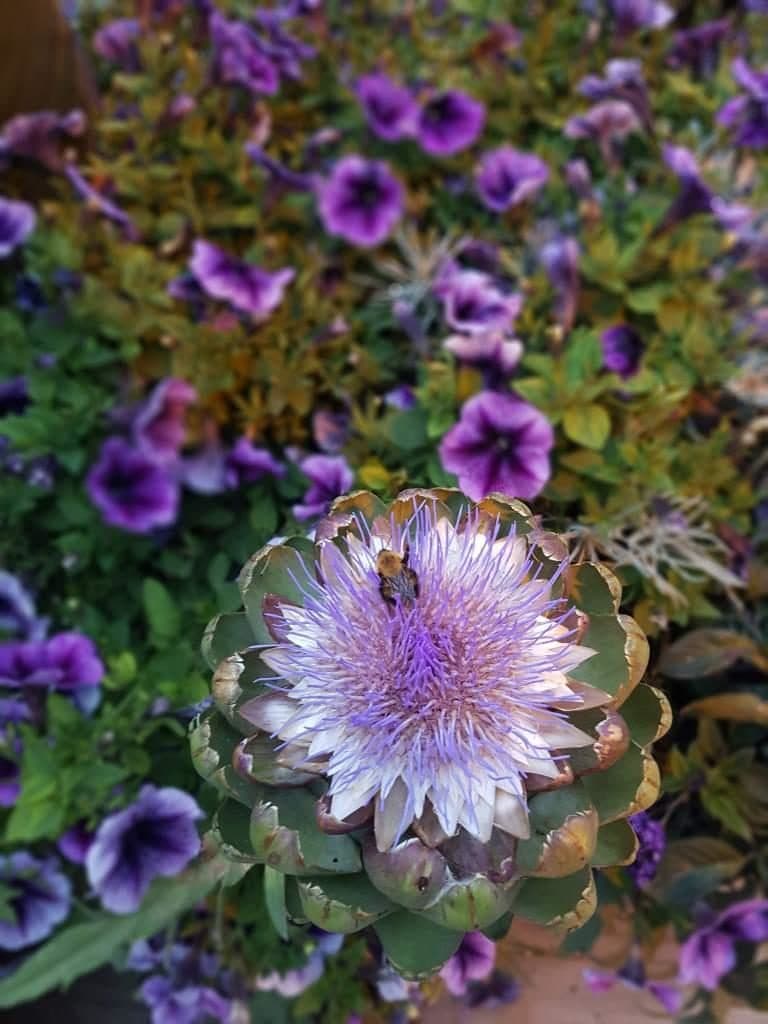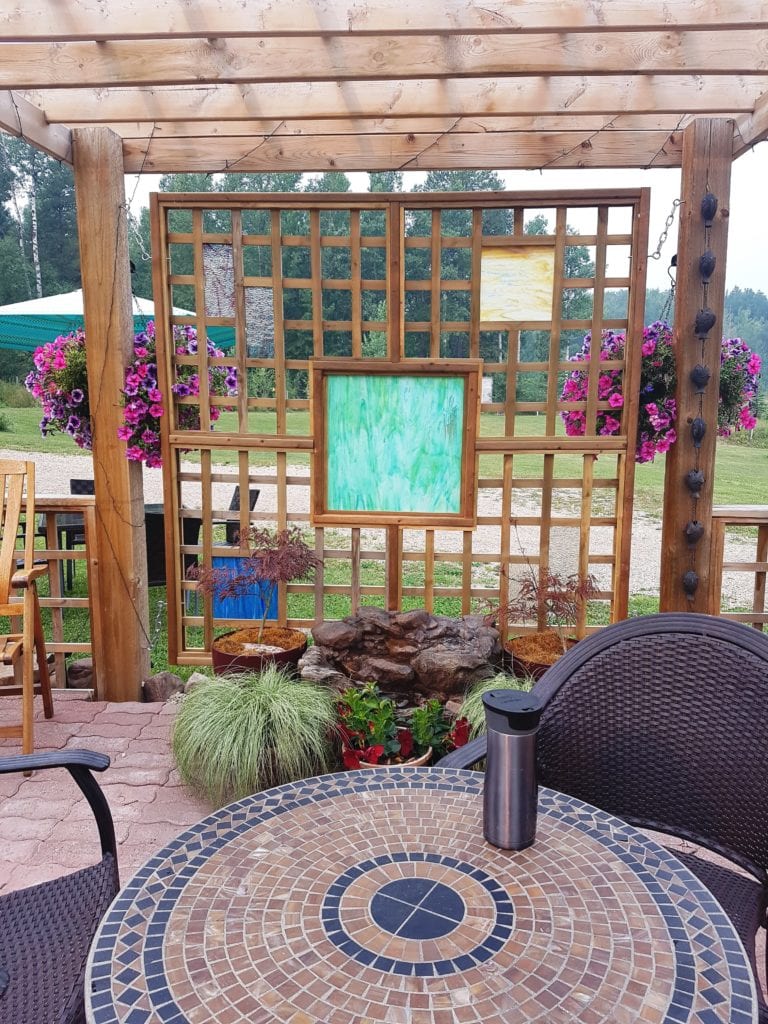 After taking in some of the property (and having our blood pressure naturally lowered by our surroundings) we got settled into our tepee.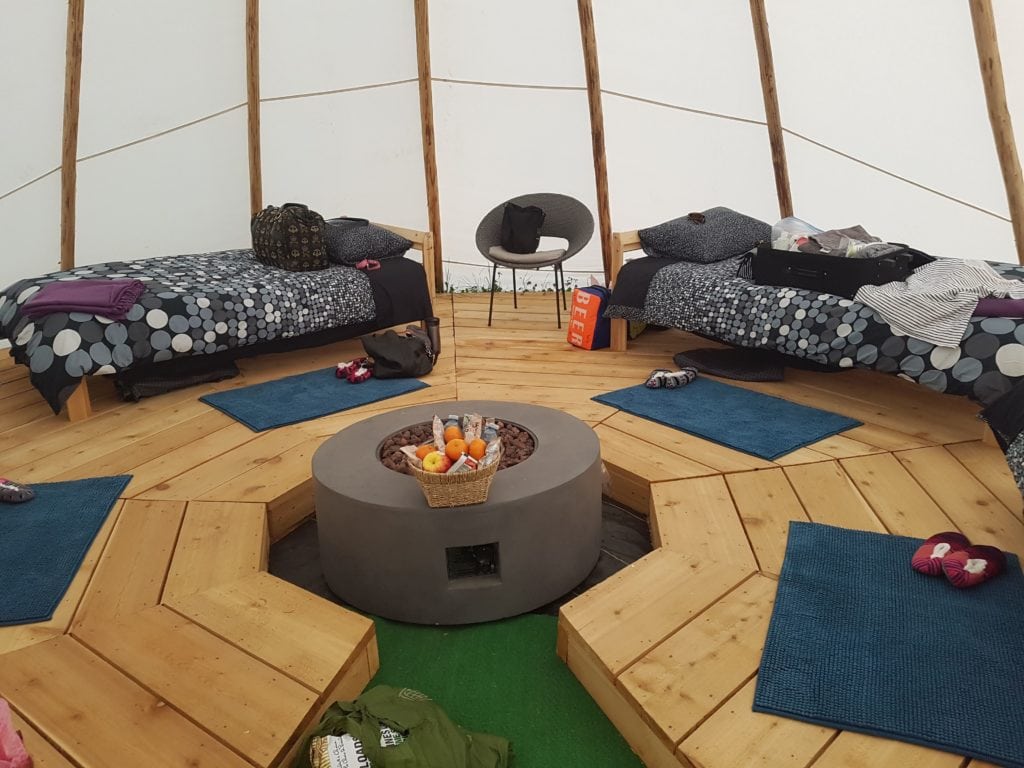 But there are also these cute little cabins that some of the ladies stayed in.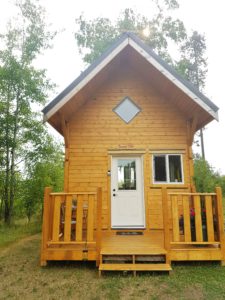 The first activity we enjoyed was an amazing yoga class taught by the lovely Andrea in the indoor studio.
Bonus – there's a flush toilet and sink off the studio! For many of you, this might be an important factor. The outhouses around the property are very nice, cozy and well taken care of!
Once we had some stretch time in the yoga class we ate! And oh my goodness did we eat like queens over the weekend. Every meal & dessert provided by ECOCafe Pigeon Lake was delicious and there were always yummy snacks available. From fresh cherry tomatoes, to fruits and even left overs. Not to mention that every morning in the "Coffee Shack" as it was dubbed, we could find fresh coffee, hot water for tea and even a special chocolate mint tea that was divine. And yes, there was a fridge to keep our adult bevies in!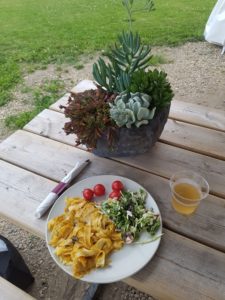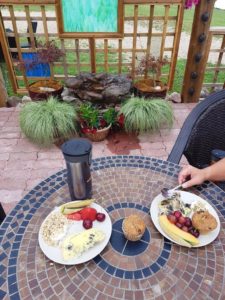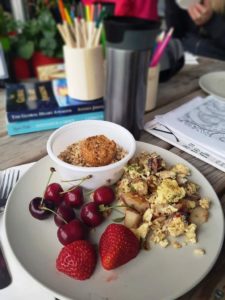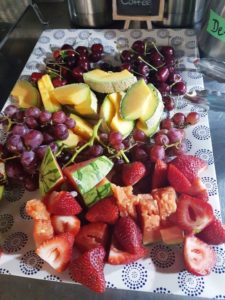 The first night our Breath Retreat hostess Isabel, brought us all around the fire, adult bevies in hand to get to know each other better. We were encouraged to create and talk about a "F*** It" List.
Now, of course I'm nervous about this. Sharing my list with strangers and I was NOT one of the first to share but there were awesome ladies who took the lead and made it much easier. Honestly, this was one of my favourite parts of the retreat. Getting to hear the stories of other moms, some older with kids grown and moved out, sharing their knowledge. Others with younger ones in the thick of things, identifying with their struggles.
A few hours of sharing and bonding that set the whole tone for the supportive, loving, atmosphere that would permeate the whole weekend.
Saturday
The next morning I woke up so excited. After a very restful sleep, I had no one to take care of! I checked the schedule, which is posted in each room, to remind myself of the activity times. I really wanted to attend every meditation and yoga class but the activities are optional – I could have chosen to just laze around and that would have been just fine.
I hit the coffee shack first, grabbed some brew, did the 30 min meditation class, ate breakfast and then went for the 2nd yoga class of the weekend. This one was more flow – get the blood flowing because next up, we were hitting Twin Lakes for Paddle Boarding!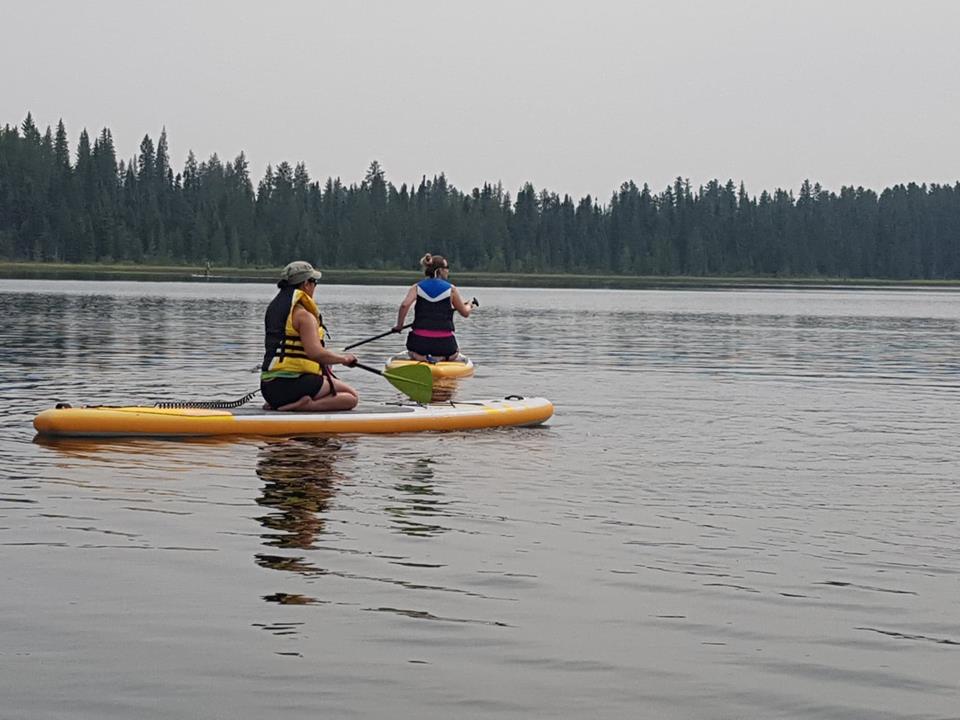 My heart was racing as we did the practice run on dry land. As we got into the water I had to remind myself to breathe deeper – I was so nervous! But I'd really wanted to try this and one of the instructors came out with us. We had life jackets on, the worst that could happen was we fall in and get wet right? Did I mention I can't swim? This lake though – so calm and serene. And guess what? I did it! AND I loved every minute!
When we were done at the lake, a couple of us decided to enjoy the fantastic outdoor showers. I've never showered with a plant before – or outside in the sunshine. It was delicious.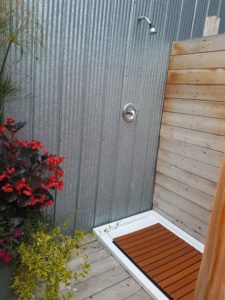 Up next we had some craft time – which again was totally optional but every mama took part in it. We made homemade beauty products including dry shampoo, eyelash serum, body scrub and even yoga mat spray. So much fun!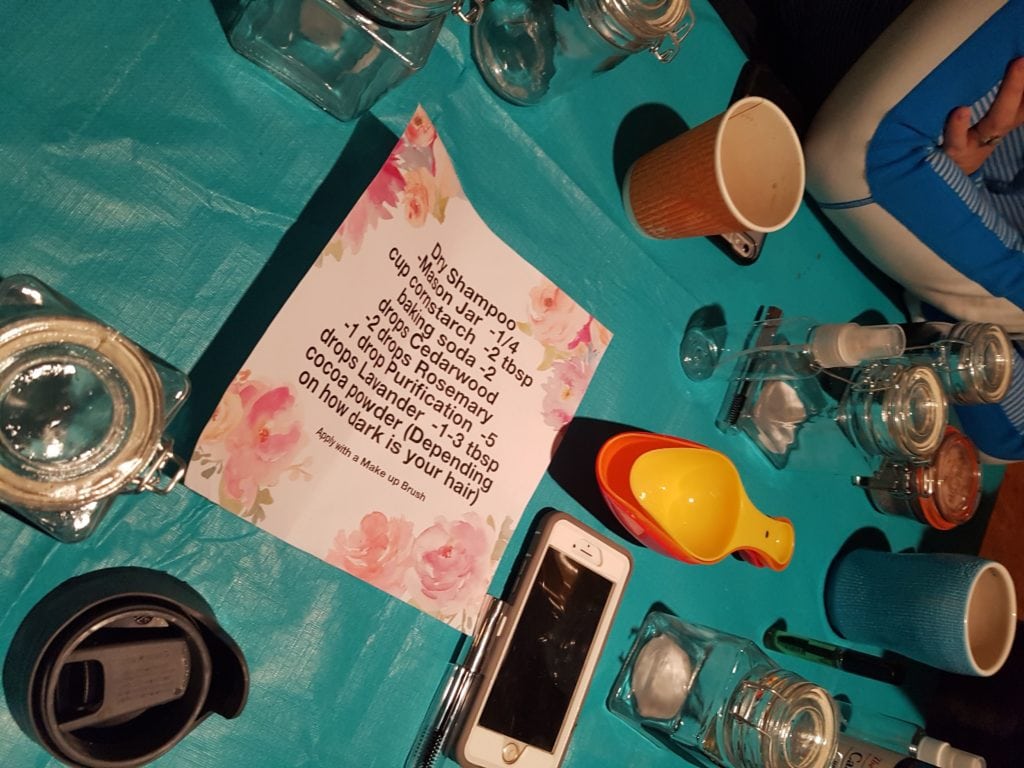 Then we ate our delicious dinner, had some chill time and another yoga class, this time restorative to get us ready for a lovely sleep.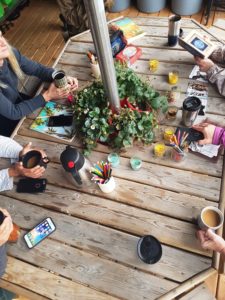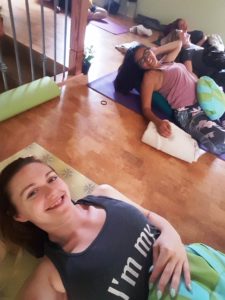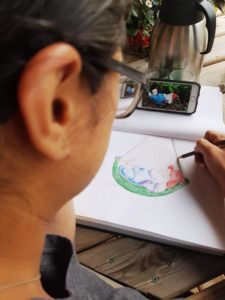 While this was all going on they closed up our tepee roofs because rain was in the forecast. I fell asleep by this beautiful fire listening to the rain.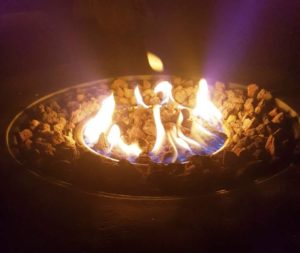 Sunday
I had one of the best sleeps of my life that night and knowing there was still half a day of fun ahead when I woke up, made it such a great morning! On Sunday breakfast was a little later, then our last yoga class of the weekend followed by another fun craft to end things off. We had the opportunity to chose from a few different designs and make mugs or wine glasses!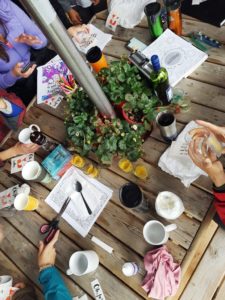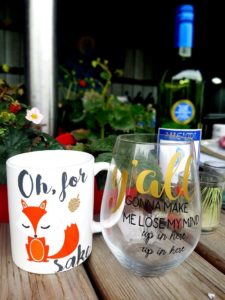 I found this to be a very appropriate craft because I was leaving with a very, very full cup.
We took a group photo and every one started saying their goodbyes. Off to reality we slowly went, one by one. Many of us followed each other on social to try to stay in touch and we have plans to get together. Just to see how everyone is doing. I felt incredibly rejuvenated, renewed, invigorated. I came back to my mommy-hood refreshed and feeling ready to take on the world. Or at least life as I know it. I kept thinking of so many moms I know who could use a weekend just like mine.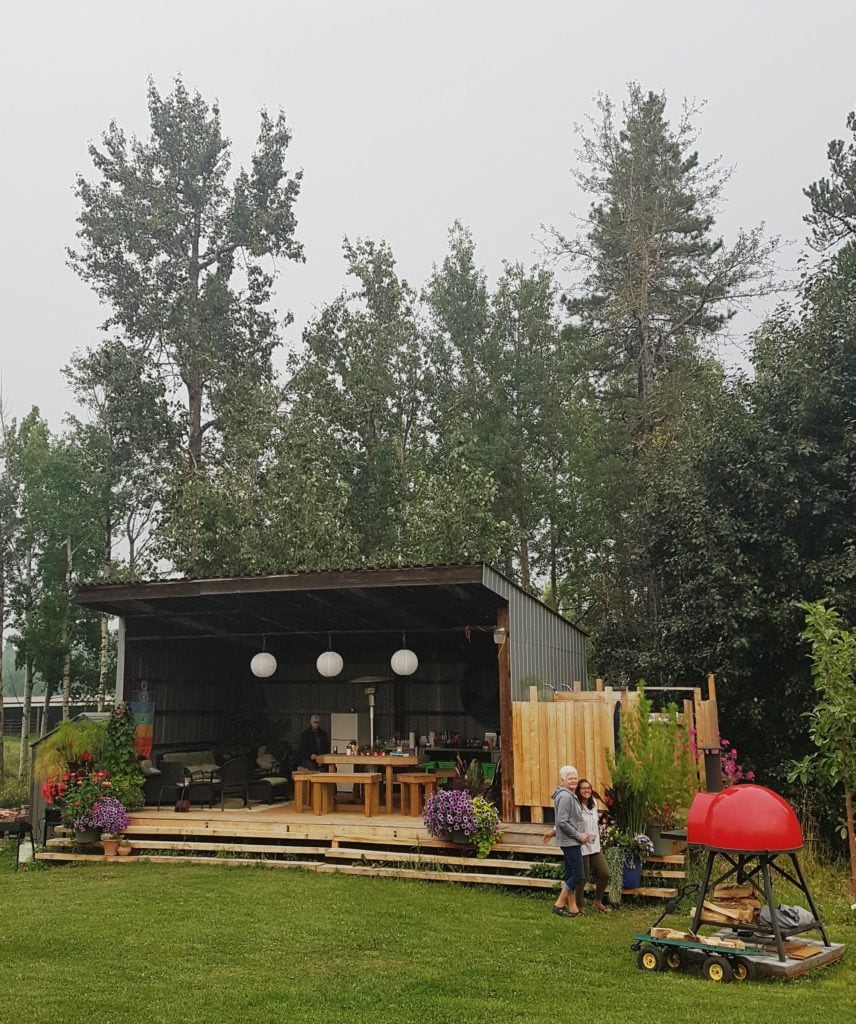 Part of the amazingness of this retreat is due to the Breathe Women's Retreat creator, Isabel. She's honestly one of the kindest women I've ever met. Fun and spunky, this mom wanted to create retreats specifically for mother's that were reasonably affordable – so more of us can benefit from weekends spent on self care. Surrounded by women just like us who become a squad – maybe just for the weekend or maybe even far beyond that. Her vision and her hard work shows in everything she does.
I am all booked for her Mom & Daughter retreat. Connecting with our kids is so important and I cannot wait to share this beautiful place with my 9 year old.
You can follow the page on Facebook to keep in the know on spots left and inspiration. The retreats are filling up fast – some already full!
When was the last time you spent a whole weekend reconnecting with yourself and filling your cup?
Visit their Facebook to view all the upcoming events!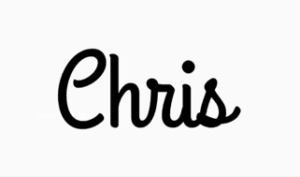 This post was created in partnership with Alberta Mamas and Breathe, Women's Retreats. As always, all opinions are 100% our own.