Every once and a while you try something new that reminds you that it's usually a good idea to try new things once and a while. For us, it was checking out Urban Pedal Tours last week! New to Edmonton this summer, it's basically like a pub crawl, but instead of a bus you are on a huge green 15 person party bike.

The Tour
We took the Old Strathcona Tour and enjoyed stops at The Empress Ale House, Malt & Mortar and Situation Brewing. All stops offered friendly staff to greet us, tasty local brews (I loved the Tea Saison at Situation Brewing which had green tea and lavender in it!) and options for quick food (the bowls of popcorn at Malt & Mortar were much appreciated!).
I love the focus on local beer and businesses. It was obvious that Matt, owner of Urban Pedal Tours, is well versed in his knowledge of brews and has close relationships with the businesses he chooses to include on his tours. We even enjoyed a private backend brewery tour at Situation Brewing where we learned the techniques behind their fresh beer.
The Bike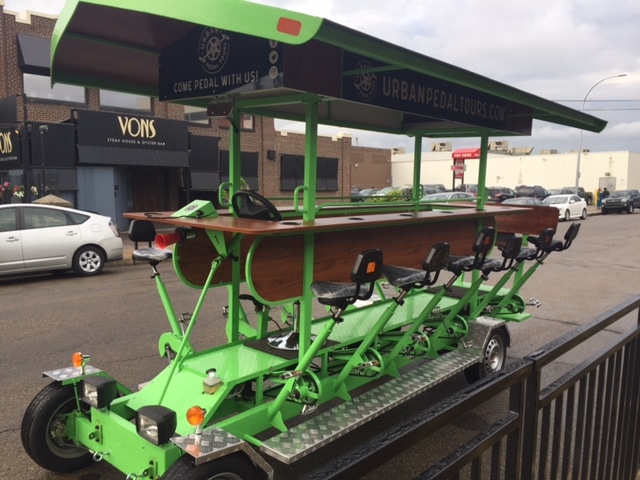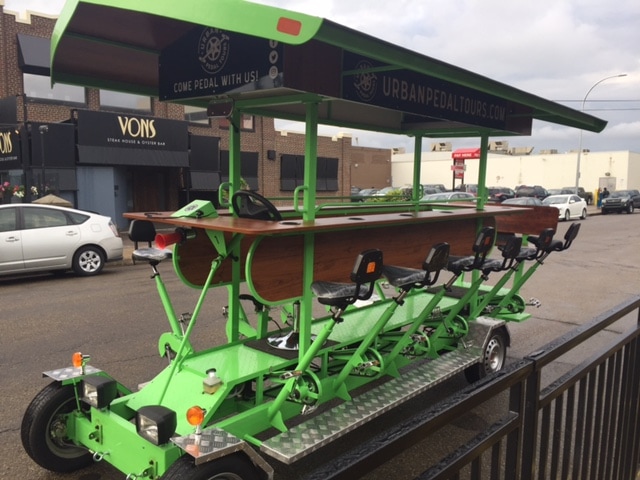 Besides the beer drinking, or cocktails if that's more your style, the bike riding from pub to pub is amazing! Matt knows how to read his crowd and we were treated to a high energy playlist that got us in the mood for fun. The bike has a roof cover so you are protected somewhat from the elements and there is a cubbie for purses. Matt even covered our seats with plastic when it started raining while we were in a pub, blissfully unaware of the weather. Surprisingly, most motorists were happy to wave and cheer us on as we motored down Whyte Ave at a breakneck 10 kms an hour!
We enjoyed our trip so much that I decided to book again for August and try out the downtown tour! Consider adding this to your summer bucket list of you are looking for a fun night out with friends, unique date night or treat for summer visitors who would like to see our city in style.
Tips:
Don't wear heels or a dress. You are actually bike riding and you have to climb up a bit to get on.
If you need to eat, order something that is easy to eat as soon as you arrive at the pub so that it is ready to go.
We were told that it's easier to pedal if you snag a seat by the front of the bike. I was at the back the entire tour and found the pedal invigorating, but absolutely manageable.
Tours are $38 per person, plus the cost of whatever you drink.
Book ahead at urbanpedaltours.com.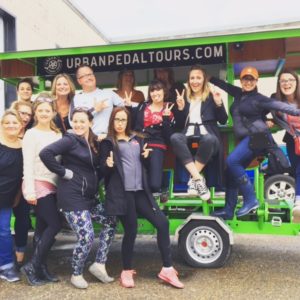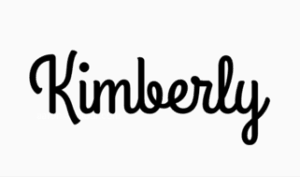 *We took the Urban Pedals Tour for free as part of a blogger's experience. All opinions stated are our own.