By Stephanie Lilley
I have 16 minutes to write this entire blog post. That is the time before my workout starts, I then have to pick up my 1.5 year old from daycare, pick up my 3.5 year old from playschool, take both tiny terrorists grocery shopping (my MBA has left me ill-equipped to negotiate with them), get them home and napped (by "napped" I mean the older will watch Paw Patrol and the younger will alternate between crying to be breastfed and biting my nipples), take everyone out for some sunshine, clean the whole house, make dinner, get ready for date night (reapply deodorant and change into a different pair of stretchy pants), and go to a local dance company's show for date night.  
I am a professional contemporary dancer/choreographer and I run Viva Dance Company. I have been married to my wonderful husband for almost a decade and I am mother to the 2 most amazing kids. I have the best life of anybody I know, but I am busier than my kids during the sermon at church! I am burning the candle at both ends and also roasting the middle on a surprisingly hot Easybake oven. Like many women I know, I wear many hats. Mother, wife and artist are my most important, and also my most demanding roles.  
In just a few weeks, myself and the other Viva dancers will be dancing in the Skirtsafire Festival. We train together 2-3 times a week and have performed over 200 times since I started the company in 2012. I wish I could say that our success has translated into money but performing arts companies simply do not turn profits with ticket sales alone, and with the other hats I wear I don't have time to apply for grants and sponsorships. Furthermore, people often expect that because I love dancing that I should donate my services. In short, it is hard to make a living wage as an artist. It is doubly hard to do so while putting out family fires (literally).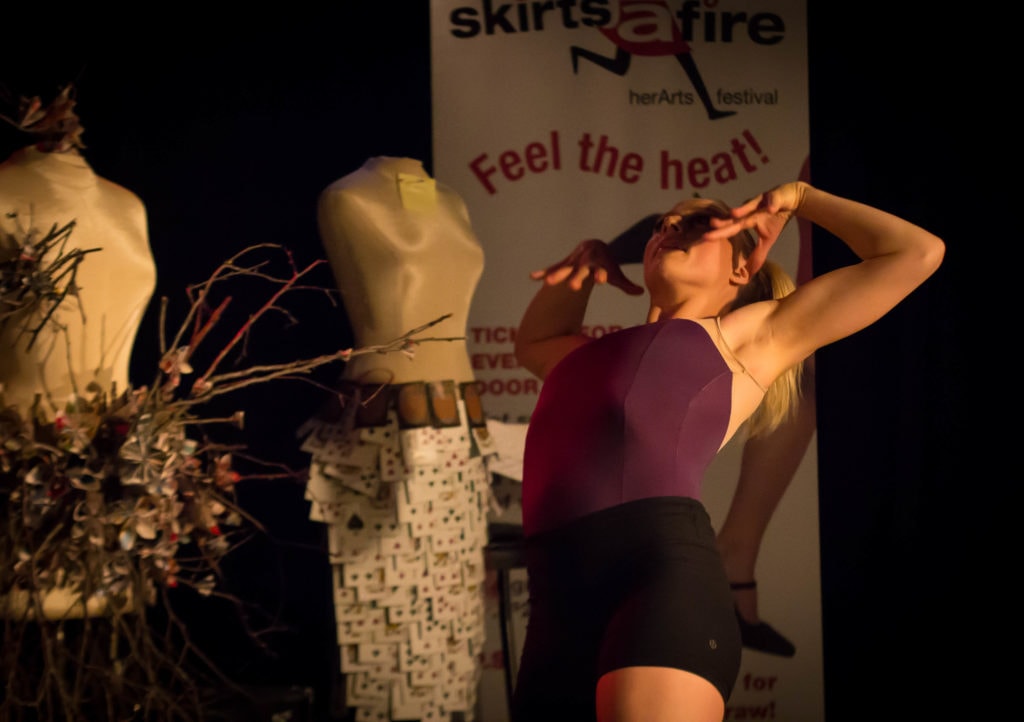 The payoff? When I am dancing, I get to move my body in infinite ways, the body that houses the soul that loves my husband profoundly, the body that brought two children into this life. My body should be celebrated in all of its postpartum glory and what better way than through movement? In those moments when I can drop my guard and bear my soul, I lose myself and find myself.  
In the blink of an eye, my 16 minutes is almost up and I must go workout so that I can keep up with the 20 year old dancers in my dance company. 
Tough as a mother & yours in dance,
Stephanie Lilley
Stephanie Lilley is a contemporary dancer/choreographer and runs Viva Dance Company
Facebook: @Vivadancecompany , Twitter: @ViVAdanceCo , Instagram: viva_dance_company
This post was sponsored by the SkirtsAfire Festival Society.