We all know that once you become a mom the priority so often shifts from numero uno to the kids. It can be really difficult to find time AND money to upkeep your wardrobe when your kids are growing out of their pants at a rapid rate. One of the greatest things we've been introduced to in recent years is clothing swaps! This is a budget friendly, eco friendly and all around awesome way to clean your closest and re-fill it 'with new to you' items, perfect for the upcoming change in season.
What is a Clothing Swap?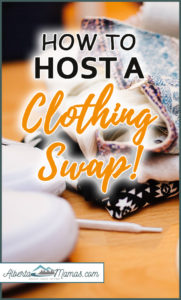 Literally, what it sounds like. You bring your old clothes and accessories that no longer fit or suit you and give them away to other women while collecting some of theirs. The rest gets sent to a charity at the end of the night.
First, find a date that works for the majority of your clan. We find that an evening without kids is best as these can go long into the night! Typically plan for about 3 hours or more.
Invite everyone that you are comfortable having in your home, the more people the more options. Invite ALL shapes and sizes of women, obviously. Ask people to bring a friend if you need more people. We find that 10-15 women is a good number.
Ask people to BYOB and bring a small snack. This just makes it easier for you if hosting!
We like to tell everyone that they must have a minimum of 10 items to bring to the swap. This ensures that everyone participating has contributed. Usually we don't set a maximum number of items- some ladies have been known to bring multiple garbage bags of clothes!
Plan to swap clothes, shoes, purses, jewellery, scarves, jackets…..all of it!
Get Ready to Swap!
Sit in a circle in the living room and have everyone introduce themselves. Write every guest's name on a slip of paper. The first woman to start will hold up her items one by one and say something short about the item (size, brand, style), all women who would like the item raise their hands. If only one hand is raised that lady gets the item, if two hands are up then rock paper scissors determines it and if there's more than that interested put the names of the ladies with hands up in a bowl and draw the winner of the item.
If no one wants an item simply throw it in the middle and it becomes free game for anyone who might decide they want it or it gets donated by the hostess later. One rule that we've implemented is no bad mouthing your items or your body! Everyone has a different style preference and body shaming yourself is just a big no no. Create a space of acceptance and safety.
The next day call a charity that does home pick ups for the items that are left over. We've used Boys and Girls Clubs Big Brothers Big Sisters and Diabetes Canada. Or, you can always drop it off yourself at your favourite local charity.
Wear a tank top and leggings so that you can easily try things on and throw them back in the middle pile if you change your mind. Once an item goes back into the middle it is fair game so pay attention when someone is trying on an item you had your eyes on!
Take turns hosting and invite new people. Inviting new people not only helps you to get to know more friends, but brings new items into the swap as well. We try to swap every season if possible.
Have fun! There's nothing like going through your treasures at the end of the night and feeling like you off loaded some of the items in your closet that were weighing you down. My personal favourite items I've come home with were a Kate Spade handbag, some Lululemon pants and a cozy wool sweater from H&M.
Have you been to a clothing swap before?
Kim Ouellette is a Co-Founder of Alberta Mamas and an Edmonton Realtor with Schmidt Realty Group. She is a wife, mom, daughter, friend and adventure seeker who loves to explore Alberta and beyond. Connect with her at kim@weselledmonton.com