This weekend we had the privilege of touring Granary Road located minutes outside of Calgary. The same people that brought you Jurassic Forest North of Edmonton have created an incredible destination for families to enjoy all year round. We visited before the landscaping was done so please note that in any picture we post there will be some changes and the ground will be covered with mulch in the play areas.
The Market at Granary Road
When you first pull up you see a beautiful building that will house The Kitchen Restaurant & Bakery, which will have fast-casual food during the day and will transition into a more sophisticated menu during the evening, as well as The Market. The restaurants will be using produce grown in the huge greenhouses that sit beside it making it the freshest it can possibly be. Your lettuce will never be in a truck and transported! You cannot get fresher than that.
The Mezzanine area offers spectacular views of rolling hills, farmers fields and the active learning park. The vaulted ceiling, hardwood walls, windows everywhere and iron trusses create the perfect atmosphere for enjoying a meal or wandering the market which will run year round Thursday to Sunday.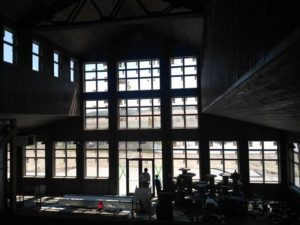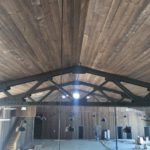 The market vendors have been hand picked and include:
Produce from their on site greenhouse
Award-winning Butcher Shop
Artisan Cheese and Sausage
Handcrafted home goods and women's accessories
Pizza and pastas fresh out of a stone oven
World-Class Chocolatier and Decorative Cake Baker
Hand Scooped Old School Ice Cream,
Fresh mini donuts and salty nut snacks
Top Shelf Wine Shop
The Active Learning Park
Just outside The Market is three kilometers of trails that lead the kids through 11 exhibits with themed activities at each stop. These areas are developed by a team that includes Calgary teachers to ensure that the content is aligned with Alberta Education's Program of Studies for science so the kids will be learning through play! Each play area has something for all ages making this an easy place to visit with a group of kids. Trust us when we say you need to plan to spend a full day here.
The pictures speak for themselves for how much time was spent making each exhibit an incredible place for kids to explore. For more details on each play area you can see a full map and description here. My kids loved the Ant Farm Adventure, Bat Cave Hangout (there will be a Blind-As-A-Bat Echolocation Maze where participants will put on a helmet with sensors.This lets kids feel what echolocation is like!), Orchard Tree House, and Arachnid Web (mostly because the giant spiders were VERY life like and freaked me out quite a bit!)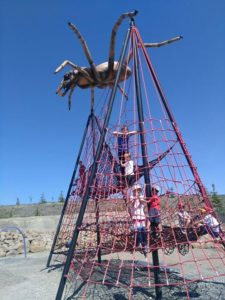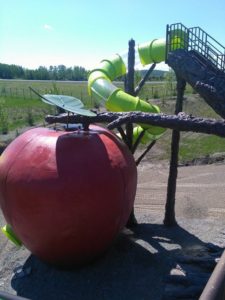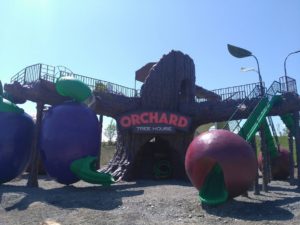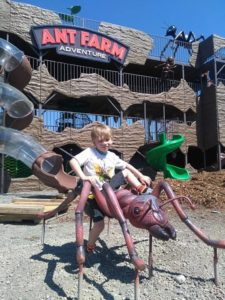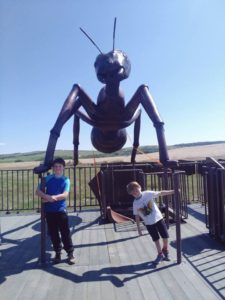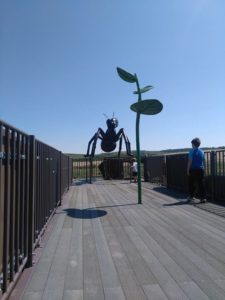 There is also a petting zoo, Mushroom Meander, Wetlands Discovery, Chicken Coop (yes there will be real chickens who apparently love to go on swings!), and a Frog Pond with in ground lily pad trampolines.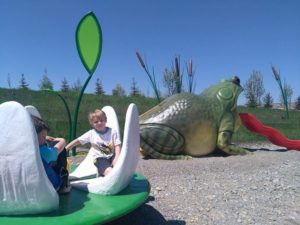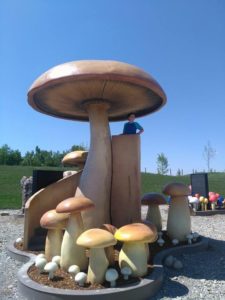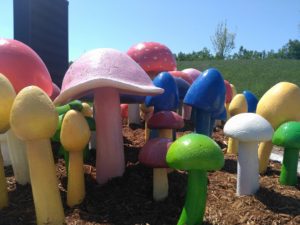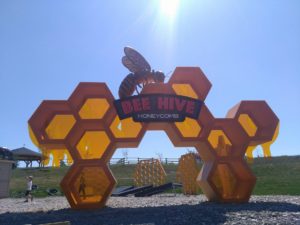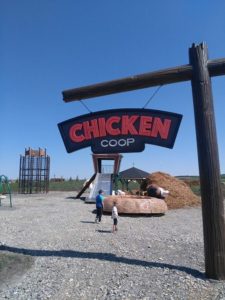 Admission:
Kids 3-14: $14.00 + GST
Adults 15+: $17.00 + GST
Seniors 60+: $15.00 + GST
Families are welcome to bring their own food, bathrooms will be easily found within the park, and paths are wide enough to accommodate strollers. They have put a huge emphasis on creating a space that is affordable for families, a place that you can visit again and again, and a safe area that will encourage kids to get out and play.