Edmonton is my hometown, and I've always been proud of the cool initiatives the city implements, especially when they're environmentally forward. The Goat Works pilot project is one of these initiatives, where goats are brought to Rundle Park to control weeds. This allows the city to limit herbicide use, and only use herbicides when absolutely necessary. For a green mama like me, this is wonderful news! Less pesticide use means less leaching into the environment. It also means I don't have to worry about my daughter being exposed to them. Win for the environment, and win for everyone enjoying the parks!
I got to attend a "Meet and Bleat" event at Rundle Park to see the goats in action, and learn about how amazing they are for this purpose! Here's what I found out:
The goats are trained to target noxious weeds, like thistle, leafy spurge, common tansy, common burdock, and yellow toadflax.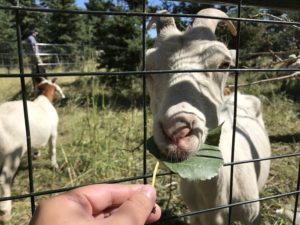 The goats are never left alone, there is always a skilled shepherd on site with them.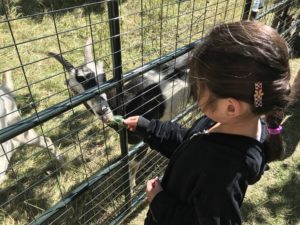 Goats are perfect for this job because they can move easily on all kinds of terrain, including areas that are hard for people to access. Their digestive systems are also an asset, as they can eat plants that are poisonous to other animals. Their poop is dry and non-smelly and acts as a great fertilizer.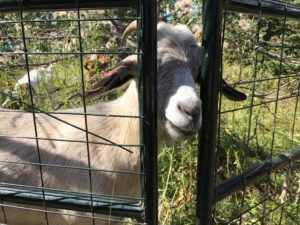 There are typically 6 "lead" goats in the herd that the shepherd counts on to lead the rest of them. Goats have a herd mentality, so they go to water together and move together.
There are specially trained herding dogs on site to help protect and direct the goats.
The goats will be in Rundle Park intermittently through September. If you want to check them out, here are some tips to keep in mind:
The goats are kept within a specific area with a gently electrified fence. Stay away from the fence.

Don't feed the goats – they have lots to munch on in the park.

If you're bringing dogs to the park, keep them on a leash in the area. Herding dogs are present with the goats and are very protective of them.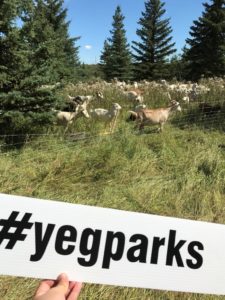 Find out more about the goat pilot project here (edmonton.ca/goats).
Check them out for yourself at the next "Meet and Bleat" on Saturday September 23, 2017 from 10am-2pm at Rundle Park. You can feed the goats leaves, pet them, talk with their shepherd, do crafts, and learn about other City of Edmonton initiatives.
Have you seen the goats at work yet?
Judith is an eco-mom in Edmonton who is passionate about green, toxin-free, healthy living. She shares her journey and experiences on Juicy Green Mom .You can follow her on Instagram   Facebook  Twitter (@juicygreenmom), and Pinterest .