A great gift for the tween or teen in your life can be hard to find. Sticking to a tight budget along with that is even harder! Never fear – our curated selection of crafty gifts are sure to delight any tween, all under $20 CAD.
Why crafty gifts? My daughter was recently invited to a birthday party for a very crafty friend. We're crafty, but this friend is AMAZING. Wanting to get her something unique but on a budget, I started searching Amazon.ca.
This post was created first as a shopping list for my daughter and expanded for Alberta Mamas. I hope you're able to find the perfect gift for the crafty kid in your life, too! Whether it's for a birthday, holiday, or just because, these budget-friendly options provide the perfect mix of fun and creativity. Let's dive in and discover the top crafty gifts for tweens without breaking the bank.
Note: Make sure you check shipping time! The joys of "cheaper" items on Amazon, they often have later delivery dates than "next day shipping." Also, these were all under $20 when I added them to the list. As we all know, Amazon pricing fluctuates, and they may not be under $20 when you click through.
Disclosure: This post may contain affiliate links, meaning I get a commission if you decide to make a purchase through my links, at no cost to you. As an Amazon Associate I earn from qualifying purchases. Please read the disclosure for more info.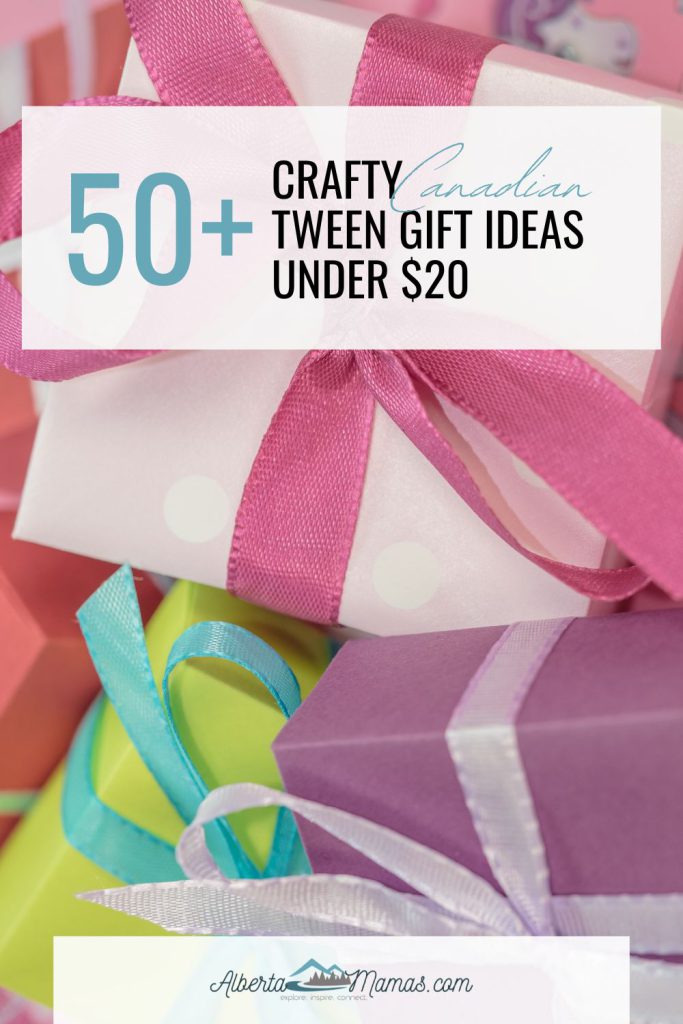 Table of Contents
Paint-based Crafts Teens will Love
Often, when you think of a crafty kid one of the first things that comes to mind is paint. I usually try to steer clear of paint-based gifts because my kids are SO messy and prolific with it.
At the same time, painting is EASY. There's a reason my kids love it.
This collection of more unique option and higher end products are perfect choices for a tween or teen that parents (hopefully) won't curse you for.
Are things not displaying nicely in the Amazon boxes? Here's a list:
Paint-by-Number Suitable for Tweens
A category of it's own within painting, this is a selection of paint-by-number crafts that are complicated enough for a teen, but not so mature they won't be interested. (My daughter squealed over the turtle.)
Here's a list of the Amazon links above:
Yarn-Craft Under $20!
Right after painting, knitting, crochet, and other yarn work often comes to mind for "crafty" people. I've included a mix of beginner-friendly projects and supply kits that can be used with YouTube tutorials.
If the Amazon shopping boxes aren't showing up, here's a list:
Affordable Beading Kits
There are many crafty ways to go with beading. From tiny glass beads, to jewellery making, to creating your own from paper or clay, beads are versatile and a generally portable craft.
Here are a few options for older kids to try out:
Amazon boxes not displaying properly? Here's a list:
Needle-and-Thread Based Crafts
From felting to cross stitch, embroidery, quilting and clothes making, these super portable crafts are even great while travelling (provided you don't get car sick). Great in front of the TV or while listening to an audiobook or podcast, too.
Oh, right, we're talking about gifts for kids. That explanation works for them, too, right?
My only problem with these kinds of crafts is my kid is still learning, so she needs a lot more assistance from me – and I'm not super confident in my own skills here. Thank goodness for YouTube!
Can't read the Amazon item description? Here's a list:
Stuffed Animals for Big Kids to Make
There are just so many cute stuffed animal kits, I couldn't pick just one! Here are a few ideas to spark your imagination and hopefully match your gift-recipient's favourites.
Pictures too small or Amazon being glitchy? Here's the list:
Consider adding some fabric if you gift some of these books and patterns. WalMart usually has small cuts of cheap quilting cotton for a reasonable price as well.
Paper-Based Craft Kits
Personally, this is my favourite kind of crafting. From origami to dioramas to scrapbooking and more. There's so many things you can do with a simple piece of paper.
Are the Amazon link boxes not working? Here's a list:
Beyond Basic Art Supplies for Older Kids
By this age most kids have a good collection of crayons, pencils, and markers. Now they're old enough to start getting into some better quality items and more specialized tools.
These are products that get me excited and wanting to play, things that make my crafting easier, or things my daughter regularly "borrows" from my craft supply stash.
Are the Amazon link boxes not working? Here's a list:
Tip: Add a ream of paper to the gift! By this age most kids have "outgrown" construction paper, but can still go through 500 sheets in a year of white. My daughter was confused about getting some for Christmas last year but asked for more in September. It turned into one of her favourite and most used gifts!
Miscellaneous Craft Kits Under $20
Not all crafts fall into a box. Here are some unique ideas that I just couldn't categorize. (And, honestly, where I think the best gifts are!)
Are the Amazon link boxes not working for you? Here's a list:
While I came close, nothing hit the under $20 mark for soap making, candle making, or bath bomb kits, but they're a great craft for teens and tweens.
Other Crafty Ideas for Teens & Tweens
I'm not a big "shop in person" kind of gal. If I can take care of things online, I will. But some things are just cheaper in a store than over Amazon, especially craft supplies.
These can also make cheap add-ons to a gift above so you don't break the bank but can bulk up the gift.
Our Gift of Choice
My daughter picked the all natural Purple Ladybug Lip Gloss kit, which was pennies over $20. It arrived about 18 hours after I ordered it!
We added a small bead kit from Dollarama as the box was quite compact. I like that there wasn't a lot of excess packaging, but would have preferred a bit less plastic.
Did you enjoy this post?
I hope you've enjoyed this post! If you found it useful could you do me a favour and take a moment to share it?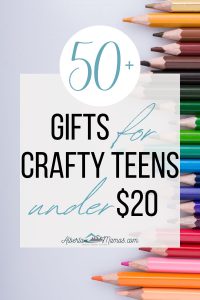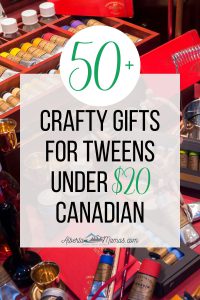 Can you make this article better?
We're always looking to improve! Have you noticed a spelling or information error, know of something we left out, or would like to share anything else, reach out to us!