As a camping family we like to try as many new campgrounds as possible each season. Sometimes, we go for the old favourites or the ones that have group availability- but my favourite thing to do is explore new places to camp. This past Father's Day weekend we stayed at Long Lake Provincial Park, a first for us. A few years ago, on my way home from North Buck Lake Provincial Recreation Area, I drove through Long Lake Campground to check it out and it seemed lovely, so I was excited to finally try it out!
Here's what I loved about Long Lake Provincial Park:
The lake is clean, for Alberta lake standards. There doesn't seem to be any farming right along the lake and though not a very wide lake (hence "Long Lake") it seems quite deep. This is only June though, so who knows what will happen to the water later in the season. My son and I swam 3 days in a row with no issues of swimmer's itch!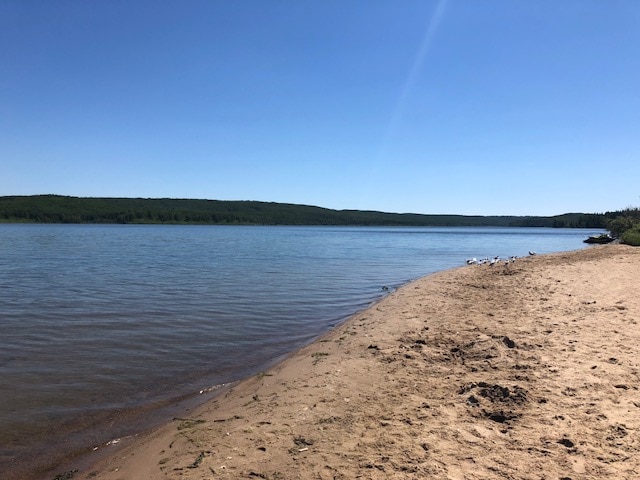 Long Lake Provincial Park has 2 sandy beach options, one is the day use area and one is a private beach reserved for campers. Both have a playground and grassy play area. The day use is much larger, but much busier. Even on a super hot June weekend, we were able to find space though it wasn't "serene" or quiet by any means. However, this is such a great beach for kids. There are no rocks, extensive shallow area, minimal weeds and lots of soft sand. On the Monday (we turned our trip into a long weekend) there was no one on the beach, so midweek would be your best bet for quiet.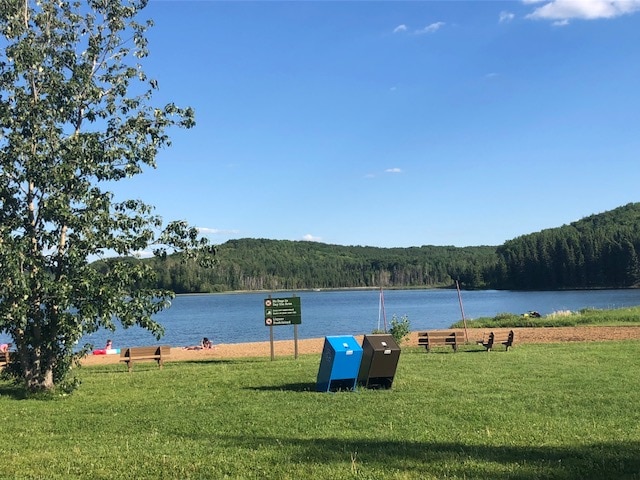 There is a seasonal concession and store right in the day use area that is super convenient. It has a great selection of ice cream and the usual fries, burgers, etc. Great for a treat, if you run out of food while camping, want to take advantage of a day trip easy lunch, etc. We needed to buy some emergency supplies (sunscreen and toothpaste) and the store was fully stocked and priced fairly. There is also a laundromat, perfect for emergencies or longer stays.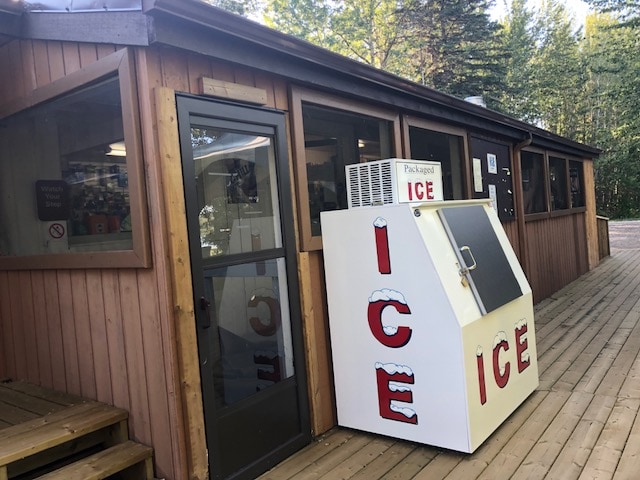 On Saturdays from 11-2 there is a bustling Farmer's Market with locals selling everything from meats, veggies, preserves, pies, knitting, woodworking and more. Bring cash, you'll find something for sure!
There is a boat house in the day use area that has canoes, kayaks and stand up paddle boards for rent. All rentals come with paddles and life jackets. This is such an easy way to get out and enjoy the water! We tried SUP for the first time, and it was so much fun! You can rent for 1 hour, 2 hours or the entire day. A $200 deposit is required and you can do it via credit card.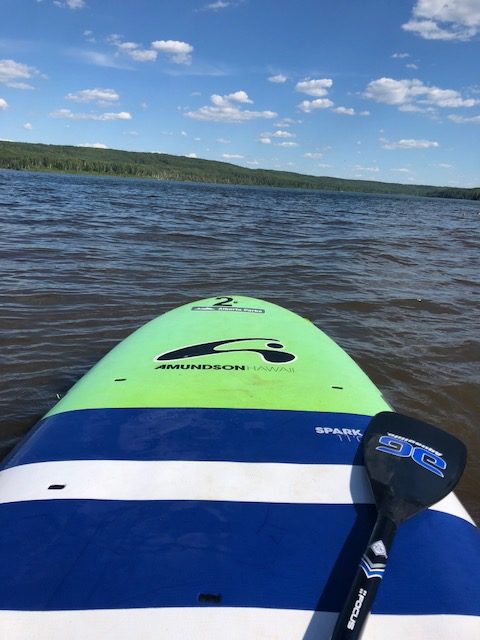 There is an amazing paved trail that extends the entire length of the campground, day area and group sites. Perfect for biking and strollers AND it goes along the lake, so the view are awesome. There is also a 17 km trail called White Earth Trail that more adventurous bikers or hikers can explore.
This is a catch 22. The sites are quite open (not many trees in between for privacy and shade) BUT most of them have power and many offer lakeside views….. If you want to be close to the day use beach and amenities choose Loop A. If you want to be near the private camper's beach and towards the quieter back part of the campground choose Loops E or F. If you are tenting there are some cool walk in tenting sites.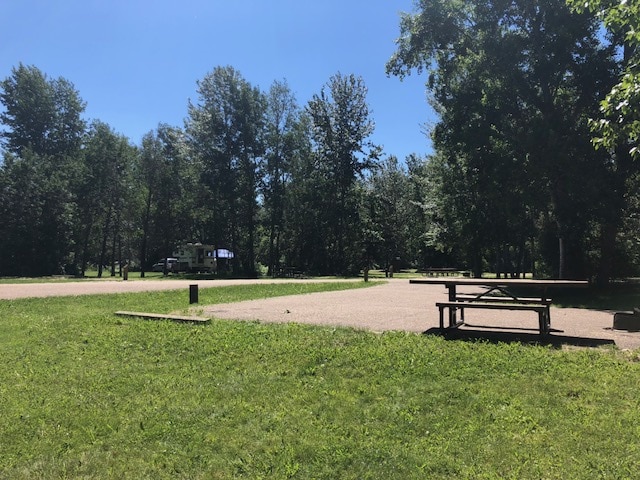 For me, this was a plus. I was planning to unplug over the weekend anyways and turn off all of my social media accounts. IF you need to use your phone, drive up to the gas station off the highway and park. Sometimes forced unplugging is what we all need;)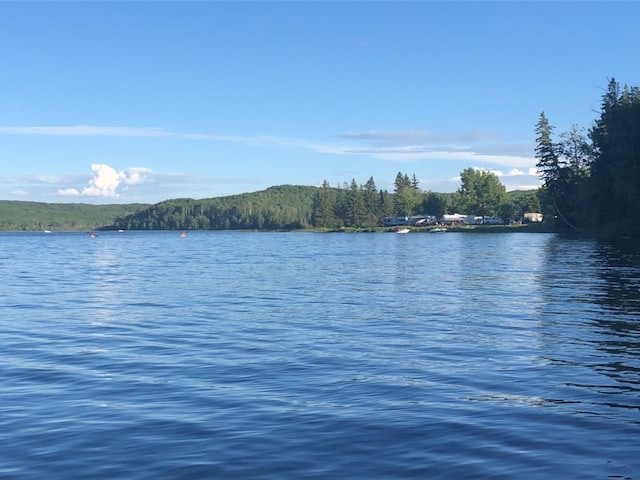 Besides the boat rentals on site there are some fun activities in the Long Lake area including paintball and golfing. for a list of amenities in the area check out the Go East of Edmonton website here.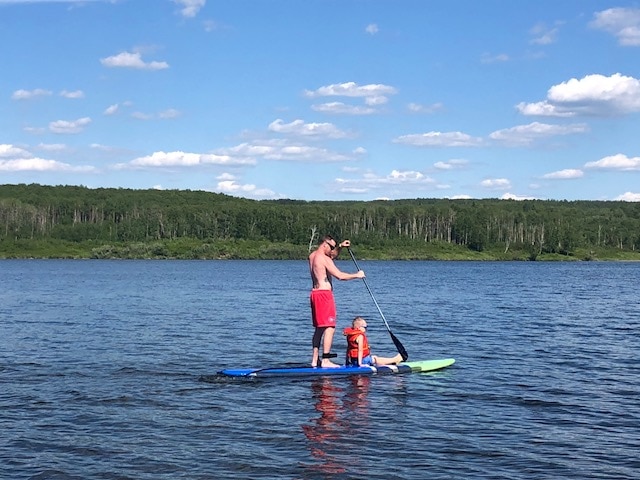 Fresh Water & No Dumping Fee!
It's always annoying when you pay for camping only to have to pay again to use the sani dump for your trailer, not here though! There is also fresh water to fill your trailer when you arrive- a huge gas saver:) Bring your own drinking water though.
Some things to be aware of when camping at Long Lake Provincial Park:
This is a busy and popular place. If you are seeking quiet solitude away from others, this might not be your spot. This depends on what you are looking for, I suppose. We did notice that the day use area was quiet and vacated by about 9pm and the campsite areas were actually quite quiet, considering it was full. You will need a reservation if you are planning to camp here, especially on a weekend.
Firewood can be purchased for $8 a bundle on site- it is a small bundle. Up at the gas station by the highway turn off it is sold for $6 a bundle and looked about the same size. There is a family selling wood from their acreage just south of the turnoff on highway 831. We didn't check it out because we brought our own wood- but typically these places have the best price for the largest amount.
Most of the campsites at Long Lake Provincial Park are a bit out in the open. There's no shortage of trees around the park, but not as many in between the sites as I prefer. That being said, many of the sites would be good for camping with groups of friends side by side. Again, it just depends on how much privacy you want, how much you like your neighbours and how yappy your dog(s) are! If you are tenting or have a smaller trailer and want privacy (but no power) check out Loop B which is no where near the lake but almost like it's own separate campground away from the hustle and bustle.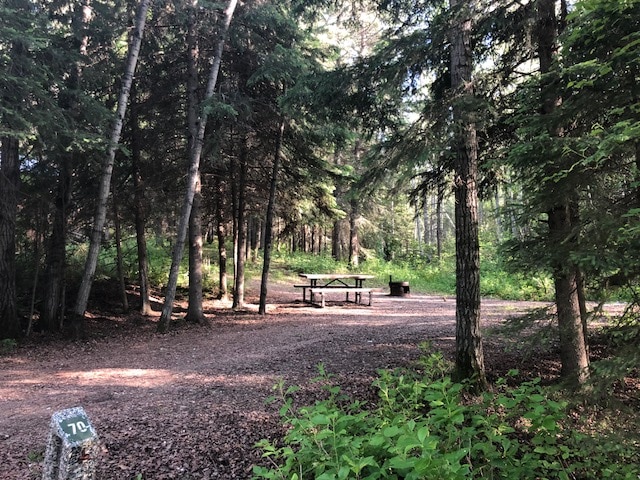 Again, this could be a pro or a con. If you are expecting to use your phone or get some work done it could be difficult. There didn't seem to be any service in the park at all. A short drive back to the highway and you are back at it though.
Long Lake Provincial Park can be found about 140 kms northeast of Edmonton and is about 20 kms south of the town of Boyle, Alberta. Given its proximity to the city, I think this makes a great day trip too! Want more Alberta summer travel inspiration? Check out our posts on Day Trips from Edmonton, Glamping Options in Alberta & Our Favourite Campgrounds in Alberta!
Tell us! Where are you camping this summer?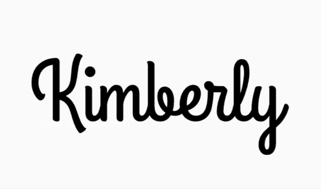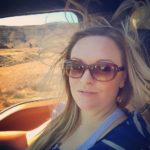 Kim Ouellette is a wife and mom to 5 year old who lives in Edmonton Alberta. She is passionate about travel and creating experiences with her family and friends both locally and internationally. You can find her on Instagram at @kimouelletteyeg.