This past weekend we road tripped to Calgary for a weekend full of waterslides, good food, and some much-needed family time.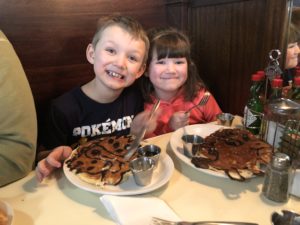 Where to eat with kids in Calgary – Belmont Diner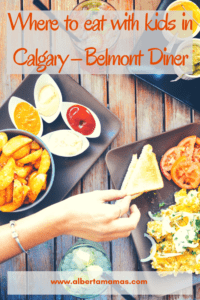 One of the places that were on my list to check out was Belmont Diner, a small diner located in Marda Loop. Offering all-day breakfast as well as a lunch menu, I had read about their pancake art (which of course I knew would blow my kid's minds and mine too) and their delicious breakfasts so on our last morning in Calgary we headed there.
The wait to be seated was 45 minutes, which I knew because I had read it online and also because we needed a booth – mainly to contain our 2-year-old. A thing to remember is that you are your own hostess – and you need to add your name to the clipboard hanging at the front.
The front area is small so there is not a lot of room to stand inside to wait, but there is a gazebo/waiting area outside with complimentary coffee and hot chocolate for the brave souls that know their wait will be rewarded with delicious food.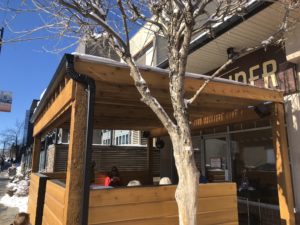 Once seated we knew what we wanted – a traditional breakfast for both Kris and I and all of the kids wanted some pancakes! With an open kitchen concept, food is made to order and ours arrived at our table piping hot brought to us by the pancake artist himself. In fact, the waitresses and cooks were all synchronized and worked together beautifully.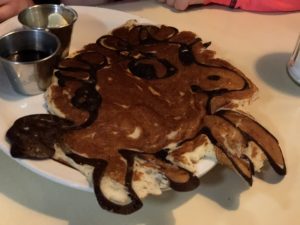 Each of the kids had requested a different character for pancake, Finley a dog, Sophie "something like My Little Pony", and Carter a Cheetah. Minds were blown and the pancakes were delicious and huge.
Generally when we go out to eat Kris turns into Gordon Ramsay and critiques everything – not enough pepper, too cold, bland, etc etc.. but not with this meal  He's a foodie and comes by it honestly. This, however, was a different tune and as I am writing this he is still talking about how his meal was hot until the end (is it magic? that doesn't normally happen while eating our with 3 kids).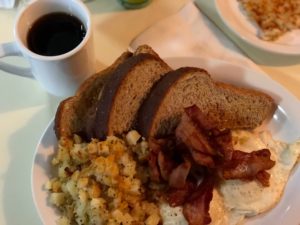 The hashbrowns perfectly seasoned, eggs cooked perfectly and coffee topped up when needed and I am pretty sure our new go-to every time we visit Calgary.
You can find Belmont Diner at 2008 33rd Ave. S.W. , hours of operation are Mon – Fri 7 am – 3 pm and Sat-Sun 7 am – 4 pm.  Parking is available behind the restaurant.