I have flirted with skiing my entire life. I love the idea of it, but to be honest I found it kind of overwhelming. There's the gear that I don't really understand, the risk of hurting myself, the potential embarrassment of hurting myself or looking a fool and don't even get me started on my fears of me or kids falling off the chair lift! BUT I see families skiing together and I love it! The chance for exercise outside all day, the scenery, the family connectedness, confidence building and often challenging nature of the sport are all reasons that I want my family to ski together. Plus, my husband grew up in a small mountain town and has been on skis since he was 3. Its in his blood and something I would love for my son and I to share with him.
Go Ski Alberta approached us and asked if we would be interested in doing a beginner ski day a few weeks ago. I jumped at the chance because as a family we had made a goal that we would ski more this winter (yet had only been once so far) and I love the idea of sharing the experience of skiing with others who also might be apprehensive about it.
Last Sunday we spent the day at Rabbit Hill Snow Resort as a family and it was glorious. This is the largest ski area in the Edmonton area and is set in a picturesque area overlooking the North Saskatchewan River near Devon, Alberta. We were treated to lift tickets, rentals and private lessons and then given the afternoon to test our new skills independently. What a day! I was exhausted but happy at the end of it. Probably a combination of endorphins, fresh air and challenging my brain as well as physical body. My son, well, he wasn't happy when it was time to leave. It is amazing how much quicker kids can pick things up than adults; another reason why I want him to learn now while he's younger.
Tips for Beginner Family Skiers & Snowboarders
Have the Right Gear, But Don't Stress Too Much About It- You are going to want to dress as you would for most outdoor winter activities. This means wearing snow pants or waterproof pants of some type. But, keep in mind that if the weather is warm you will be moving that body and can get overheated too. Materials like wool and breathable cottons are great. Bring extra stuff just in case things gets wet- either from snow or sweat! Most helmets are insulated, so you don't usually need a toque. Those neck warmers that are thin and can be pulled up the back of your neck are helpful too- especially if you are wearing a rental helmet.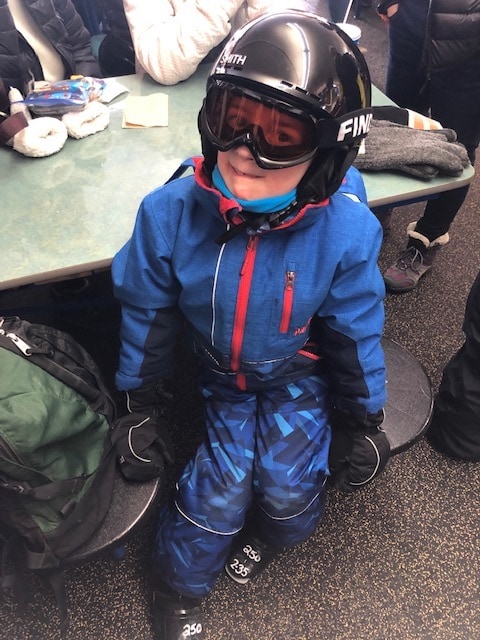 Wear Helmets- Just do it. I would say 99% of people on skis hills are now wearing helmets! Thank goodness. This is a sport that comes with some risk and it's plain silly to not wear it. With the end of the season approaching you can get some great deals on new helmets. We picked one up for my son at the ski store inside Rabbit Hill for $45 on sale and it is adjustable, so should work for a few years.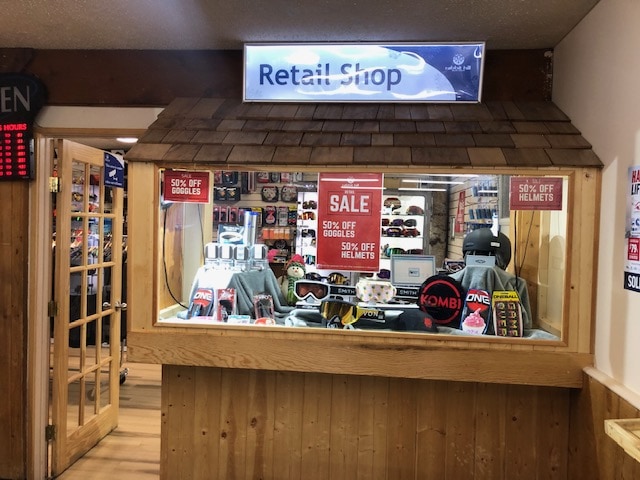 Rent Your Equipment- Ski & Snowboard equipment, at least brand new, is expensive. Also, as you all know, kids grow like crazy from year to year. So, unless you are going to commit to getting out many times a winter I would just rent for a bit and see how you like it first. There are lots of ski swaps, used sales and trade in programs around when you are ready to buy.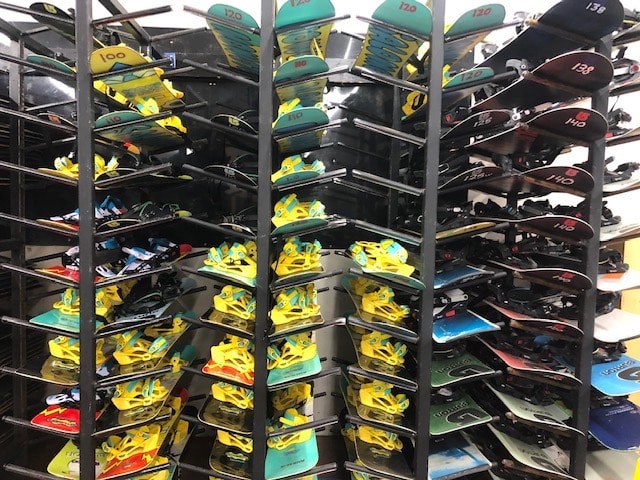 Get Help With Your Equipment- Do not be afraid to stand in the rental shop and say to staff "I am new at this and have no idea how things should fit!". Pretending you know what you are doing will lead to an uncomfortable time on the hill. Staff should be able to help pick out your boots, poles, helmet, skis and adjust them all. I learned that your heel should always be at the very back of your boot with slight wiggle room for your toes. Oh, and ski boots, they are not comfortable the first few times, so do not be alarmed if your feet are slightly unhappy. This is part of the process I am told. Not extreme pain, of course, but it feels "different".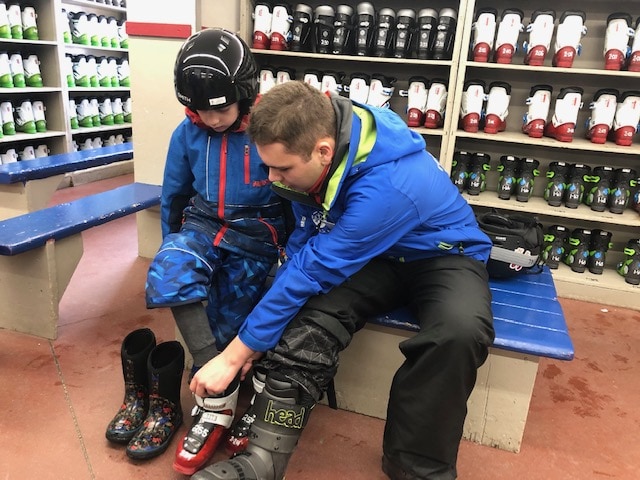 Take a Private Lesson- If you can afford to do it, just do it. This is the best way to learn one on one from a trained professional. Group ski lessons are always available at hills too, but the amount of one on one time you get from a private lesson will save you in the long run. Another option could be to take a few private lessons, especially if you are brand new to skiing and then join a group lesson to fine tune your skills as they are developing. My son and I had the pleasure of working with Trevor and Connor, instructors at Rabbit Hill Snow Resort. They were patient, fun, knowledgeable and great teachers who made us feel comfortable. You also get a report card and review of the lesson when its over.
Do Not Expect a Family Member to Teach You to Ski- I was complaining to my instructor, Trevor, that I didn't understand why my advanced skier husband wasn't open to teaching us how to ski. Trevor laughed and said, "because he's smart". Learning a sport like this from family can be incredibly frustrating and can easily suck the fun out of the activity for everyone. The suggestion: learn from the pros whose job it is to teach and then enjoy an instruction free ski together with family afterwards. More advanced skiers are happy to enjoy the tougher runs without you while you are in your lesson:)
Green and (Maybe) Blue are Your Colours- Pay attention to signs when you are out of the hill. Green is beginner and where you want to be until you are comfortable and can ski with control and some confidence. Ski hills have maps posted with the colours of their runs- get to know them. Rabbit Hill offers at least 4 runs that my son and I were comfortable with by the end of the day, beginner win!
Take Time For Breaks and Know When to Call it Quits for the Day- Pack a lunch, or enjoy some food in the chalet. Rabbit Hill has an excellent BBQ going during the day. There are microwaves too so that you can heat up leftovers from home. Don't forget about hydration either!
I hope you found these tips helpful, and maybe inspire you to give skiing a try this winter. You still have time! A little birdie told me at Rabbit Hill that they hope to stay open until the end of Spring Break in March. Fingers crossed! Personally, I am all about the spring skiing, especially with kids.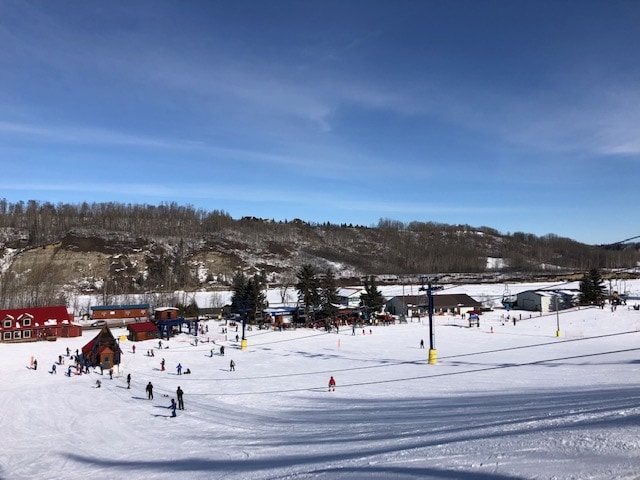 Giveaway!
We've partnered up with Go Ski Alberta and Rabbit Hill Ski Resort for a giveaway to give your family the chance to get out on the hill together! Enter to win a Family Day Package which includes lift tickets (for up to 4 immediate family members) plus rentals for the day. Prize expires December 2020. All entries accepted via the Rafflecopter Widget below.
a Rafflecopter giveaway

See you at the hill!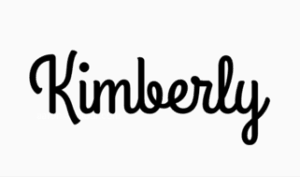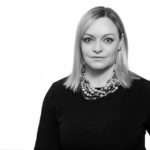 Kim Ouellette is a Co-Founder of Alberta Mamas and an Edmonton Realtor with Schmidt Realty Group. She is a wife, mom, daughter, friend and adventure seeker who loves to explore Alberta and beyond. Connect with her at kim@weselledmonton.com
*This post was created in partnership with Go Ski Alberta and Rabbit Hill Ski Resort. As always, all opinions are those of the writer and AlbertaMamas.