In the age of Peppa Pig and Paw Patrol, we thought we would kick it old school and create a list of movies we grew up with that your kids will love and that you will actually want to watch too!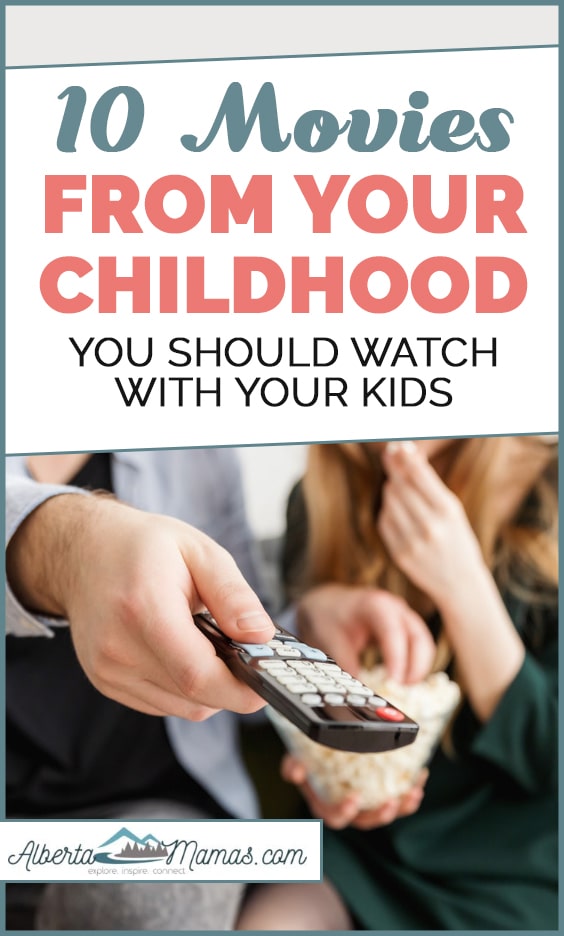 1. Princess Bride
It would be inconceivable not to have this on the list. And bonus points if you watch it with them enough that you can all say "My name is Inigo Montoya. You killed my Father. Prepare to die."
Check out the Home Movie version, too, made during lockdown in 2020 by a bunch of trapped-at-home actors. Some of the props are inconceivable.
2. Older Disney Movies
You are probably sick of Moana and Elsa so try introducing the kids to classics like Mary Poppins, Bedknobs and Broomsticks, Sword In The Stone, Alice in Wonderland, The Great Mouse Detective, and Sleeping Beauty. And yes we know this is not just one movie but come on. It's Disney. It deserves to have more than one listed.
3. Star Wars
OK, this one was added by my husband because I've actually never seen Star Wars. (I know. It's terrible and I can't explain it so no hate mail please.) With all the new movies coming out it is fun to show the kids how it all started.
4. James and the Giant Peach
A great introduction to Roald Dahl's books that the whole family will love to watch.
5. Mighty Ducks
The kids will love the corny jokes and you will love seeing Emilio Estevez in his prime taking on the Hawks and reliving that fateful missed shot over and over again until he comes back and beats his old coach.
6. Wizard of Oz
Because who doesn't love a young girl showing everyone who's boss in a kick-ass pair of shoes?
7. The Sound of Music
A bit long for younger kids but worth it for the part when Maria and all the kids are running through the fields in clothes made from curtains.
8. Home Alone
The kids will love the pranks and you will feel like a rockstar parent after watching the part when Kevin's Mom was halfway to Paris before she realizes she left him behind.
9. An American Tail
This cute classic 80's movie is often overlooked but is definitely worth watching as a family.
10. Ghostbusters
You will love telling the kids that the effects in this movie were revolutionary as you watch together. They will love telling you they can create something more realistic on their iPads in 20 minutes. Neither of you will be able to resist singing along to the song for weeks after.
Tell us: What movies did we miss?
We would love to hear your thoughts! What are your favourite movies from your childhood that you love to watch with your kids?