The largest North American food festival which celebrates mac and cheese is coming to Edmonton & Calgary.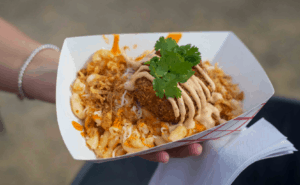 Celebrating its 5th anniversary, past years have welcomed celebrity chefs, savvy cooks, and talented entrepreneurs all who come to make their twist on mac and cheese dishes which have incorporated spring rolls, lobster, nachos, and even chocolate! Yum!!!
Admission to The Mac and Cheese Festival is FREE and you can check them out on these dates:
Calgary
June 29th-July 1st
Olympic Plaza
Edmonton
July 5th – July 9th
Borden Park
Do You Have The Best Mac And Cheese?
Restaurants can enter to win the title for the best Mac and Cheese in the city! Prizes include cash prizes, as well as awards for being most creative, peoples choice and judge's choice. Basically, you'll have to eat tons of Mac and Cheese to make your decision. Hard life, isn't it!